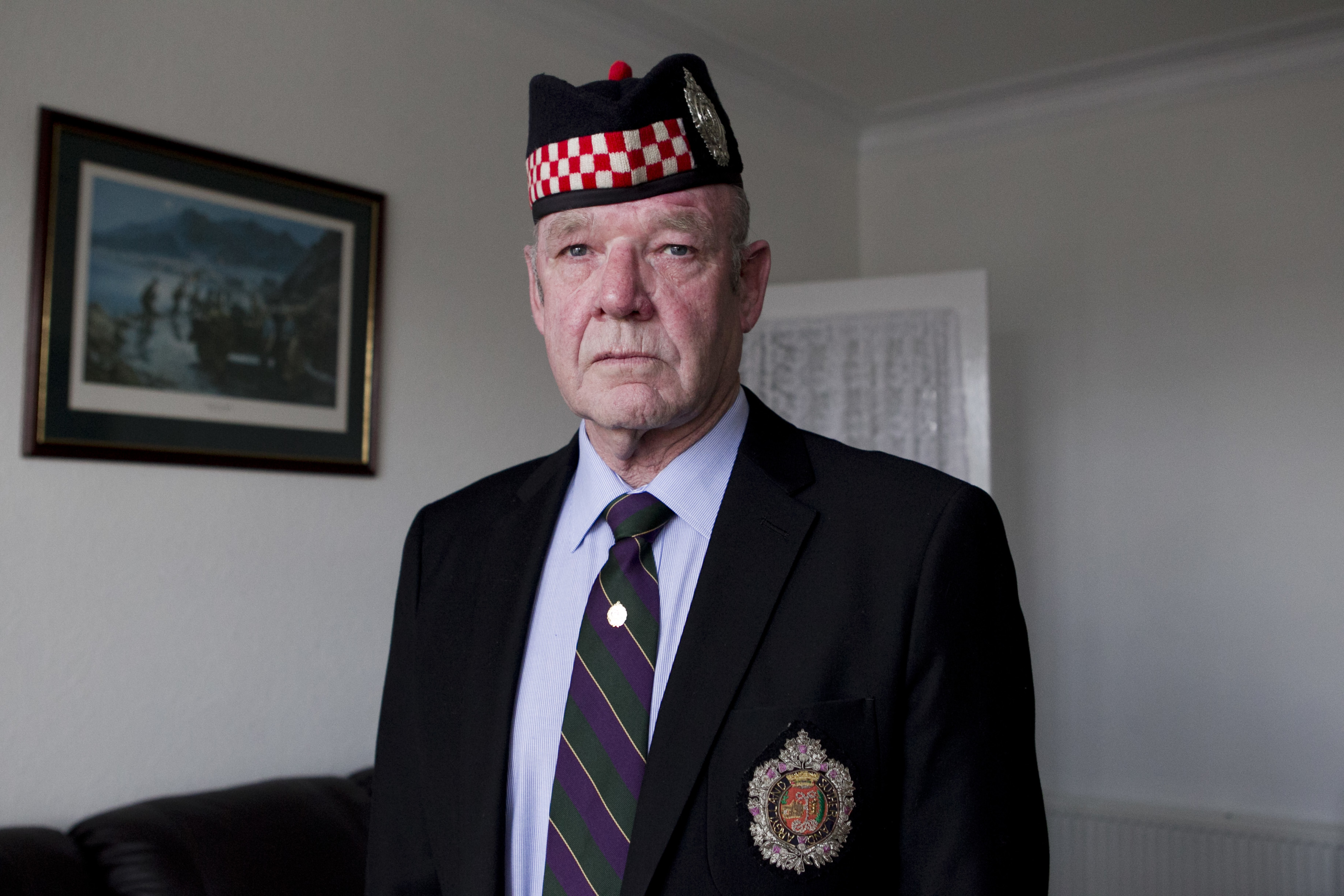 THIS evening, Robert Connell will proudly wear his grandfather's war medals to an emotional service at Edinburgh Castle.
He never met John, but Robert feels like he knows him thanks to an extraordinary collection of memorabilia that has been passed down through the family.
The artefacts have allowed the Falkirk man to piece together details about the First World War hero's life.
Corporal John Connell of the Argyll and Sutherland Highlanders was killed by artillery shrapnel on April 15, 1917, on the bloody battlefield of Arras, France, where more than 18,000 Scots lost their lives.
A higher concentration of Scots fought at Arras than in any other conflict in the war and today is the centenary of the start of the 38-day battle.
As well as a service at the Scottish National War Memorial in the capital, there will be a commemoration at the Fauborg d'Amiens Commonwealth War Graves Cemetery in Arras this morning.
That will be conducted by the Moderator of the Church of Scotland and attended by 72 children representing every Scottish local authority.
Three generations of the Connell family, including Robert, followed in John's footsteps and served with the Argyll and Sutherland Highlanders.
"My dad, James, was only young when my grandfather was killed but he was Dad's inspiration for signing up," Robert explained.
"Dad served in World War Two and I joined in 1971 and did 30 years. My son Dennis was a piper in the Argylls."
Robert was passed the personal effects of John around 40 years ago – and they remain his cherished possessions.
"I have all of his service records and I know he was born in 1879 in Barony, Lanarkshire, and enlisted on December 17, 1897, when he was just 18.
"His proclamation of marriage to my gran, Agnes, is here, as is a travel warrant dated January 20, 1915, giving my gran and the four kids – including my dad, who was two at the time – a free pass from Bombay to Stirling.
"I believe the regiment was in India at the time, but when it was posted to serve in the war, the wives and families would have been sent home.
"I'm fascinated by the travel warrant and wonder if it's maybe the oldest one in existence."
Other items in the collection include a certificate for swimming presented by the regiment, confirming John could swim 10,000 metres, a photograph, and a telegram received on July 26, 1917, notifying his family of his death.
"I think my gran would have known already, this was just confirmation," said Robert, who has four sons and 10 grandchildren.
"I also have a scroll from King George after John's death and a list of his worldly goods that were being returned home, which included a notebook, crucifix, rosary beads, pocket knife, photos and nail file.
"I even have his soldier's box, which he would have dragged through the trenches. His name is still written on the side but I have no idea how it made its way back. I don't remember much talk about my granddad when I was young."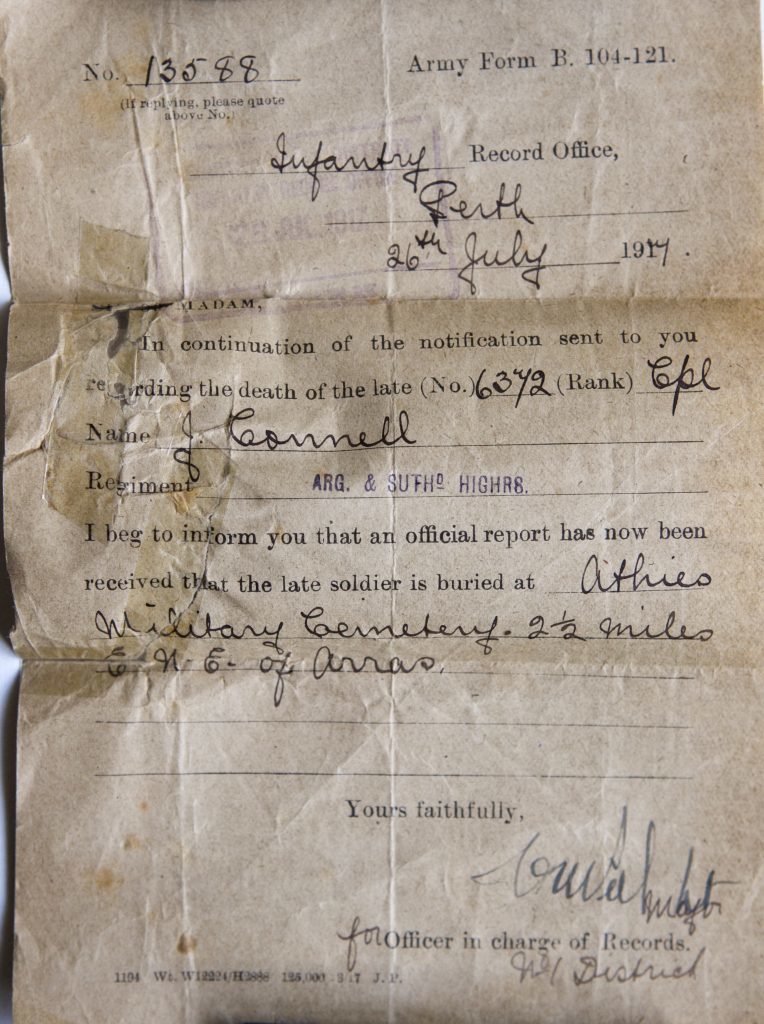 Robert and his sons intend to visit John's grave in Athies Military Cemetery, just a short distance from Arras, later this year.
Of the 120 battalions that made up the 10 British assault divisions in the battle, 44 were Scottish.
In addition, seven Scottish-named Canadian battalions also took part in the engagement.
The average daily casualty rate was 4076, higher than at The Somme. Robert added: "It was a heavy price to pay.
"The memorabilia will remain in the family for ever. It's too sentimental to give away."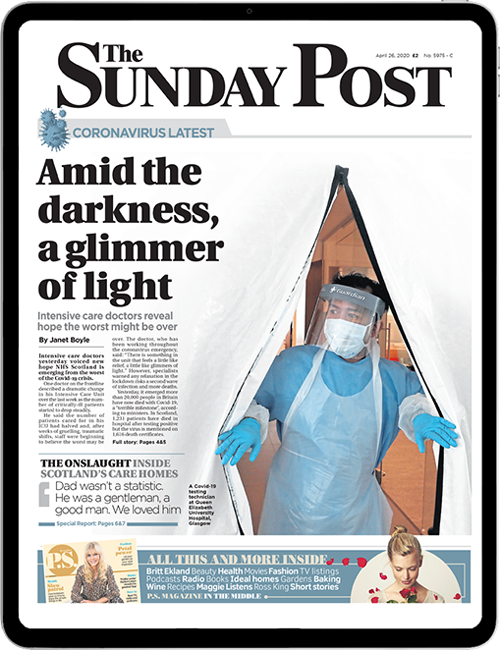 Enjoy the convenience of having The Sunday Post delivered as a digital ePaper straight to your smartphone, tablet or computer.
Subscribe for only £5.49 a month and enjoy all the benefits of the printed paper as a digital replica.
Subscribe