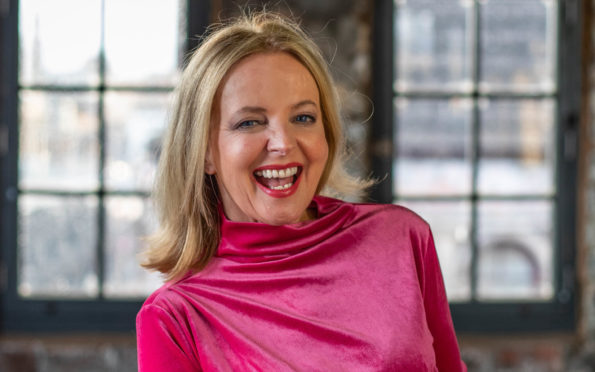 This year is a special one for Clare Grogan. Not only does she have a packed schedule, which includes a new film, theatre show, hosting a BBC cookery series and playing a number of high-profile concerts, but 2020 is also notable for two special anniversaries.
It's 40 years since John Peel championed Clare's band, Altered Images, on his radio show, giving them their big break. And it's also 40 years since the Glaswegian filmed Bill Forsyth's Gregory's Girl, one of the best-loved Scottish movies of all time.
Not only surviving in the business for so long, but thriving in it, is something the chatty and bubbly personality admits to having a certain amount of pride in.
"Sometimes I don't realise how much it all defines me," said Clare. "I feel quite proud of myself, that I managed to stick it out. It's a tough business and to keep going and do the things I get to do is really special.
"Forty years in showbusiness is crazy, but it also feels completely right, and since I'm probably completely unemployable in the real world it's just as well I kept going. I love it – it's who I am.
"To survive 40 years in the business meant I had to diversify.
"That decision was made out of not having a masterplan, so when I got my first presenting job I had no idea if I could do it or not. It was never on my ambitions list, but I've had such great experiences through presenting. I just go along with what comes my way."
The latest presenting job to come the 57-year-old's way is BBC Scotland's Corner Shop Cook-Off, which starts this week. The show follows Clare as she visits rural towns alongside MasterChef's Gary Maclean, who goes head to head each week with a fellow professional chef to create three courses made from ingredients bought from a corner shop. Local residents then take part in a taste test to decide the winner.
"When the producer approached me with the idea I burst out laughing," Clare smiled. "There's something really appealing about the format.
"Whenever I tell anyone, they say they would watch it and I had the same feeling.It was lovely being in the communities, and the shop owners are the real stars.
"We had such a good time making it. One of the cameramen, who's worked on lots of cookery shows, said he's never seen anyone eat food as much as I did! I was holding up the shots because I was still eating. I put on quite a lot of weight."
Clare owns two restaurants in London with her husband, former Altered Images bandmate Stephen Lironi. But she's the first to admit she's no use in the kitchen.
"I basically make toasted cheese at home – my husband's the foodie. We have two gorgeous, quite sophisticated, restaurants which I love, but I just turn up and drink the cocktails."
Clare will no doubt be raising a glass or two as she celebrates the enduring appeal of the band that brought her chart success in the early '80s with hits like Happy Birthday, I Could Be Happy and Don't Talk To Me About Love.
They'll play Summer Nights at Kelvingrove Bandstand in August, as well as the Rewind Festival at Scone Palace. Before those outdoor shows, though, are intimate gigs at Glasgow's Oran Mor and The Liquid Rooms in Edinburgh this week.
"When I'm on stage it's like I'm having an out-of-body experience," she continued. "I'm always surprised at the level of enthusiasm there is for it. It's extraordinary to me. If you'd told my 17-year-old self I'd still be doing this at 57, I would have thought it was too weird. But it's not.
"I relate to the audience on a level I didn't when I was younger and there's something special about that. I look out and think, I know what we've all been through to get here and here we are, still wanting to have a good time. And there's nothing riding on it – I don't need to get involved in the music business. I just do the shows, have a great time and soak up the atmosphere."
Finding success at such a young age could have led to Clare going off the rails, but she credits her family for keeping her level-headed.
"My mum and dad were never too impressed with any of it. They were as proud of my sisters as they were with me. You have to hang on to who you are, which is really tough to do, but I think I've just about managed to be true to myself.
"I was a right royal pain in the backside at times, but I would be brought back down to earth quite quickly by my family."
Family remains Clare's priority today, too. Her 15-year-old daughter, Ellie, whom Clare and Stephen adopted in 2005 after suffering the heartbreak of six miscarriages and four IVF attempts, is the light of her life. Would Clare be happy to see her teenage daughter following in her footsteps?
"I just want her to be happy and do something she feels good about – it sounds clichéd but that's how I feel," Clare admitted. "Ellie is a beautiful singer and she's sung with me on stage many times, but not now that I'm the world's most embarrassing mum!
"It would be impossible not to have reservations as a mum. As long as you know why you are doing it and that it might not work out how you want it to, no one or nothing will put you off, and I think that applies to all aspects of life."
Clare recently finished filming Perfect Strangers, billed as Scotland's first Christmas movie, which will be out later this year. But it's another Scottish movie for which she will be forever linked – an association she doesn't mind.
"Maybe I wouldn't be talking now if it wasn't for Gregory's Girl so it will always have a special place in my heart," said Clare. "I would never have an ounce of negative feeling towards it, because it was such an amazing launch pad for me. It's a great movie to be associated with – people genuinely love it."
Clare will be back in Scotland again next month to star in Pitlochry Theatre's version of Neil Simon's Barefoot In The Park. It's a job that means more to her than most.
"Pitlochry Theatre put out a tweet about the show and I replied, saying I loved it. As a result, the director made contact and asked if I wanted to be in the production.
"I'll be honest, this happened just after my dad died and I felt like I needed something very joyful to look forward to.
"I have a really nice life and I never lose sight of that, but my sisters and I were completely heartbroken by his death.
"He was 92 and we thought he would keep going until he was 100, so when this opportunity came along, part of my thinking was I would really like to do something with a massive feelgood factor.
"The film is one I've adored since I was a child, watching it with all the family, and I thought the play had come into my life for a reason."
Clare added: "I never take any of this for granted. I love working and doing what I do, and I genuinely feel privileged to still be doing it."
---
Clare on role that made her
Fans of Gregory's Girl will have lost count of the number of times they have watched the film. But Clare only watched it in full for the first time three years ago.
"I had seen the first 10 minutes hundreds of times at various screenings I'd attended, but had never sat through the entire film before," she explained.
"It's quite common among actors not to watch ourselves on screen, but the BFI in London were doing a special screening a few years ago and I thought it might be my last chance to see it on a big screen.
"My daughter Ellie came with me, so we watched it for the first time together. John Gordon Sinclair was there as well with his daughters – who had never seen it either – and Dee Hepburn was there with her kids, too.
"Gordon's daughters and Ellie laughed a lot, they really enjoyed it.
"It was quite a magical experience and I was pleasantly surprised. Obviously I'm biased, but I enjoyed it and I also enjoyed the reaction from the audience – I probably enjoyed that more than anything.
"I haven't heard any talk about plans to mark the 40th anniversary. We did a nice one for the 30th at the Glasgow Film Theatre and we all thought afterwards that there isn't much more any of us can say about the film, but who knows what might happen."
---
Corner Shop Cook-Off, BBC Scotland, Wednesday, 8pm