COLIN BAKER really enjoyed playing Doctor Who.
He was just unfortunate that he took over the role in 1984 when the BBC was trying to kill off the Time Lord.
The then director general wasn't a fan and Colin admits: "I think I was unlucky to be playing the part when I was.
"But, with the benefit of hindsight, I feel less personally affronted by what happened than I did at the time.
"You can't help thinking: 'Oh, I must have been a rubbish Doctor if Michael Grade wants to get rid of me,' but reading between the lines, they were desperate to get rid of Doctor Who because they didn't like the programme.
"I was just collateral damage.
"I just liked doing it. There are some actors like Peter Capaldi and David Tennant who were desperate to play Doctor Who because they were fans, whereas I just quite liked it.
"But I enjoyed going to work every day. Even in a job you like, there are days when you go: 'Oh, God,' but I never had that feeling.
"The BBC now seems to have realised they have a golden property there which they didn't in the 80s when I was doing it.
"There was a kind of embarrassment, almost: 'Oh, dear, we're doing a sci-fi show, let's pretend we're not.'
"But then along came things like Life On Mars and Goodnight Sweetheart which were huge successes and involved time travel, so the BBC had to reluctantly admit that good writing can actually extend into fantasy and sci-fi.
"Now they are saying: 'This is a wonderful programme!' whereas with us, the Radio Times had a Doctor Who cover once every two years, and now it's once every two months.
"I'm very glad for Capaldi because he's a fine actor and a very good Doctor but there's a certain amount of jealousy."
Though Colin starred in just 31 TV episodes, he's recorded many more bestselling audio plays as the Doctor.
He says: "They're brilliant because if ever a property was made for audio, it's Doctor Who.
"I've done more than 90 and there was a point when I was the Doctor who'd done the most stories which, after my brief tenure on television, I found rather charming.
"Mind you, Tom Baker's started doing them now, so I might be overtaken!"
Colin was voted the best-ever audio Doctor, and he laughs: "It's a compliment and I wear it with pride, but it's as if they're saying: 'We don't have to look at him, it's great!'.
"It's like when I was doing a convention and somebody came up to me and said: 'Mr Baker, I'm pleased to meet you because you're my fifth . . . no, SIXTH favourite Doctor.'
"I was demoted within two seconds!
"I wasn't young when Doctor Who started and I remember watching the very first episode — I was a law student and came back to my flat round the corner from the law college in London — and it was starting.
"I leaned on the bannister to see what it was, and I was still there 25 minutes later.
"I shared a flat with four guys and we were all riveted.
"You look back at it now and everyone says: 'Oh, we loved the shaky sets' — what a load of tosh, that was state of the art then!
"I'm always asked who my favourite Doctor is and it's Pat Troughton for me. He did the hard job, that first regeneration. Bill Hartnell was going and they thought: 'Let's try this' and he was so good, so different. Such a good actor.
"We wouldn't be talking about it today if it hadn't been for him."
After Who, Colin trod the boards and says: "I did theatre until about two years ago, when I eased off. It gets tiring, touring, and I'm 73.
"When you've achieved a modicum of popular success on TV, people who put plays out want you because they think you'll put bums on seats.
"So I got the chance to do some rather nice plays. I got to play Inspector Morse on stage.
"That chuffed me, it was a great play and I'm the only other person apart from John Thaw and Shaun Evans who plays his younger self to have played Morse."
---
READ MORE
Former Doctor Who star Jenna Coleman enjoys the royal treatment in new period drama Victoria
Life after Doctor Who: From Broadchurch to Safe House the ultimate regenerators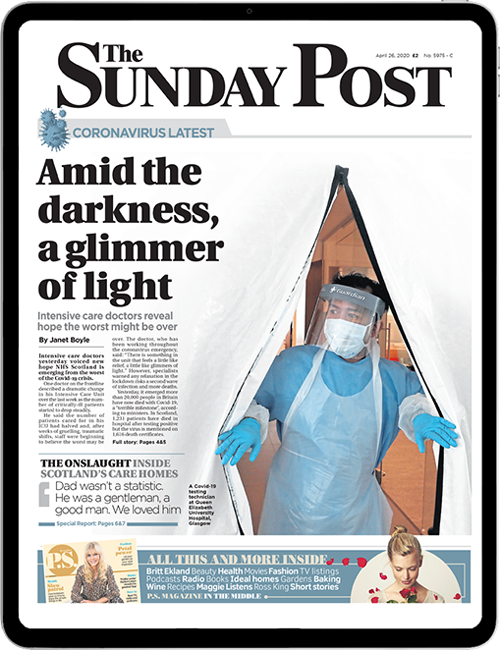 Enjoy the convenience of having The Sunday Post delivered as a digital ePaper straight to your smartphone, tablet or computer.
Subscribe for only £5.49 a month and enjoy all the benefits of the printed paper as a digital replica.
Subscribe