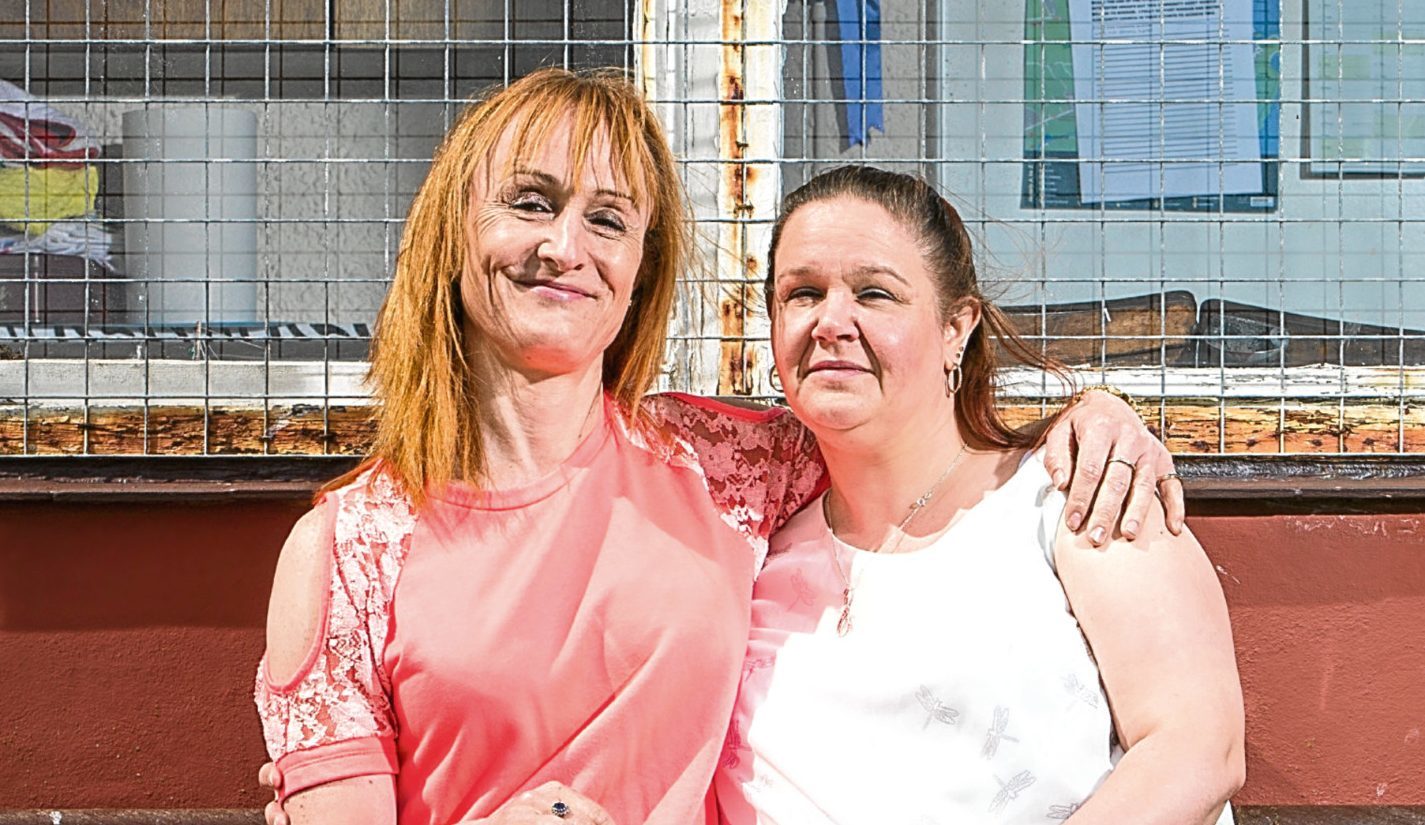 WHEN Justine Smithies walks down the aisle with her wife for a second time, it will be as a woman rather than a man.
Exchanging vows again with Julie will mean the parents can finally honour the wishes of their son Cameron, who tragically died after falling from cliffs four years ago.
Today, exclusively, in The Sunday Post, the couple reveal their rollercoaster life since the loss of Cameron and their plans to make his wedding dream come true.
---
IT is a touching moment neither thought they would see. Justine and Julie Smithies are poring over wedding bands and planning a bright new future.
It has been a long time coming. Four years ago Justine, 45, was recovering from gender reconstruction surgery when she and Julie, 43, were hit by the earth-shattering death of their only son Cameron.
In the weeks before he died, he told his "Mummy Justine" and his "Mum Julie" that he wanted them to repeat the wedding ceremony they first had in 1997. And when they teased him about who would wear the white dress, their cherished "cheeky chappy" announced: "Both of you, and I'll walk you down the aisle."
Justine smiles at the memory; then quietly adds: "We miss Cameron desperately and think about him every day, but it is only now that we are beginning to find joy and to really live again. And it's only now that we can begin to think about doing what he wanted."
The couple, with the moral support of daughters Samantha, 23, and Morgan, 16, are saving up for the church ceremony and reception.
It will be latest in a string of recent highs for the pair whose incredible love and courage has inspired thousands and led to award nominations, TV appearances, and glitzy events where they have rubbed shoulders with prominent people such as Jeremy Corbyn, Sir Ian McKellen and Mary Portas.
Justine says: "This time round I will be the 'real' me. It will be an honest ceremony. There will be no more secrets – other than who has pinched the chocolate.
"We will both be wearing wedding gowns, just as Cameron wanted.
"I already have my wedding dress. It's beautiful. Julie and I went to Glasgow. She tricked me into thinking we were going for a swim in the hotel pool before throwing bridal lingerie at me and saying: 'come on, we're going wedding dress shopping.'"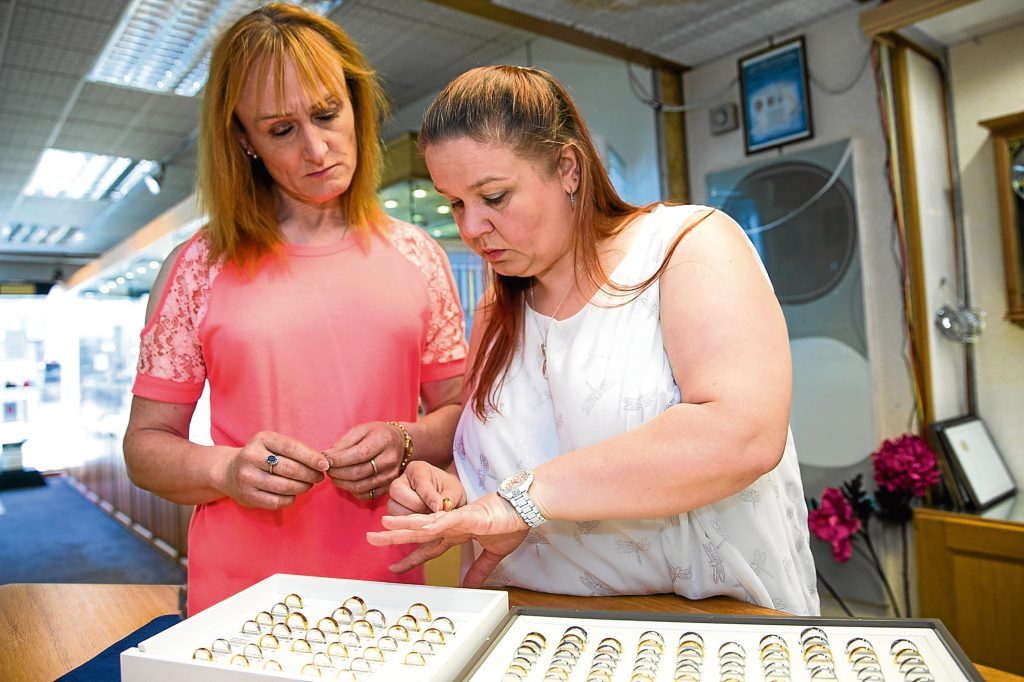 She adds: "I have just bought my ring. I still have the first one because it was blessed in church, but it is too chunky and masculine to wear. And we still have to set the date but we want this event to be better than the last one."
Julie breaks into laughter when Justine reveals: "Last time we had our reception at home in Cruden Bay and made our own sandwiches!"
The no-nonsense, straight talking former development manager says: "I love Justine for the person she is – not the man, or the woman. I have watched her blossom and grow in confidence from the day she trusted me with the truth about herself."
Julie, who has now chosen to be a full-time homemaker, knows some people doubted their relationship would survive the turmoil they have endured. But she says proudly: "We are as strong a family as ever, we have always loved each other, and go on loving each other more with each passing day.
"Four years ago, when everything seemed disastrous, we would never have thought we would be where we are now."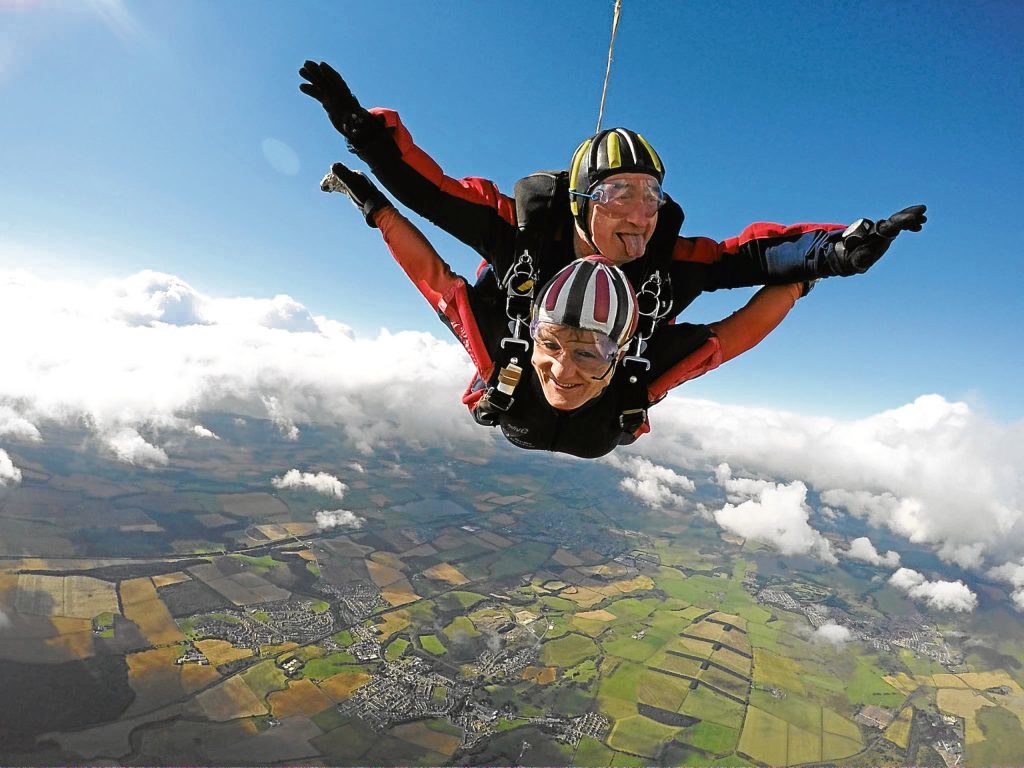 Neither had spoken publicly of the remarkable journey that saw their 26-year relationship change dramatically – that is until they shared their story with The Sunday Post in 2013.
Brave Justine revealed how she had known from early childhood that she was at her core female, but hid her true self for fear of being ostracised by family, friends and society.
The marine electronics engineer began working in the male-dominated fishing industry alongside some of the UK's toughest trawlermen and married Julie with whom she now has three grandchildren Harmony, six, Harrison, four, and baby Ellie, nine months.
But despite loving her wife she knew she was living a lie. It took her a year to find the courage to tell her the truth.
Justine – who thought she would lose her family with the revelation – remembers: "I could not have gone on without telling Julie who I really was. I didn't want to be with anyone else, I just couldn't continue to live a lie. I was depressed and had considered suicide."
And although Julie was shocked, she says her love for Justine meant that she would stand at her side every step of the way.
She says: "We sat the kids down and were honest with them. We knew it would be tough. We live in a small community. So we asked if they wanted us to split up or stay together and move away."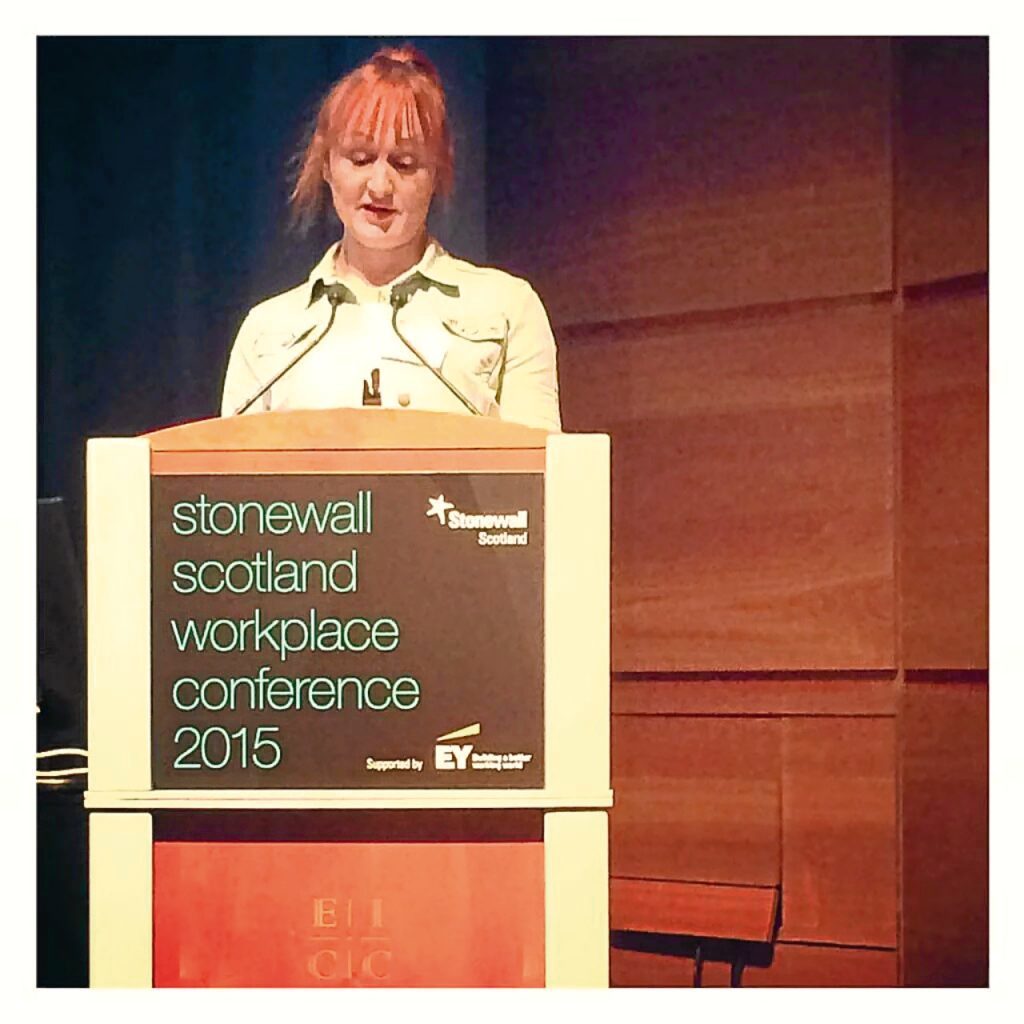 The couple were astounded when their amazing children said they wanted to stay together as a family in their childhood home.
Julie says: "From then on the kids called me 'mum' and Justine 'mummy' and told other people that they didn't expect them to understand our unusual family, but not to judge us."
Glancing tenderly at her wife, Justine adds: "Julie and the kids saved me. They proved that you can get through anything with understanding, tolerance and unconditional love."
Justine decided in 2015 to sky-dive for LGBT (lesbian, gay, bisexual and transgender) equality campaign group Stonewall, raising more than £2300.
It was in that year that the organisation invited her to speak at their workplace conference.
She hasn't looked back since with similar invites to campaign rallies, dinners and awards nights.
Justine says: "It's unbelievable. I was shaking with nerves when I gave my first speech. I was given a standing ovation. Tesco invited me to the Stonewall equality dinner as their guest and I met Mary Portas, Sir Ian McKellen, and Antony Cotton from Coronation Street. I didn't think they'd be interested in chatting to me, but they were lovely.
"It really helped my confidence."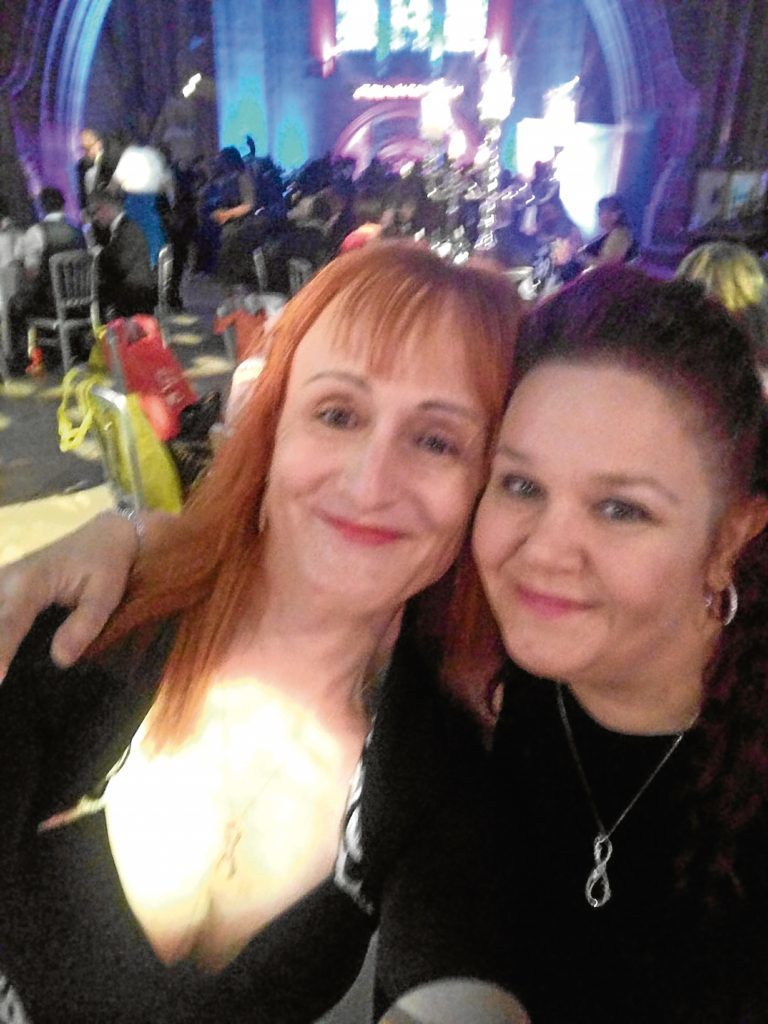 Justine and Julie fund all of their charity work themselves – which means it may be a while before they can afford their dream wedding.
And July is a busy month for Justine who is among the final 10 nominees in the science and engineering category for the coveted 'We Are the City – Rising Stars Top 100 Awards', celebrating top female talent UK-wide.
And she will address around 5000 people at the Isle of Wight's first Pride festival.
Julie says: "We would never have wanted to lose Cameron, but when terrible things happen it is not the end of it. It just means learning to live a different life.
"Before we were an insular family and did not let the outside world in. But now we are always away somewhere with new people, experiencing new and exciting things.
"We even get recognised from being on TV. Cameron would have loved it. He would be proud of his mummy, Justine."
On June 2 Justine and Julie will, with their family, climb the hill above their home town to Slains Castle where Cameron lost his life. His smiling picture hangs on a fence there. Together they will lay flowers in his memory.
"He's still with us," says Justine. "I pass that spot every day on my way to work and say good morning to him. When Julie is away somewhere I tell him: 'look after your mum'.
"I know he is watching over us. He is right there, pushing me forward with my charity work."
She chuckles: "I blame him for all the attention we get."
And, turning the new wedding ring around on her finger she whispers: "He is the wind beneath our wings."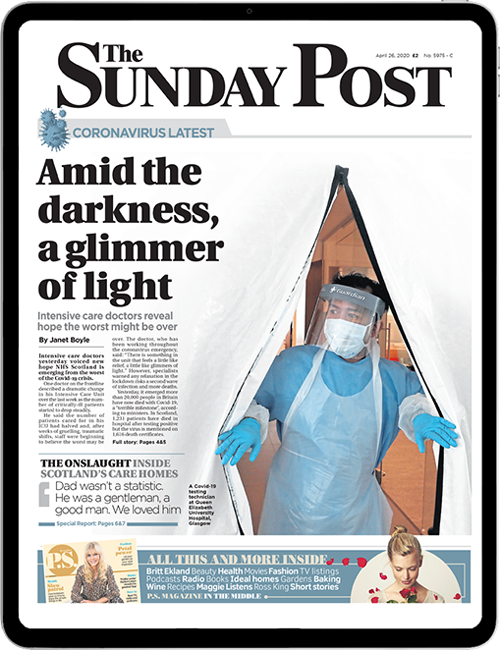 Enjoy the convenience of having The Sunday Post delivered as a digital ePaper straight to your smartphone, tablet or computer.
Subscribe for only £5.49 a month and enjoy all the benefits of the printed paper as a digital replica.
Subscribe