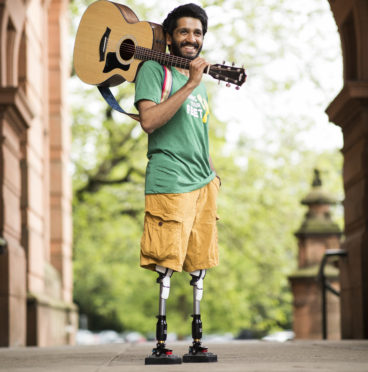 A man who lost his legs after stumbling on to the railway is using music to help warn others.
Paul Johnson, from Glasgow, was unconscious for several hours after suffering an electric shock on a railway line and woke up with his legs on fire.
He had been cutting across the track following a drunken night out.
Both limbs were amputated but after recovering from his ordeal, Paul, 26, has been visiting schools to share his story.
Paul, a singer and guitarist, will now use music to bolster his warning. He'll start with cover versions but plans to write songs laying bare his own ordeal and the risks of drinking too much.
A troubled family life led him to drink and drugs and he admits the track tragedy was literally an accident waiting to happen.
"I wanted some kind of a thrill to fill the void in my life and I was climbing things and taking stupid risks," says Paul, who was working as a waiter at the time.
After a night out with pals in November 2014, Paul decided to take a shortcut across railway tracks in the south of the city.
He doesn't remember being hit by the massive blast from the live overhead lines and was unconscious for a couple of hours.
"I beat the fire out but my legs weren't working and I had to drag myself to get my phone which was lying on the tracks," said Paul. "There were trains running and I remember covering myself and hoping they didn't hit me."
After calling for help Paul was rushed to hospital and although it was initially hoped that they could be saved, both legs needed to be amputated above the knee.
Having lost both legs at the age of 21, Paul's demons took over and with his depression and mental health issues, he barely left the house for years.
Vital help came from Corinne Hutton, founder of charity Finding Your Feet which helps amputees. Corinne lost both her hands and legs and earlier this year became Scotland's first double hand transplant patient.
"I was too scared and self-conscious to get out but Corinne kept persevering until she finally got me to go for lunch," said Paul. "What a difference she made.
"My perspective of disability was shattered. I was no longer a disabled person in a world full of able-bodied people, I was just differently abled."
Clean, sober and wanting to make a difference, Paul started making some school visits last year to share his stories. He has spoken to entire primary schools, secondary pupils and those with behavioural issues.
While his talks have gone down well, Paul wants to have a closer connection with the youngsters.
Having regularly played open mic nights before his accident and in front of 400 at a charity event since, he is going to be taking his guitar into many more schools from the new school year in August.
"I'll still be telling my story but I think having my guitar with me will make a real difference," added Paul. "Playing it got me through a lot of dark times.
"I'm sure it will engage them more and evoke feelings in them because of the power of music, rather than me just being someone else coming and standing talking.
"I really want to get the message about drink and drugs across, as well as the dangers of railways, so no one else has to go through what I have."
Corinne said: "Paul's self-esteem was dangerously low.
"To see him now working with the charity, helping other amputees and using his story to get schoolkids on the right path makes me so happy.
"He's not only changed his own life, he's determined to change others."
---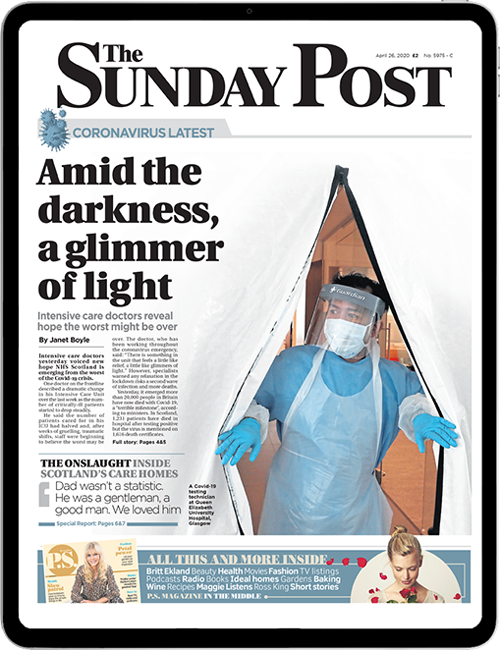 Enjoy the convenience of having The Sunday Post delivered as a digital ePaper straight to your smartphone, tablet or computer.
Subscribe for only £5.49 a month and enjoy all the benefits of the printed paper as a digital replica.
Subscribe