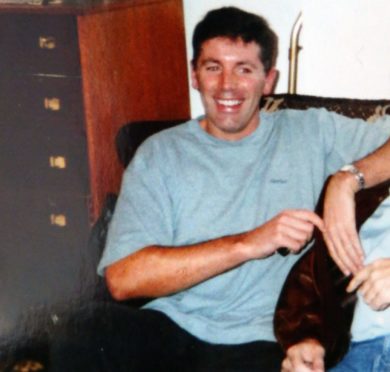 The brother of a businessman beaten to death almost 18 years ago has demanded to know why no one has stood trial for his murder.
Taxi firm owner Alexander Blue, 41, was found unconscious in the driveway of his home in the west end of Glasgow in June 2002 and died two days later in hospital.
Older brother Billy Blue, 62, claims there is enough evidence to put at least one suspect in the dock and says he cannot understand why no one has ever been charged.
He wants ministers to order an independent review of the original police investigation and the Crown Office's subsequent decision not to prosecute. Billy believes three men were involved in the early-morning attack in Dundonald Road in the upmarket Dowanhill area. He says he has given detectives the name of a fourth man he also believes sanctioned the hit.
Billy added: "I find it astonishing no one has been charged or stood trial for this terrible crime. The police and I both know who ordered the murder and I believe there is enough evidence to bring that person to trial.
"In particular, there needs to be an independent review of the Crown Office's refusal not to bring any charges. I don't see why they cannot be made to explain that decision."
He added: "My mum, Kathy, is 87 and recently suffered a stroke and a broken hip. It's not natural she should be denied justice for so long, particularly when her health is failing."
Alex part-owned The Taxi Centre in Glasgow, which sold cars to the private hire taxi trade and had a turnover of about £7 million a year.
His business partner was ­lawyer Greg King, who featured in a recent police investigation into one Scotland's biggest fraud cases but was never prosecuted.
The Blues later donated a £90,000 inheritance from Alex's estate to CHAS, the Children's Hospice Association Scotland.
His death is the second-longest unsolved murder this century in Scotland. The longest unsolved case is the murder of gangland boss Frank McPhie, who was shot outside his home in Maryhill, Glasgow, in 2000 by a sniper. A man was later charged but the case was dropped due to a lack of evidence.
A police spokesman: "Police Scotland is fully committed to identifying the person or persons responsible for the murder of Alexander Blue.
"Unresolved and undetected investigations are never closed."
The Crown Office said: "We will continue to work with Police Scotland, as with any other unresolved homicide, to explore any new evidential developments. The family will be informed should any significant developments come to light."