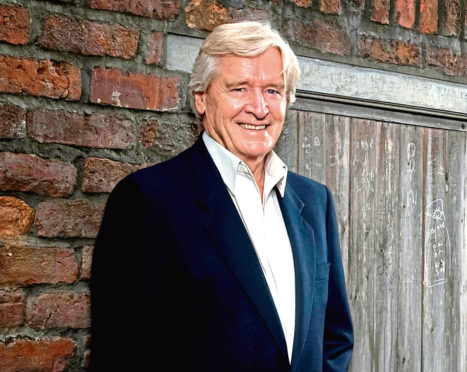 The party planners are already looking at one of the biggest celebrations of 2020 and one person in particular has every intention of being there…
Bill Roache appeared as Ken Barlow in the very first episode of Coronation Street on December 9 1960 and he hopes to be there next December as Corrie celebrates its 60th anniversary.
"I'd like to say that it seems like only yesterday," said Bill, who's 87. "The truth is it seems more like the day before. Having been there at the very start I would certainly like to still be there 60 years later."
Not many people have the same job for that length of time but Bill says he has no regrets at all.
"It has been an amazing journey really," he said. "When we started nobody expected we would still be going all these years later.
"I don't think we gave any thought to the fact that we were starting what was to become such an iconic TV series.
"We were just doing what we thought was going to be an ongoing series and at the time we were just happy to be making an unusual drama.
"When Coronation Street started there was a move in the film world towards making what can only be described as realism.
"There were films like Look Back In Anger and the trend was to present life as it really was rather than the glittering Hollywood approach that we were more used to seeing in our cinemas.
"Coronation Street was to be the TV equivalent of that, if you like a cutting-edge series which presented the people and their lives in the terraced houses of towns and cities.
"The realism meant that there would be agreements and disagreements, romances, problems and laughter. It was not a documentary so we all needed to be character actors and it worked.
"I actually don't like hearing it called a 'soap' because it really is a drama and 'soap' sounds rather belittling for a drama series that has held the nation's interest for so long."
Bill did not turn to acting until after his service in the Army which saw him rise in the ranks to Captain. He served for three years, leaving in 1956 and has a lasting memory of his time in the military.
"I have suffered from tinnitus ever since," he revealed. "I was too close to an explosion and it left me with this souvenir in my ears. It is a nuisance but after all these years I have learned to live with it.
"I wasn't sure what to do when I left the Army but had always been fascinated by acting and decided I might like to try my hand.
"I was about 24 and landed small parts in stage productions in various parts of the country and then I tried for some film and TV work. I was not a star overnight, quite the opposite, my first jobs were uncredited.
"Then 1960 turned out to be a very special year for me as I landed quite a good part in a TV drama called Marking Time. That was a Granada production and didn't air until 1961 but it was a big step up.
"I played a character called Harry, one of the leading roles. Mark Eden was in it too and, later he also had a lead part in Coronation Street (as Alan Bradley) and in real life married Sue Nicholls."
Bill has immense pride in being part of the Coronation Street story.
"The series has made history and it is wonderful to be a part of it but I do see it as a team effort, a family," he said.
"I wouldn't dream of walking around wearing a T-shirt saying I am the longest-serving actor in a role in the world. I never think about such things.
"As far as my acting life is concerned I just seek to do my best whenever I am in front of the cameras, like everyone else who is or has ever been in Coronation Street.
"There have been many great characters and many great actors ever since the start. Violet Carson as Ena Sharples is still lovingly remembered to this very day.
"There have been great storylines too. Nobody agrees with absolutely everything that is put in front of them but by and large I cannot recall many, if any, arguments over scripting.
"I know that Ken Barlow has often been thought of as boring but when you look back he has had a string of lovely girlfriends, including Joanna Lumley I might add.
"He is no stranger to saying his piece and even throwing a punch or two so I don't think he is boring. He is an academic and a thinker but that doesn't mean that he is boring. I certainly hope not and I hope I'm not either."
Bill Roache could never be described as boring, he has never been slow to air his views on politics, the environment and many other subjects but he is the sort of person who prefers to be asked rather than go out and bang a drum.
"Just because you are an actor and seen on television a lot doesn't make you an expert in everything else," he said. "I have said my piece on a few things but that is because I have been asked about something I believe in, not just talking for the sake of hearing my own voice.
"I was delighted some years ago to become an MBE but I am still Bill Roache – actor and that's all."
So where do Ken Barlow and Bill Roache go from here?
"I am never sure where Ken is going!" said Bill. "He has had many adventures through the years and I hope he will be going strong and having some good storylines in the years ahead.
"I certainly do not see the end of Coronation Street. A couple of times people have wondered if it is nearing the end of its life but the viewing figures are still among the very best, the storylines remain strong, the characters are good and I think that since people have been watching it for generations, it has become a part of everyone's family.
"You can't just write something off like that.
"As long as it has the kind of drama that people can relate to and as long as it retains its sense of humour and fun Coronation Street will go on into eternity.
"As for Bill Roache, I have no plans to retire or do anything revolutionary. I like being Ken Barlow, I like being a part of the Coronation Street family and success story so I have no plans to call it a day."
That must mean that Bill will still there in December when Corrie will be 60.
"Oh yes, I certainly hope so, I am looking forward to the party," he said. "We did a special live episode when The Street was 50 so I am sure there will be something extra special this time round.
"I am sure there will be a good storyline going on and a few surprises so we shall have to see.
"I want to be there and only 10 years later Coronation Street will be 70 so all being well, Ken will be there for that too and who knows, another 10 years after that there could be a special storyline when Ken gets his 100-year telegram from the Queen!"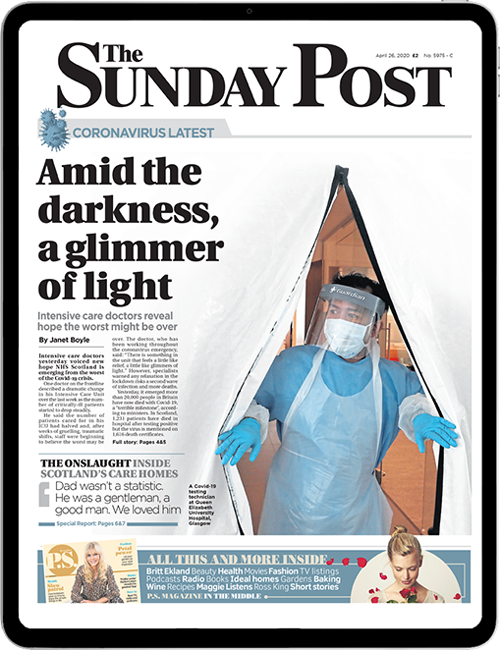 Enjoy the convenience of having The Sunday Post delivered as a digital ePaper straight to your smartphone, tablet or computer.
Subscribe for only £5.49 a month and enjoy all the benefits of the printed paper as a digital replica.
Subscribe