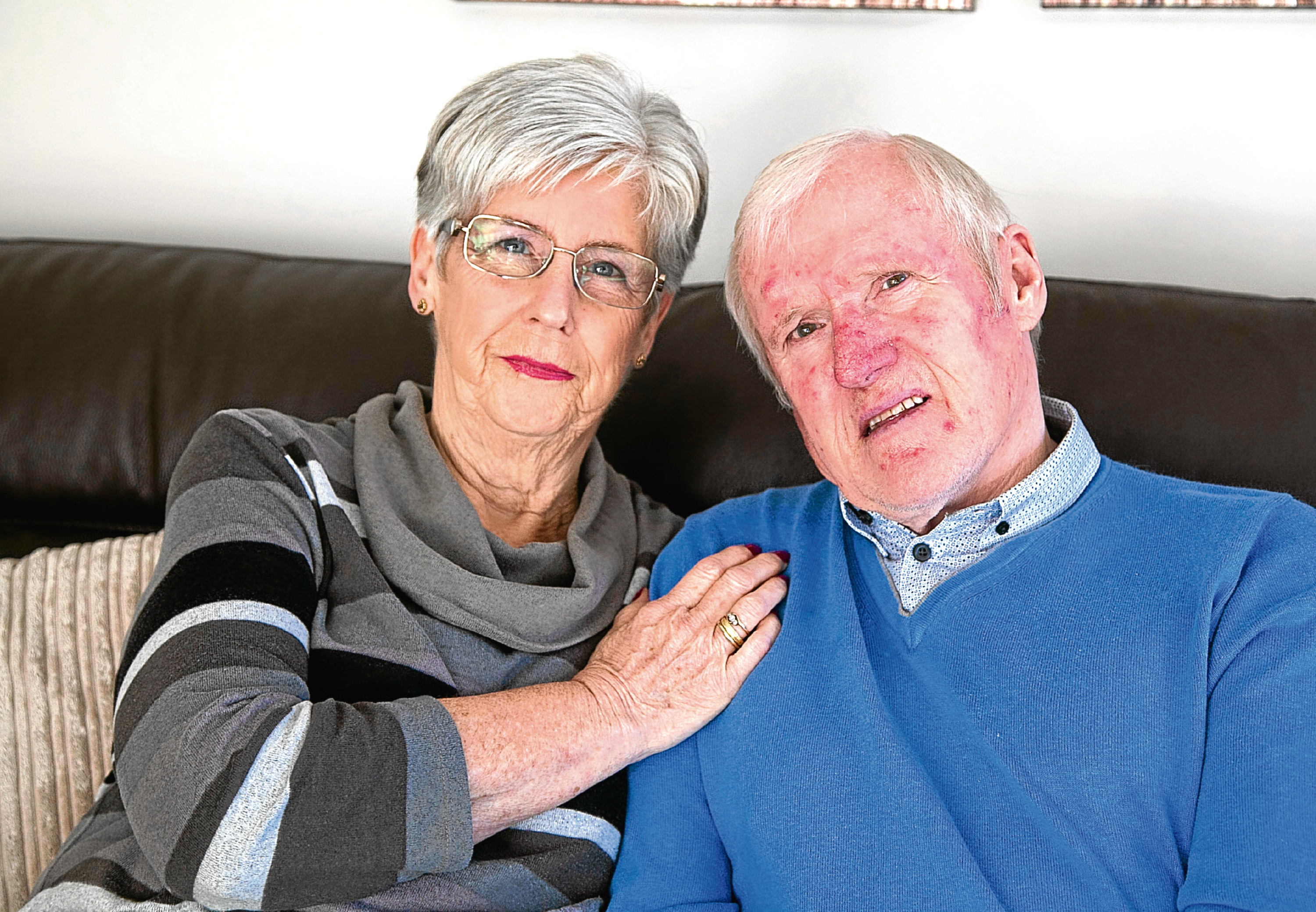 JANET MALCOLM is laying plans for a milestone 2017.
She'll start the year by celebrating her 70th birthday and end it by marking 50 years of marriage to husband Andy.
The anniversary, though, won't be what they expected.
Andy, 71, had a massive stroke three years ago and was left with a life-changing brain injury. It means Janet's gone from just loving her partner to looking after his every need.
"There are still bits of my husband left from before the stroke and I just want to pull a few more bits back," she says.
Now Janet, from Penicuik, is one of three people from across the UK in the running for charity Headway's Carer Of The Year award at London's Dorchester Hotel this month.
Until the devastating stroke in January 2014, former fireman Andy was super-fit.
And Janet, who has two grown-up children and five grandkids aged from eight to 17, says that proved a lifesaver.
"He was obviously in good shape from the fire service and also played golf four times a week and then came back and did a 30-mile cycle," explained Janet, who retired from Standard Life in 2007.
"The day it happened I came back from the pictures with a friend and when I saw him in bed I knew from his face exactly what had happened. He couldn't move or speak."
Andy was rushed to Edinburgh Royal Infirmary where a doctor told her he might not see out the night.
Although he did, it was only the start of a long struggle back from the brink.
He was left paralysed down the right-hand side, has virtually no speech, developed epilepsy and experiences frightening tonic clonic seizures.
There has, however, been improvement along the way.
"He is able to walk with a stick thanks to an electronic device on his leg that sends stimulation to his muscles. And he has a mobility scooter to give him some freedom to get out of the house."
For the most part, though, the couple are together at home and with no help outside friends and family – "he'd hate to have people come in" – it's really all down to Janet.
"He gets frustrated because he can't do things and can't express himself," admits Janet.
"I can understand better than anyone what he's trying to say but it is hard and if he doesn't want to do something, he just won't.
"We used to share doing everything, from the garden to the house – now I do it all and look after him.
"We still have a life, we still love each other. It's different from the life we thought we'd lead but you just have to get on with it."
Janet has been helped immeasurably by Edinburgh Headway, which is always there to answer questions and lend support.
And now her round-the-clock care has been recognised with making the Headway Annual Awards on December 16.
"It was a surprise but I don't do it for recognition, I do it simply because I love my husband."
For more information, visit edinburghheadway.org.uk
---
READ MORE
Airdrie football boss who suffered a near fatal stroke battled back for his daughter's birth
£1m boost for community groups helping dementia and stroke sufferers