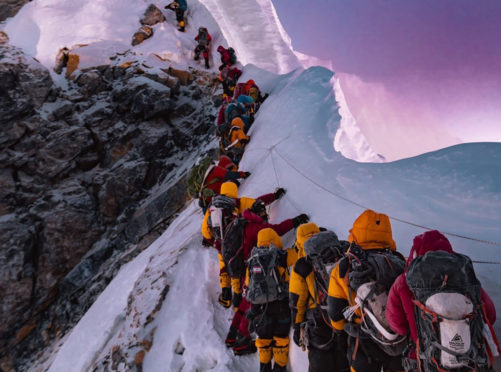 A climber who conquered Everest fears overcrowding is putting mountaineers in peril on the world's highest peak.
Kirsty Watson, 48, spoke out after 11 people died during this year's climbing season as record numbers attempt to reach the summit.
Army doctor Kirsty grew up in Helensburgh and worked as a nurse in an Edinburgh cancer unit, scaled the 29,000ft mountain last month.
She also worked as a doctor at the expedition's base camp, treating illnesses and injuries.
Recent photographs have shown queues of climbers waiting to scale the mountain – a delay which can put lives at risk.
Kirsty said: "Exhaustion and oxygen levels can seriously affect judgement and the brain can become fogged.
"It is very easy to become unaware that you are making mistakes even in the routine task of clipping your ropes."
In addition to the risks of delays near the summit, often caused when there has been an accident, other climbers are tempted to stay too long at the top, making them exhausted, and impairing their judgement,
"They are at risk of slipping, not fixing their clips securely and incorrectly performing routine tasks they have done countless times before."
Training for the top involves rotations of climbing and then partly descending to allow the body to acclimatise before making the final bid for the top.
But the route down is by far the most dangerous, when, Kirsty said, 80% of fatalities occur. Kirsty climbed the tougher north face of Everest, in Chinese territory, where just 150 ascents are allowed every year.
She saw graphic evidence of the risks, passing the bodies of climbers who had perished on the frozen peak.
"One climber had fallen and was suspended by a rope off a fixed ladder hammered into the rock by previous climbers.
"I tried to avoid passing him by abseiling around that part of the ladder but struggled badly and managed to grab back onto the ladder. Even after all my years in emergency medicine and my time as an Army doctor in Afghanistan, I found it hugely upsetting to see them. I guess they were a constant reminder of what could happen if you made just one mistake.
"I counted 11 frozen bodies on the ascent, some of whom had lain there for up to 10 years."
The last stretch to the top is known as the death zone, where the brain and lungs become seriously compromised even with oxygen cylinders worn.
"We had nine hours to reach the top and get back down again to a safer level," she said.
"I spent 15 minutes at the top thinking that I would always remember this. My family back home, my route to becoming a doctor, my Army career, my life so far were all on my mind.
"I knew that the most dangerous part of the climb had yet to come. I had decided that if I didn't survive on Everest, I would stay there.
"Please leave my body on the mountain if I die, I had told my family."
Kirsty's fascination with Everest began 10 years ago when she worked as a doctor at the base camp hospital.
Her work included treating severe frostbite cases and other injuries. On her most recent expedition, one of her party injured his hand on a rock and the wound was repaired with 12 stitches.
"However, low oxygen levels mean that wounds heal slowly," she added. "Fortunately his did."
In 2015 Kirsty made her first attempt at climbing the mountain, but the expedition was abandoned after the area was hit by an earthquake.
She and fellow climbers were lucky to escape the boulders which rained down on their base camp.
"I knew that I would go back and attempt to reach the top one day," she said. "It was unfinished business."
Now home, Kirsty is preparing to go back to her work tomorrow as a GP and clinical lead doctor in urgent treatment at Westmorland General Hospital in Lancashire.
She previously worked as a cancer nurse at Edinburgh's Western General Hospital before studying medicine at St Andrews.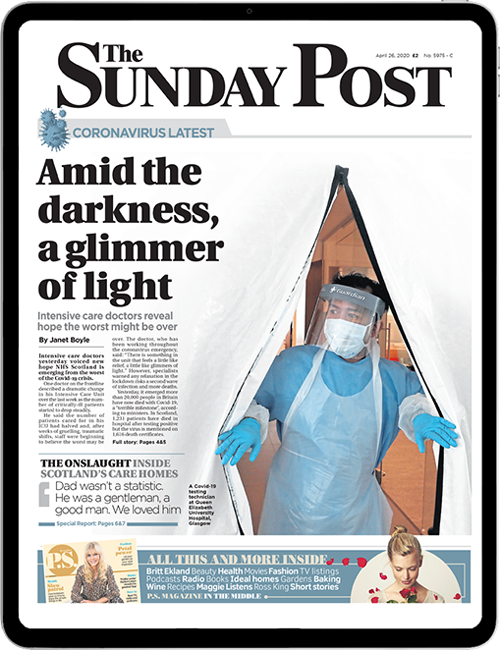 Enjoy the convenience of having The Sunday Post delivered as a digital ePaper straight to your smartphone, tablet or computer.
Subscribe for only £5.49 a month and enjoy all the benefits of the printed paper as a digital replica.
Subscribe