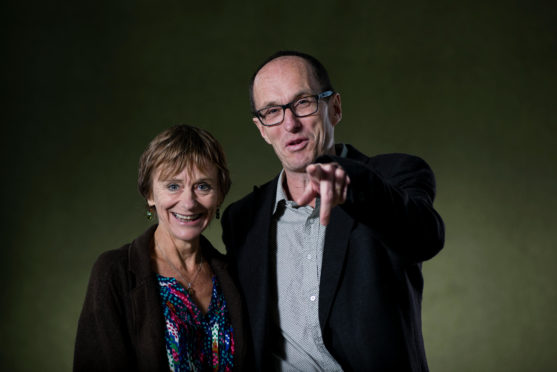 They are the best-selling husband-and-wife crime-writing couple who admit their own whirlwind love affair is the stuff of novels – in fact, it was the chilling inspiration for one of their own plots.
Within days of meeting, the pair had moved in together. Soon after they were married. And, 30 years on, they are still a couple with a quarter-of-a-century's worth of books and four grown-up kids under their belt.
Now in the run-up to their appearance at the acclaimed Bloody Scotland literary festival, the two halves of the writing team that make Nicci French – Nicci Gerrard and Sean French – reveal just how a partnership in crime pays.
And, reliving the moment they first clapped eyes on one another, Sean, 60, said: "We were both on New Statesman magazine. I was writing a column and Nicci was temporarily standing in for the book review editor."
Nicci, 61, then a newly single mum, recalls: "My childminder hadn't turned up, so I towed my two-year-old and one-year-old into the office with me and there was Sean. I was completely unready to meet anybody at all."
Sean said: "We moved in together almost within days. It was a wonderful time but sometimes I look back and think we both went a bit mad."
And it's that temporary madness, freak decisions and the impact of mundane domesticity going awry, that has given the couple ideas for eight gripping Frieda Klein novels, and a dozen standalones – the latest of which, The Lying Room, is published in October.
The pair who between them have a son Edgar, 31, and daughters Anna, 30, Hadley, 28, and Molly, 26, began writing together as an experiment. They started their first novel, The Memory Game, on the first day of 1995 and have since written a book a year.
"We were a third of the way through another book when we had a conversation about how we first met," says Sean.
"It was such a risky thing to have done because we didn't really know each other properly. We realised there was a thriller in it; this couple who meet, fall in love and have this passionate affair. Then suddenly the woman realises there are things about him she doesn't know. So we wrote Killing Me Softly.
"We are not obsessed with crime. We are more obsessed with the fragility of life; how it is always just one bad decision away from everything turning horrible, or even how little you know the people you are closest to. Everyone has secrets. That is what we find frightening."
Their latest offering features a middle-aged married mum of three who has a secret lover. When she finds him dead she is faced with the dilemma of phoning the police and ripping her life apart or staying silent.
According to Nicci, no one is exempt from secrets and arguments. "Everybody has a secret self," she says. "It is not possible to know everything about one another and nor should it be. I am an arguer, mostly about domestic stuff."
"I'd be worried about a relationship where people didn't argue," says Sean. "That's close to being indifferent."
Nicci smiles: "It's amazing that we have been together for 30 years, especially when we write together. It works because we trust each other. We really are trying to write as this mysterious third person Nicci French.
"We both have to be equally enthusiastic about an idea. We work it out together in some detail. We know where we are going, who the characters are and the voice, and why we are writing the novel.
"We do the research together but we never write together."
There is only ever one of the Nicci French pair writing at one time.
"One of us will start the novel," says Nicci. "We never plan who, but we are each of us ready to write whichever bit. There is no division of labour. We have to feel that we own every little of it, both of us.
"It is very rare that we don't edit it in some way or another but we have a few rules. We never tell each other what we haven't liked or changed, so we email it to each other. We only realise what has been done to our own piece of writing when it comes back. The other rule is that when a piece of writing has been removed we cannot replace it. We have to trust that we are each other's best reader and editor."
Sean adds: "It is a very particular kind of relationship which I think some people wouldn't like. Some relationships rely on having separate professional lives. What is exciting about what we do is that we are really bound up together. When things go badly, they go badly together, and when it's going really well we're sharing that."
And what do their children make of their literary union? Sean says: "When we started writing our first book we had four children under the age of eight and of course they were not reading the early books. It was just the family business. Now they read them.
"We don't know if they've read Killing Me Softly – a book about sexual obsession. They don't talk about it. But I don't think I would have liked my mum and dad to have written a book about that," he laughs.
And will the pen partnership continue?
Nicci reveals: "When we wrote our first book together we signed some kind of piece of paper saying that if we split up Nicci French would disappear.
"And we have made a pledge to each other that if we stop loving and wanting to do this then we would stop, but we hope we will be lucky enough to keep going."
---
Nicci and Sean will be at Bloody Scotland in Stirling, September 20-22, talking about their new novel, The Lying Room bloodyscotland.com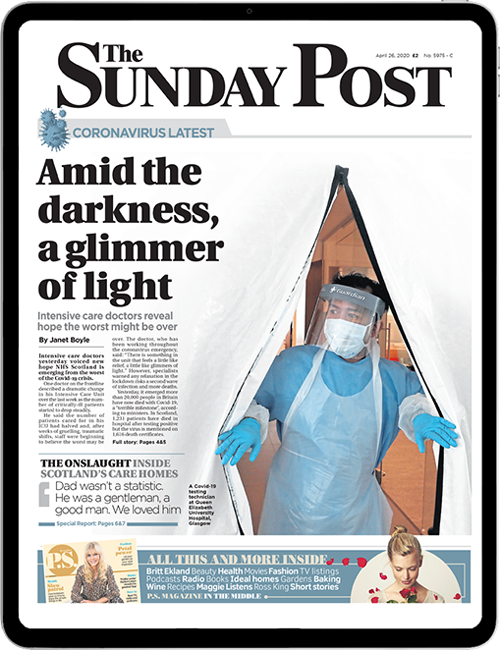 Enjoy the convenience of having The Sunday Post delivered as a digital ePaper straight to your smartphone, tablet or computer.
Subscribe for only £5.49 a month and enjoy all the benefits of the printed paper as a digital replica.
Subscribe