WHEN you meet Judy Murray in person, she's much softer-featured than she appears on TV.
She's slim and petite and wearing patterned dungarees that, frankly, not many of us could get away with. She carries them off with style.
She was once known simply for being Andy and Jamie Murray's mum, never far away from the tennis court sidelines, shouting and encouraging them on.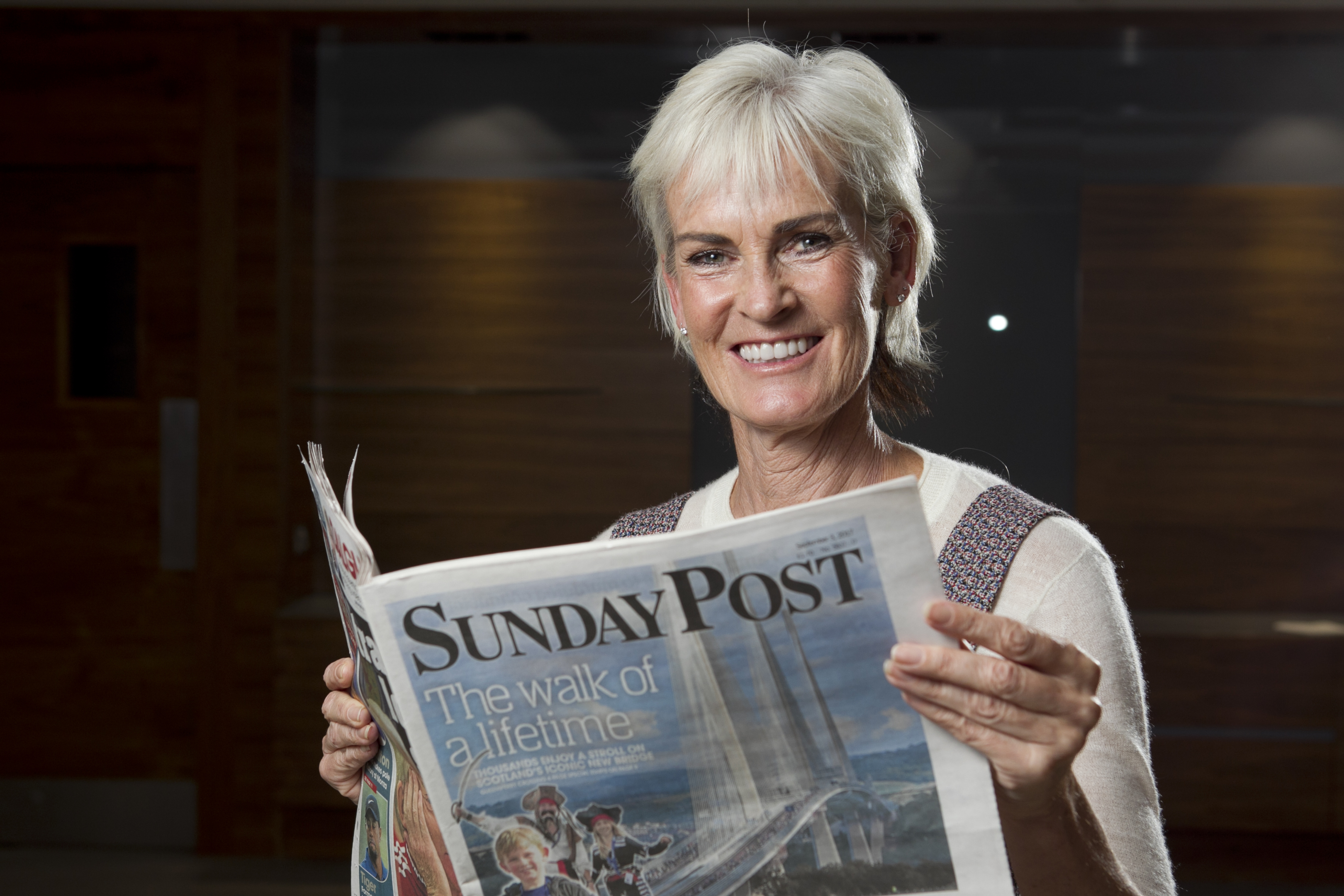 In the last few years, though, that's changed. She's got more than 220,000 followers on Twitter. She's often in the news.
And let's not forget the much talked-about appearance on Strictly Come Dancing in 2014. She partnered with Anton Du Beke – and showed that actually, she was far from the dour "tennis mum" she'd often been portrayed as. More about that later.
In short, she has become a "name" in her own right
And, as The Sunday Post's new columnist, you'll see that she's great fun – but she's not afraid to voice an opinion, either.
Her achievements are many and well-known. But, at 58, she's not finished yet. And she's absolutely thrilled to be bringing you her news and views every week.
"Well, you know, The Sunday Post has always been in my family. My mum and dad are total stalwarts and get the paper every week," she says.
"Obviously I remember growing up reading Oor Wullie and The Broons and Andy is very fortunate to have had a couple of Oor Wullie strips that he starred in.
"It's just such a huge thing if you're Scottish."
Perhaps unsurprisingly, though, her favourite part of the paper has been tennis-related.
"When I was a teenage tennis player I remember absolutely loving The Sunday Post because John Lloyd had a column when he was married to Chris Evert," she remembers. "And I loved Chris Evert. He would talk about what she had for breakfast and what dresses she was wearing.
"It was a rundown of her whole week at Wimbledon. I absolutely loved that. It was a little insight into things you don't normally read about.
"I've always loved the fact it's about family and community, too."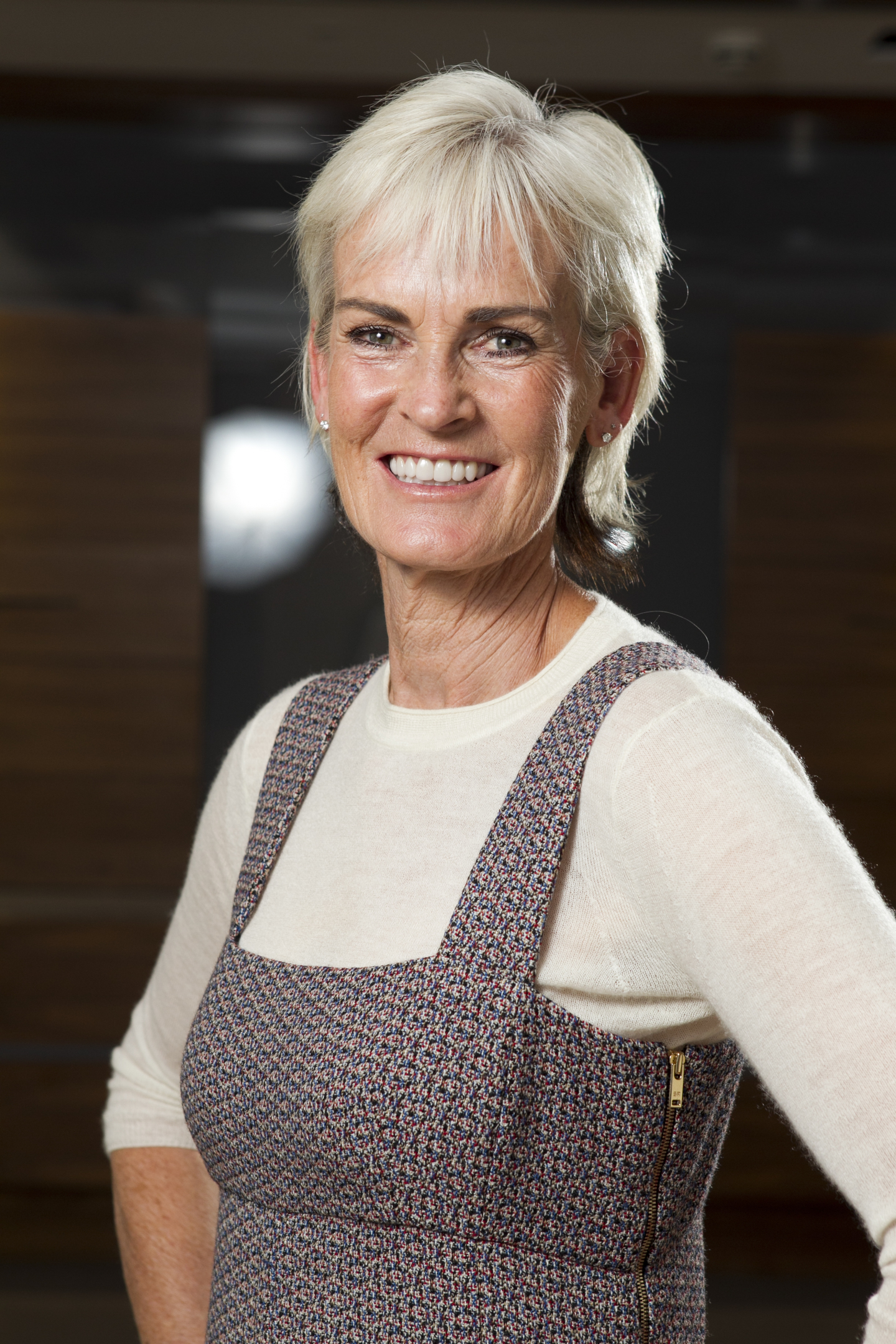 She dedicated so much of her life to helping Andy and Jamie get to the top that when you talk to Judy about it, it all sounds faintly exhausting.
And, though she's still on a mission to bring the fun of playing tennis to as many people as possible, she makes a bit of time for herself now. She loves the spa at Gleneagles and then there's the small matter of that tattoo she got a few months ago.
So, Judy, I say… I only just found about that tattoo of yours.
"Oh did you now?" she giggles. "It's a spider on my back. The epilogue of my book is that our story is one of never giving up. Our backs were to the wall at times, but we carried on.
"It reminds me of Robert The Bruce, watching the spider spinning its web and failing – then eventually managing to do it. I just thought, you know what, I'm doing it."
She's a granny now and dotes on Andy and wife Kim's daughter Sophia.
"Oh, it's lovely to have a little girl in the family to fuss over!" she says.
Both her sons have twice been Wimbledon champions – Andy in singles, Jamie in mixed doubles – and have won numerous other titles but ask Judy what her proudest moment is and she instantly chooses something closer to home.
"There's no question: The Davis Cup semi-final in 2015 against Australia at The Emirates in Glasgow," she says. "I've had loads of proud moments. But this one stands out for a number of reasons.
"It was the semi-final, middle day when they play the doubles. Sitting in The Emirates, it's heaving, 8000 people there and the atmosphere was incredible.
"The boys came on to play doubles together. They were led on by captain Leon Smith, who is like my third son, a coach I've kind of mentored since he was a young lad.
"And the noise when they walked on was incredible. I just sat there thinking, if someone had told me 40, 30, maybe even 20 years ago I'd be sitting in a stadium in the east end of Glasgow where you can't find a tennis court, watching Scottish players and a Scottish captain contesting the semi-final of the world team event I would have said, nah."
She pauses to remember the moment, grinning.
"That was everything to me. It was tennis in Scotland, they were representing Great Britain, with a coach I'd nurtured. It had it all."
When I ask about whether she ever felt like giving up during long years of slogging to help her boys reach the top, she gives me a detailed answer about how money was often a struggle.
Really, though, the short answer is no – giving up isn't in her make-up. When she sets her mind to something, she's as stubborn as they come.
It's why she spends so much time travelling up and down Scotland with her Tennis On The Road programme, bringing the joy of sport to as many people as possible.
That's not to say she doesn't let her hair down. She loves a night out with her friends.
"Oh, definitely. Ideal night would be an Italian meal, then on to a musical. I've seen so many great musicals," she says. "But without a doubt my favourite is Jersey Boys. You don't realise how many great songs Frankie Valli wrote. It's fantastic."
Judy hit the headlines a few years ago when she nicknamed Spanish tennis player Feliciano Lopez "Deliciano", much to Andy's mortification.
Signed up to anyone else's fan club, Judy?
"Oh, of course, I'm a fan of George Clooney. And I was lucky enough to meet him a few years ago at a fundraiser," she says.
"He's a fabulous speaker. I was very fortunate to be sitting at the top table, at the front of the stage. I could have put my hand out like this (she sticks her arm out) and touched him!
"I was introduced to him – and he told me he knew who I was. He was at Wimbledon in 2013 when Andy won. And then he said I had a wonderful little B&B. He meant Cromlix (the hotel Andy bought that same year).
"I was really tickled he even knew who I was. After that I became an even bigger fan!"
What does Andy think of Judy being The Sunday Post's new columnist?
"Actually, I haven't told him!" she laughs.
She loved the whole Strictly experience. I don't think she'll mind us saying she wasn't quite the world's greatest dancer.
"I had such a brilliant time dancing with Anton. My first dance was Mull of Kintyre. And while we were rehearsing a producer came over and we were discussing using dry ice," she remembers. "Anton asked, could we get it up to her neck?" She roars with laughter.
She's packed so much into her 58 years, I wonder if she has any regrets.
"When I was finishing school, I had the opportunity to go to America, to the University of Virginia on a scholarship," she says. "It wasn't the done thing then and I wasn't brave enough. But I don't really believe in looking back and being regretful."
When did she first realise she was famous in her own right? She almost shudders.
"I don't think of myself as being famous," she says. "I bristle when people call me a celebrity. I think it's probably a Scottish thing. I know my life has changed a lot in the last 10 years, but I haven't changed."
I'm pretty sure she's right.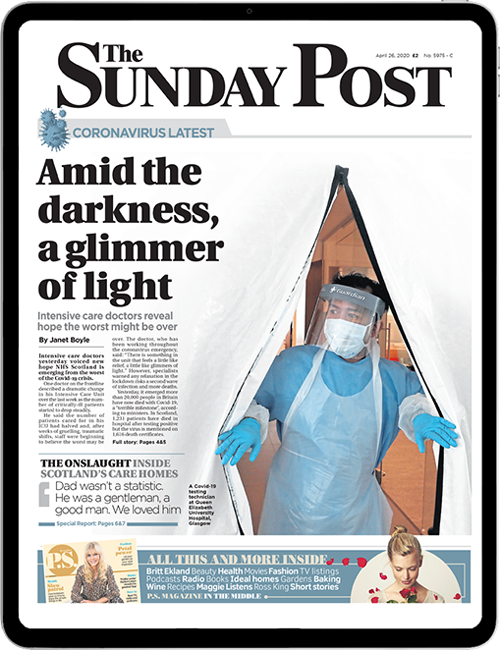 Enjoy the convenience of having The Sunday Post delivered as a digital ePaper straight to your smartphone, tablet or computer.
Subscribe for only £5.49 a month and enjoy all the benefits of the printed paper as a digital replica.
Subscribe