IF, as some critics snipe, Graham Alexander has been parachuted into football's equivalent of TV reality show 'Keeping up with the Kardashians', his employers have neglected to let him know.
Appointed manager of Salford City in the summer, the Scot heads up a non-league club which, thanks to its quintet of star owners and three lively seasons of a 'fly-on-the-wall' television series, boasts a profile far greater than its lowly position.
For Kim and Kourtney Kardashian plus Kylie Jenner, think Gary and Phil Neville, with support from 'Class of 92' pals Ryan Giggs, Paul Scholes and Nicky Butt.
It was Wales manager Giggs who smoothly introduced 'The Boss', Sir Alex Ferguson, for the official opening of the Peninsula Stadium last year.
The guest of honour was on-form too, admitting he had thought his five former Manchester United players were "off their heads" to take on the project – before warmly praising their commitment to put something back into the community which had given them all so much.
Others have not been so kind.
Accrington Stanley owner, Andy Holt, used social media to bait Gary Neville with a question about which Football League position they would be 'stealing', and fan forums accused them of being "£alford City".
Alexander, who won 40 caps for Scotland, argues the jibes miss the point.
"People can talk about the money, and the contacts the guys have brought to the table," said the 46-year-old.
"But the things that have been accomplished in the last four years have been incredible.
"This club has gone out and won three promotions in four years.
"Trust me, in any form of football, that is easier said than done. To come so far, so quickly, is extremely impressive.
"So huge credit has to go to everyone here, but in particular to the owners and to my predecessors as managers – Anthony Johnson and Bernard Morley – for everything they achieved before moving on."
The reference to Johnson and Morley is important in terms of the whole Salford story.
More, even, than Gary Neville or Paul Scholes, they were the real stars of the three seasons of 'Class of '92: Out of their League' and 'Full-time'.
Passionate, driven – often to the point of distraction – and always happy to wear their hearts on their sleeves, the two men made for compulsive viewing.
They have gone now, though, having moved on to Chester following a disagreement about their terms and conditions.
Their replacement has little desire to do his business so publicly.
"I didn't watch the show when it was on," said Alexander.
"I was, however, well aware of what was going on at Salford.
"As someone who lives in the north-west of England, I could scarcely have missed it.
"But I am at the centre of things now, and I can guarantee everyone – this is not a television show!
"It is a real football club, a very ambitious one, which is constantly breaking new ground.
"Let's be honest. Gary and the rest of the guys are superstars.
"True, I did play against them – Gary, Ryan and Paul – in the one season when I was in the English Premier League with Burnley.
"But that is where the similarity ends.
"Ryan Giggs, whose professional debut came at around the same time as my own, was just a phenomenal talent, and the others were also all magnificent footballers.
"I, on the other hand, was someone who worked hard to make the best of what he had, and through that I was lucky enough to forge a good career.
"But fans all over the world will have loved watching Ryan play the game.
"And while I am not sure I would like to have to deal with the level of public recognition they get, without a shadow of a doubt it is very useful for Salford City.
"I can tell you for a fact they are all more than happy to do their bit.
"Gary is the driving force, but all the guys chip in, sending messages to the players and what have you.
"They are all very proactive in terms of getting the local community involved.
"This season, we are in the fifth tier of the English game, so very close to realising the ambition of building a team that get into the Football League.
"That is us into the season now, and I'd say we are doing well, but still with room for improvement.
"Our home record is very good, and we have been absolutely delighted with the goalscoring contribution of new signing Adam Rooney (whose summer transfer from Aberdeen sparked controversy because of Salford's wage bill).
"At the same time, we have to look to get better results on our travels.
"It is something I have spoken to the players about. It has been acknowledged that this isn't an easy journey we are on.
"We are a new group. About 50% of the side are like me, in that all their experience has been in the Football League.
"In that situation, you need a little bit of time to get to grips with the environment. And, as we all know, time is something you just don't get in football.
"It is intense. You have game after game to play, and the team always has to perform and get positive results."
Alexander was available to join Salford because in March he was dismissed by Scunthorpe United, who have just appointed another Scottish favourite, Stuart McCall, to be their new boss.
After two very successful seasons – one of which was the club's second best in their history and only ended in failure at the semi-finals of the League One play-offs – he found himself on the wrong end of a bad run.
After seven games without a win – and with the team sitting fifth in the table – he was sacked.
"I have to say I didn't foresee it," said Alexander.
"There were 11 matches left, and I really did think I would get until the end of the season.
"Why? Because of my record in charge there. I always like to look forward rather than back, but at the same time I am proud of what I did.
"So my pride was hurt, and I was frustrated at not being able to see the rest of the campaign out.
"Anyway, I think Salford were more interested in what I did at Fleetwood Town (which he led from League Two up to League One).
"There are quite strong similarities in that they were new to the Football League.
"I had never worked out of the top four divisions.
"But after speaking to Chris Casper (Salford's sporting director and the sixth member of the 'Class of 92' involved with the project) and Gary, it became clear just what the scale of their ambition was.
"And just like that, I realised I didn't want anybody else to get the opportunity they were offering.
"I didn't want to turn on the television and hear what Salford were doing and curse because it could have been me.
"So I came here, and I am very happy.
"Don't get me wrong, it is not all a bed of roses. There are issues here that have to be dealt with, just the same as at every other football club.
"More, in fact, possibly because the speed that we have come up through the leagues.
"That has meant that the off-field side of the operation is always struggling to keep up with what is happening on the pitch.
"That's okay. It is how the guys want things to be, and I knew it was part of the deal when I came here.
"There are lot of other coaches who would love to be in my position."
Of that there is no doubt. Some of them might not even be Manchester United fans.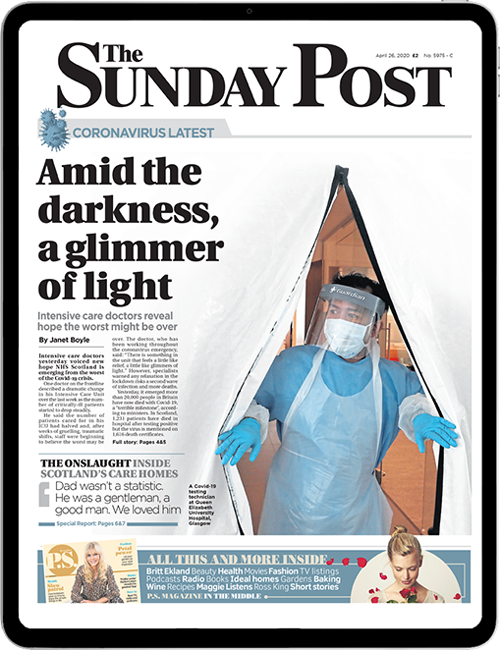 Enjoy the convenience of having The Sunday Post delivered as a digital ePaper straight to your smartphone, tablet or computer.
Subscribe for only £5.49 a month and enjoy all the benefits of the printed paper as a digital replica.
Subscribe