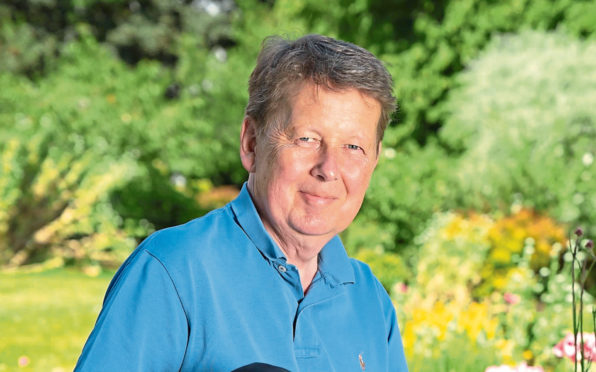 Bill Turnbull feels a bit embarrassed while watching his documentary about living with cancer.
"It's a bit of a blubberthon," confesses the former BBC Breakfast anchor. "I think: 'Gosh, I wish I wasn't crying quite so much, or so often!'
"But if people are moved by it, then we've achieved our purpose."
Guildford-born Turnbull first revealed he had advanced prostate cancer on The Great Celebrity Bake Off for Stand Up To Cancer last year. Now, nearly two years after his diagnosis, the father-of-three is sharing his story in Bill Turnbull: Staying Alive, an intimate film for Channel 4.
"If you're going to make a documentary about yourself when you've got an incurable disease, you know you're going to be exposing quite a lot of your private life," says Bill, who's 63. "You have to be prepared to let people see what it's all about – there's no point otherwise. You can't sanitise it."
Currently, the Classic FM presenter feels "pretty good, really". He's on a new treatment, called Radium 223, "which is as radioactive as it sounds".
"It seeks out the tumours on the bone and attempts to destroy them," he explains.
Prostate cancer affects 47,000 men a year in the UK, and every 45 minutes, one man is killed by the disease. But it's also one of the least known cancers. And, as many others do, Bill ignored the warning signs.
"There were familiar aches and pains, same sorts of ones coming back," he says. "I had an aversion to going to the doctor like a lot of men."
Instead he took Ibuprofen to deal with the pain, until his son Will finally persuaded him to go to a GP. By then, cancer had spread to his bones.
Treatment has included nine rounds of chemotherapy, and the broadcaster doesn't sugar-coat how difficult he has found that.
"They tell you: 'You will have three bad days.' What used to sustain me during those three days – when you just don't want to do anything – was I'd think: 'Well, it's only a couple more days.'
"But then with each round, I started to think: 'There's no coming out of this.' Three days became four days became five days… I thought: 'Is this going to be like this forever? Am I ever going to feel better?' That's not a nice place to be."
One fascinating element of the film is when Bill visits Jeff Ditchfield, who produces and processes his own cannabis oil, before passing it on – for free – to cancer sufferers.
Jeff risks up to 14 years in jail – over the 15 years he's been making it, he has been arrested more than 20 times.
Bill notes that "there are at least 20 countries which, to a greater or lesser extent, have legalised marijuana or cannabis for medicinal purposes. We need to be talking about it, examining it – there's a potential benefit which we may be losing."
CBD is the component of cannabis said to ease pain and anxiety; it is legal and sold in health stores. Bill takes it on a daily basis.
The psycho-active compound – and illegal part – is THC. "There may be other benefits to THC, you just don't know," says Bill.
A memorable scene sees him rather giggly after taking cannabis oil with THC in.
"That was the one thing I did feel awkward about, more than the crying actually, because it was technically an illegal activity," he admits.
"There was that element – and looking like an idiot. But when you've done Strictly Come Dancing, you've kind of broken that bar already!"
Bill has been very open about his cancer journey on Twitter. "I'd really love to be able to Tweet one day: 'Hey I'm cancer free', but I don't see that happening, just at the moment," he admits. "But you never know.
"And those are four very important words – but you never know. Because there's always possibly something around the corner."
This sense of hope and positivity really shines through in the documentary. "I go down the bottom of the garden sometimes and I shout at my cancer and tell it to get stuffed – I use stronger language – but I say: 'Not today, you're just not having me,'" Bill reveals.
"I don't believe in fighting cancer, but I believe in keeping it in its place."
Bill Turnbull: Staying Alive is on Channel 4 on Thursday October 24 at 10pm.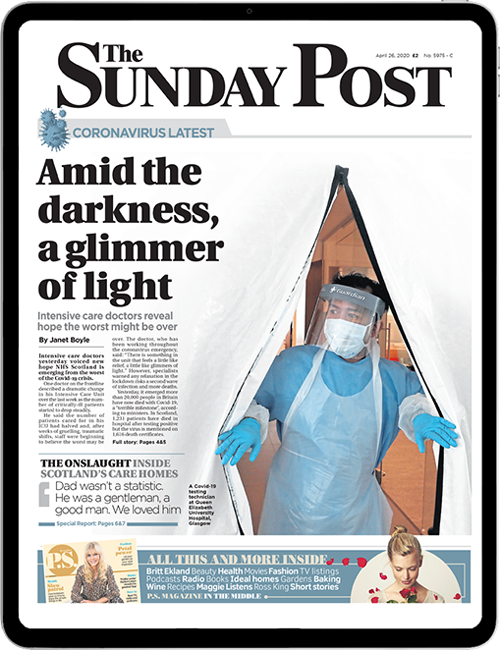 Enjoy the convenience of having The Sunday Post delivered as a digital ePaper straight to your smartphone, tablet or computer.
Subscribe for only £5.49 a month and enjoy all the benefits of the printed paper as a digital replica.
Subscribe