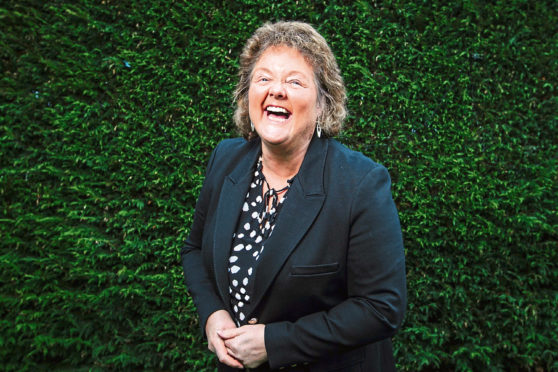 Barbara Campbell's smile can light up rooms but her cheerfulness has been tested like never before.
After tests on a mysterious lung problem came a breast cancer diagnosis that turned her world upside down. However, Barbara, 61, a celebrant, was to become one of the first Scots to undergo days of radiotherapy instead of weeks as doctors at the Beatson centre, in Glasgow, pioneer radical new treatment schedules.
Here, she shares her diary of cancer treatment during the time of Covid.
January 7
News reports of a deadly virus emerging in China filter from the radio as I get ready for a GP appointment. I have had a cough and breathlessness for five or six years and despite tests doctors can not diagnose the cause. As a last throw of the dice my GP refers me for another X-ray, while a nurse takes a blood test. I am sent on to a fast-track heart clinic.
February 5
Specialists at Royal Alexandra Hospital in Paisley carry out an echocardiogram to check my heart, followed by another X-ray.
February 27
In the car heading to a specialist heart appointment at Queen Elizabeth Hospital, on the radio I hear reports of the virus spreading. Once inside the clinic I am taken aback when my doctor says: "I don't know why you are here. There's nothing wrong with your heart. You are really a respiratory patient because you only have one lung working." I am floored because I have never smoked or drunk in my life.
March 20
I see a respiratory specialist and a CT scan and X-ray are organised. Hopefully, antibiotics, surgery or steroids will fix it.
March 24
It's the day after lockdown begins. I receive a letter saying my lungs are fine…but a suspicious breast lump has been detected in my scan.
I am scared, shocked and confused. I was secretly terrified I had lung cancer, but breast cancer is totally unexpected. They can cure breast cancer, can't they? It's bad, but better than lung cancer.That's the rock I cling to.
April 2
At Vale of Leven Hospital in Alexandria I undergo more than two hours of breast scans, biopsies and tests but I don't tell my parents or two sisters because I want to protect them.
I am alone, toughing it out and hoping for the best. I meet the consultant, Jenny Campbell, who is to become my saviour. "We will get you through this, Barbara," she says. "We can't operate during Covid but we can control it with tablets, instead." I am still suffering from breathlessness and have a sharp pain in my back so she pushes for an endoscope to look inside my lungs.
April 10
Mum calls for a chat but I can't speak as I can't trust myself not to break down. She suspects something is wrong, and after a few false starts, I explain about the breast cancer tests. She tells me she is my mum and I have not to keep anything like that to myself again. She is right, of course, and I feel better.
April 28
At Golden Jubilee Hospital in Clydebank, thoracic surgeon Alan Kirk puts a camera probe in my lungs, checks a couple of cysts and they turn out to be benign.
May 2
Scotland is in full lockdown and I am shielding at home. My sister Fiona brings food to my door, carefully washed down. She has cooked me meals, packed full of anti-oxidants.
I hate being run after and putting people to any bother, but I swallow my pride, and the broccoli, and think of happier times as I continue my journey through cancer. Jenny Campbell calls to tell me she has arranged surgery at Glasgow's Nuffield Hospital. It is doing urgent NHS surgery in a Covid-free building.
Two weeks after diagnosis, I feel the lump for the first time. It may have been diagnosed early by chance, but it's making its presence known.
May 10
The Nuffield call back to say they can't take me because I am higher risk and they don't have a back-up ICU unit. I call Jenny Campbell and she promises to drive my treatment through, Covid or not. I am grateful beyond words.
May 12-14
A call comes from the RAH to say I am to undergo surgery there to remove the lump. Fiona drops me off and I spend two days recovering before going home. I am exhausted but so thankful to everyone.
Jenny Campbell extracts the tumour leaving scars which fade in weeks. Surgery is about dexterity and craft, as well as a vast knowledge of cancer. Back home, mum and Fiona have been painting my garden fence a happy colour to help keep me cheerful. It does!
My sister Lynne and niece Rebecca paint me pebbles with "smile" and "hugs" written on them, so I can slip them in my pocket to remind me they are all thinking of me. No one can give me a hug, though, because I am shielding, and I'm missing this so much.
June 12
Radiotherapy is next. It sounds gruelling but no one expects cancer to be cured easily so I brace myself for what's to come.
By sheer luck, and the grace of God, I am to undergo a new, shortened treatment My family are tip-toeing their way around the subject of cancer. I don't mention it for fear of upsetting them, and they avoid asking me in case I am upset. My mum asks how I feel in the way only mothers know. I am more upset for my family than myself. They are worried about me.
June 17
Fiona runs me to the Beatson in Glasgow and I go in, mask tightly clamped to my face I see other patients in the corridor and am shocked by how ill some appear.
Is it selfish of me to hang about in the corridor and not join them in the waiting room because they distress me? Some are seriously underweight, clutching over-sized dressing gowns which I suspect once fitted them neatly. I pray for them.
I am terrified and it takes all my courage to stay in the clinic. A nurse calls me in for scans and three tiny tattoos are made on my skin. They will guide the radiotherapy beams. I laugh when I realise that I have got to 60 and this is my first tattoo. Treatment involves six minutes of radiotherapy for the five days. I head back to Fiona waiting in the car but can't talk to her. All that I can think was that I didn't want to go back there but I knew I must. I will do it for me, for the doctors and nurses who had done everything to get me this far…and for my family. However, it takes everything I have to return.
August 5–11
I get on my big-girl pants and head back to the Beatson to begin my shortened treatment. I am so happy to be among the first to get it routinely here. A big thanks must go to those doctors who work incredibly hard on medical research. We love you. As I lie on a radiotherapy table, I think every second of this treatment is taking me further and further away from cancer.
August 7
Today I turn 61. What I desperately need is a hug, but it is impossible because I am shielding so I think of all the others on this journey and know I am not alone. A good friend has sent a belt which clasps with hands signifying a hug. I want to cry, despite having shed only a few (ish) tears so far.
August 20
I am out and about in Glasgow, wearing a face mask. Scots are enjoying the few pleasures of lockdown loosening. My love of photography has been on hold so I take shots of the iconic Luma Tower in Govan. It lies in the shadow of the Queen Elizabeth Hospital, another stopping point in my journey.
So, I went in with a cough but it wasn't the lung cancer I feared. A myriad of tests have been carried out and nothing has been found. I am still coughing and breathless and remain on the trail of the cause.
However, I am still standing and while it might sound strange, I cannot believe I have been so lucky!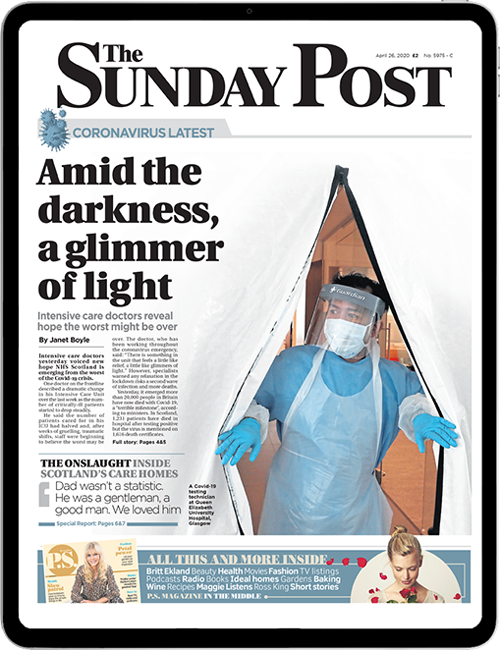 Enjoy the convenience of having The Sunday Post delivered as a digital ePaper straight to your smartphone, tablet or computer.
Subscribe for only £5.49 a month and enjoy all the benefits of the printed paper as a digital replica.
Subscribe