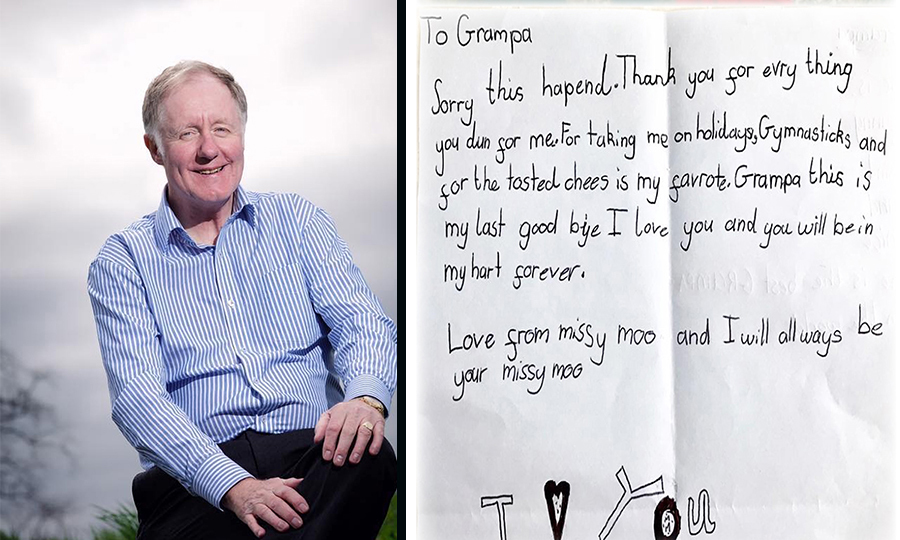 CAREFULLY written in her best handwriting, Katie Marshall's farewell note to her loving "grampa" prompted a torrent of tears at his funeral.
In her letter the eight-year-old thanked cherished Ken Smart, 70, for taking her to gymnastics and making her cheese on toast.
However, it's incredible "Missy Moo", as Ken called her, was even able to write her farewell letter given the horror she'd witnessed.
The doting grandad died after slipping on ice outside a primary school earlier this month in front of Katie and brother Jack, 10.
He cracked his head after falling on an ungritted road, suffering a head injury which caused him to die in hospital the following day.
Retired Ken – who was in charge of the school run – slipped on the untreated street outside Saint Thomas' Primary in Neilston, East Renfrewshire.
The school has two entrances, with only the street outside the main gate routinely gritted. The steep road where Ken slipped is next to a side gate commonly used by parents.
But the street is not on the council's gritting routes.
Ken's daughter Jill, 38, was horrified when she heard her own daughter Katie running up the street screaming her grandad had fallen and was "dead".
"Who could ever have imagined he would lose his life over a sackful of grit?" Jill told The Sunday Post. "Why the hell weren't the roads gritted?"
The accident happened after Ken's car began sliding towards a parked car. He stopped and got out to see if the driver of the other car was around to help prevent the cars colliding.
But the retired ScotRail engineering manager lost his footing on sheet ice, caused after temperatures plunged as low as -5C the night before.
Angry and shaking her head in disbelief, Jill added. "It's not a wee side street. It's a long, extremely steep road.
"It's shocking it wasn't treated by the council."
She said police even salted the road themselves when they arrived to investigate the accident to prevent any further tragedies from occurring.
Incredibly, so many people contacted the school about the dangerous conditions, it was forced to issue a text message to parents telling them how to get in touch with the council about gritting moans.
Now Jill wants East Renfrewshire Council to review its policy on gritting roads outside primary schools and on steep hills.
She added: "My poor dad died exactly 24 weeks after my partner's sudden death from epilepsy. We had been together for just over four years and it was devastating.
"At New Year my dad said, 'I hope this is a better year than last year for everyone'.
"Who could ever have imagined that he would lose his life because a road hadn't been gritted?"
Ken and his wife Agnes – who had tied the knot back in 1970 – were taking the grandchildren as a favour to Jill, who was recovering from a five-week cold which had turned into bronchitis.
She said: "Jack and Katie adored my mum and dad and often stayed there overnight.
"They both went to primary school in Barrhead, so I always drove them and picked them up myself.
"On this day, though, my dad said he'd do it, but Jack had forgotten his school tie so dad was going to pop into my house on their way and pick it up."
Jill had just finished breakfast when Ken left with the tie and waved through the window as the three of them drove off again.
Minutes later her blood ran cold as she heard Katie screaming.
Jill said: "I ran out of the house in my nightie and bare feet, along the road and up the hill to where my dad was lying on his back, stiff as a board, with his eyes open.
"A man was phoning for an ambulance and I was just screaming at my dad. The hill is so steep and it was very cold and icy. People were slipping all over the place.
"I couldn't get to my dad because I kept slipping away from him."
Jill went with her dad in the ambulance to the Royal Alexandra Hospital in Paisley. She was met there by mum Agnes, 68. However, Ken's condition deteriorated and his stunned family were told he would not recover, as his head injury was too severe.
Jill said: "My dad was my mum's first and only love and they'd been together for 50 years. As an only child, I grew up as a much-loved daughter with many happy memories.
"What happened cannot be undone, but my father in the end made everything all right for other people and that's what he did all his life.
"I am extremely proud of this amazing man, but heartbroken that he's been taken so soon. He was so fit and healthy that I'm sure he had many more years ahead of him."
Ken's funeral took place on Friday at Dalnotter Crematorium in Clydebank, with Katie's note the most poignant inclusion in the order of service. She also spoke at the funeral.
Jill – a trained first responder – said: "She asked me if someone was going to speak and I told her yes, the man who was doing the service.
"She said she meant someone from the family and said that she would like to say something.
"She wrote it down and I didn't need to alter a thing. Then she got up in front of over 200 people and very confidently said what she'd written.
"Everyone said that I should be very proud of my kids – they were amazing."
A spokesman for East Renfrewshire Council confirmed Ken's accident happened on the street which leads to the school's side gate, which is not normally gritted.
The spokesman said the council ensured "at least one access into all schools is treated".
"Our deepest and heartfelt condolences are with the family at this very sad time.
"During periods of adverse weather our gritting team treats priority roads and pavements across East Renfrewshire.
"These routes have been designed to treat as much of the network as possible within our resources and covers a proportionately wider area than most councils.
"This significant level of gritting has been maintained for the past decade."
---
Selfless Ken was a card-carrying organ donor, meaning seven lives have been saved on the back of the heart-breaking tragedy.
Jill knew it had been her dad's wish to donate his organs. She said: "We were happy to honour these wishes. We already have transplant experience in our own family. My dad's eldest nephew and another cousin both received kidney transplants.
"So my lovely father has saved the lives of seven people and we know he'd be very happy about that. It's also what has kept us going.
"Two people have received a kidney each, another person got his liver, another two people can see thanks to my dad's beautiful blue eyes and two heart valves have been gifted to two wee girls."
n If you're interested in joining the NHS Organ Donor Register visit organdonationscotland.org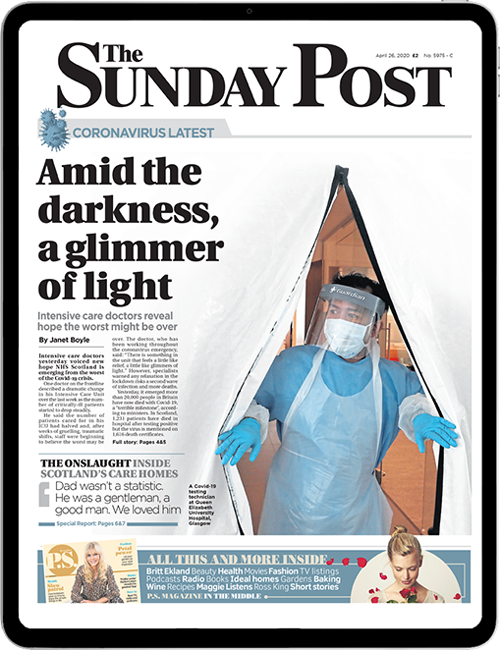 Enjoy the convenience of having The Sunday Post delivered as a digital ePaper straight to your smartphone, tablet or computer.
Subscribe for only £5.49 a month and enjoy all the benefits of the printed paper as a digital replica.
Subscribe