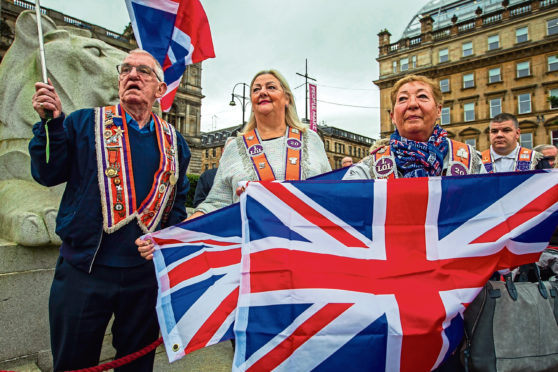 Hundreds of demonstrators protested yesterday at a decision to ban marches over fears of sectarian disorder.
Four Loyalist marches and an Irish Republican parade were prohibited this weekend by Glasgow City Council after a meeting on Wednesday.
The Scottish Protestants Against Discrimination (SPAD) group, backed by the Orange Order, organised yesterday's demonstration outside City Chambers.
SPAD spokesman Mark Findlay told the gathering, attended by more than 500 people: "We have assembled here in protest against the wholly unacceptable climate currently prevailing."
He said Glasgow City Council had "seen fit to allow groups who openly support terrorism to walk our streets whilst members of religious organisations are being told that certain areas of our city are a 'no-go' simply because of their culture and beliefs".
Jim McHarg, Grand Master of the Grand Orange Lodge of Scotland, accused Glasgow councillors of "illegal measures that curtail a citizen's right of peaceful assembly".
He said: "Our parades are the way we exercise our right of assembly and our membership takes part with great respect and decorum."
The ban came after two Republican marches and a Loyalist counter-protest last Saturday saw 10 arrests, and clashes with police in Govan a week before that.
Police warned councillors that intelligence pointed to a "strong likelihood" of disorder at marches in the city this weekend.
Council leader Susan Aitken said there needed to be a moratorium on marches to provide "breathing space" and an opportunity to work out what to do next.
A 32-year-old man is due to appear at Glasgow sheriff court tomorrow after a police officer was injured by a pyrotechnic during a march and counter-protest last weekend.
Police added there were "no issues or arrests" during yesterday's protest.