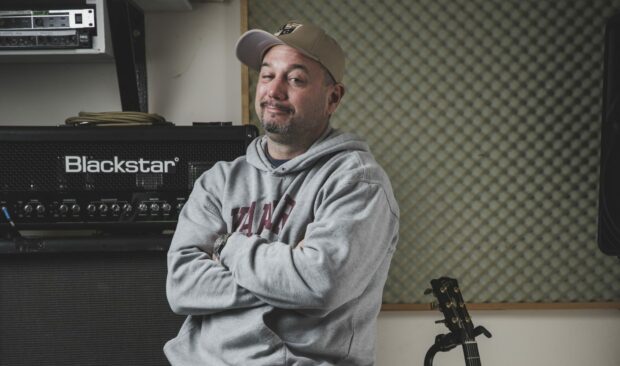 From the timeless countryside drama of The Archers to the latest news headlines, radio has become a lifeline in lockdown for finding comfort and company in the voices and music of our favourite shows.
It was, for many, literally a voice in the darkness and, for many of them, Huey Morgan's late-night, early morning show was the voice of choice.
Certainly, he has heard from plenty of listeners who told him his show helped them through some tough nights, which only sharpened his disappointment that BBC Radio 2 pulled the plug at a time when, he believes, people need that connection more than ever.
The effervescent New Yorker, perhaps best known for fronting '90s favourites Fun Lovin' Criminals and still playing his eclectic, decade-hopping mix of soul, funk, reggae and hip hop on 6 Music, did not stay down for long though.
He's been a successful radio host for 13 years on 6 Music but had also presented on Radio 2 every Saturday since 2011, first in the midnight slot and then from 4am-6am before the show ended in spring.
"I record everything from the basement of my house. I built it as a professional set-up and I feel it's nice to do it from there because it's really personal, rather than feeling like I'm at the BBC doing a BBC thing – I'm doing it for the people who want to listen to cool music," said Morgan.
"That kept me sane through a lot of lockdown but the ironic thing is, towards the end of the pandemic, Radio 2 pretty much fired me because they don't want to pay me that much money to do a show at 4am, which I understand – I wasn't that bent up about it – but I'd done the show for 10 years and built up that connection.
"That was the show where a lot of people got in touch with me, because at that time they're going through their most difficult times, and it was really nice to make that connection in the middle of the night when they have all the troubles of the world on their minds and I'm there to help them forget about it for a couple of minutes."
Huey burst on to the scene as part of Fun Lovin' Criminals in 1996 with radio hit Scooby Snacks, and his group have so far achieved three top 10 albums in the UK and eight top 40 singles.
While the band aren't as prolific as they once were, they will play a headline tour in the autumn, including a Saturday-night gig at Barrowland Ballroom in Glasgow. They'll also be on the bill at the Party At The Park line-up in Perth next month.
"Every time we play in Scotland is memorable, but when we play at the Barrowland it's extra memorable – or maybe I should say we have an extra-strong headache the next day. But it's always special," he said. "I love playing Scotland – the people who have seen us before get it, and we get them.
"That's the one thing that will transcend the pandemic – we remember and we remember fondly.
"People will go back to the things they really missed and loved, rather than dabble in things they don't know too much about.
"From our point of view, it will be a great show and we're looking forward to getting back, for sure."
Before then, though, Morgan will be in Scotland for a special DJ set at Fringe By The Sea in North Berwick next month, presenting his NYC Block Party at the Belhaven Big Top, an outdoor but covered venue operating in line with the latest rules.
The festival's wide-ranging line-up was announced last week, mixing music, culture and wellness with Lulu, Irvine Welsh and Basement Jaxx all making appearances.
Morgan said: "I want to make it nice for people because this might be their first time out for a while, so I'll be playing some funk, soul, hip hop, I'll be bringing some New York vibes to Scotland."
Based in England, where he lives with his wife and two children (spending more time with them during the pandemic was, he says, a blessing) Morgan admits he has been homesick for New York. So he's glad to be returning to film a music documentary as he looks to move in yet another creative direction for the next stage of his career.
"I'm working on a documentary about the music scene in New York. It's been 18 months since I was back and sometimes I get really homesick," he admitted. "I have a friend who'll take his phone and walk through my old neighbourhood and chat to me, which is a really good way of keeping abreast of things at street level.
"It was cool to do the South American documentary (Huey Morgan's Latin Music Adventure on BBC4). It was my first time in Brazil and Cuba, and once the pandemic abates we'll shoot a bunch more of those down there.
"Documentaries are what I've been shifting towards in the past five years. In my 20s I was a marine, in my 30s I was a rock star, in my 40s I was a DJ, and in my 50s I'll be a music documentary maker. I come from the lower east side of Manhattan where there weren't very high expectations, so to come from that background and be given these opportunities and blessings, I need to try them out and see if I like them.
"I did a morning TV thing a few years ago and it didn't work out – I'm not a morning TV kind of guy – but you need to try them to know they don't vibe with you."
Huey Morgan Presents NYC Block Party, Belhaven Big Top, Fringe By The Sea, North Berwick, August 14
---
First record I bought
It was On The Radio by Donna Summer. I was nine, the age my son is now, and I remember saving up my 85 cents or whatever it was and buying the seven-inch.
I really loved the melody.
I wasn't just a disco dude, I was listening to all sorts of sounds at that time – rock, blues, soul and Latin music at home. This song came on the radio again the other day and it's such a catchy number. It was from Casablanca Records and I remember this cool little oasis scene logo on the 45.
Favourite film
Dr Strangelove. It's one of those movies I stop to watch when I see it on TV and I'll watch it until it's over, and tell everyone to shut up while it's on, even though I own it.
People I'd invite to dinner
I'd want Mikhail Bulgakov there to ask him about that book he wrote. I'd also like to have an amazing musician who isn't around anymore – maybe Jimi Hendrix.
I'd also like to hang out with Winston Churchill. He's one of the most polarising figures of recent times and I'd like to get a feel for the man rather than the caricature.
There are so many contradictions in him when we look retrospectively.
There's that Soren Kierkegaard quote: "Life can only be understood backwards but it must be lived forwards". With that said, I'd like to find out what motivated Churchill to do some of the things that were marginal or questionable.
Also, because he's half British and half American, it's one of the things my kids and I talk about, because they're the same, and he's a name that comes up a lot. I know a lot of people don't like him and that's cool, I'm not saying I like him, I would just like to talk to him. That's one of the things we need to try to understand as a society – I don't have to agree with you, but I can still like you and respect you.
As a society right now, we're not liking or respecting people we don't agree with on certain issues and all that does is take the thing that binds us together and makes it less strong.
Most memorable theatre show
It's not really my vibe but I did enjoy a Sam Shepard play I went to see called True West. It's a two-hander with John C Reilly, who is a friend of mine, and Philip Seymour Hoffman.
I saw them do it two nights, because they switched over the roles they played every other night. It was a dope play and so well done.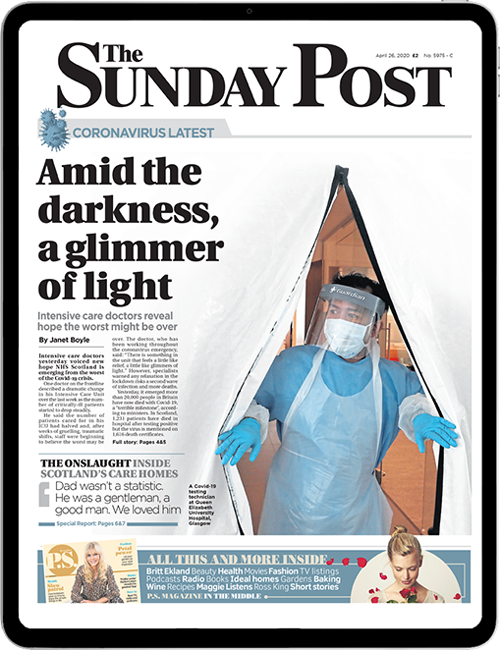 Enjoy the convenience of having The Sunday Post delivered as a digital ePaper straight to your smartphone, tablet or computer.
Subscribe for only £5.49 a month and enjoy all the benefits of the printed paper as a digital replica.
Subscribe