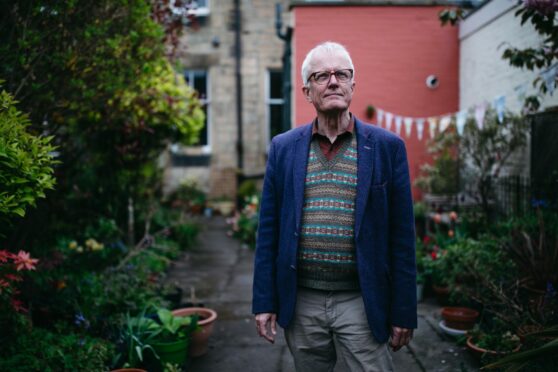 After four decades at the chalk face, Cameron Wyllie would be forgiven for being relieved school is out at last. The vastly experienced teacher may have retired, however, but he still misses the young people he taught, all 8,000 of them.
The former head teacher even misses their parents who, he is convinced, should be consulted more about education policy in "a national conversation" asking them what they really want from their children's schools.
He said: "At the moment, Scottish education is slightly divorced from the reality of what people think about education," said Wyllie, who taught English at Stewart's Melville and George Heriot's, in Edinburgh, where he left as principal.
Today, looking back on his career and the current state of Scots education, he says there are many things to be applauded but others that demand attention and reform.
He firmly believes teachers are better than they were when he entered the profession in the 1980s but says the good ones should be rewarded with better pay and conditions while those who are failing pupils are identified and removed.
He said: "You used to look around the staff room and there would be around 20 or 30 bad teachers. Now it's only around one or two. Teaching is much, much better than it used to be because the training is better. It's harder to get into because it's become more attractive. But there are still people teaching your children who are not good at it, who resent doing it and who are not capable of doing it. To be a good secondary school teacher you need to be interested in your subject and really understand it, and you need to really, really like young people – the balance needs to be around 40/60. If a teacher fails in these two qualities, they shouldn't be allowed to continue in teaching."
Wyllie believes teachers should be paid much more and is in favour of performance pay.
"If I swept to power in Scotland, I'd say to the teachers: we're going to give you 15% more but the head teachers will be expected to identify teachers who are not performing. I would also introduce a great deal more flexibility to teacher salaries, so that good teachers could get paid more.
"These are excellent people who work so hard and are so committed and they merit better pay and conditions, as well as more meaningful support from the top. It is such a shame that they don't."
The former head retired in 2017 and is about to publish his memoirs, Is There A Pigeon in the Room? He spent his career in private schools and, while he understands why they are accused of giving the children of well-off parents an unfair advantage, believes they offer parents the choice of a more "old-fashioned" education for their children.
He said: "I would love to see a situation in which nobody had to pay for an education but in order to say with any justification that we should not have private schools, there would have to be a great deal more variety in what the state is offering.
"Why are people paying all this money to send their children to private schools? One of the things that distinguishes private schools is they take a more academic approach to teaching. In the main they are academically selective, and at secondary level many have rejected the tenets of the Curriculum for Excellence and have stuck to a more old-fashioned approach."
Wyllie is not a cheerleader for the Curriculum for Excellence, the contentious blueprint for lessons shaping teaching in Scotland's classrooms. "The problem with the Curriculum for Excellence is that Scottish children are, across the piece, less capable, relative to children in other OECD (the Organisation for Economic Co-operation and Development) countries, in reading, writing and maths, than they used to be," he said.
"Most children like going to school because they see their friends there, because they like the activities they do there, and thirdly for what they are learning in the classroom. Most children understand it's important to do your lessons and that school is a workplace. I think the Curriculum for Excellence has encouraged us to lose that approach, that school is work."
Scottish educational policy aims for children to come out of schools as successful learners, effective contributors to society, responsible citizens and confident individuals. "It would be great if all children had these qualities, but it would also be great if they were kind and resilient," said Wyllie. "If you ask parents which of these four capacities is the most important, it's 'successful learner'. Parents can encourage their children to be confident and responsible but when it comes to successful learning that is the school's role.
"Only the geography teacher can teach your child geography but are they also supposed to make them a responsible citizen? When you take your child to the hospital with a broken leg, is the doctor supposed to set the leg and make the patient an effective contributor to society?"
Private-school children tend to be more confident, in Wyllie's experience – he tutors state-school children pro bono – due to extracurricular activities such as debating, sport, music and drama.
"If you want to make a difference to state education, the first thing I would do is pay teachers in state schools more to do extracurricular activities, which is effectively what happens in private schools, where teachers are paid between 5% and 10% more," he said. "These activities are incredibly important in the formation of a child's character, confidence and personal happiness, and make them want to go to school."
He believes Scottish schools need better funding and that teachers are not supported enough: "Schools are expected to do too much without enough support. I'm in favour of devolving power away from local authorities to head teachers so they can determine how to spend their resources and how to run their schools."
A "presumption of mainstreaming" policy introduced by the Scottish Government in 2018 that means all children should go to the "same" school as far as possible is ill thought out, according to Wyllie, who would like to see different kinds of schools to meet children's needs. While he says bringing back grammar schools would be a retrograde step, he would like to see more vocational schools and apprenticeships.
"We should have schools for those who are academically talented regardless of their background – that's how you close the attainment gap – schools for kids who are good at football or music, and for kids who can't cope with mainstream school because of behavioural issues or because they are scared or bullied. It's expensive but it would maximise their chance of getting a good education.
"Children spend only 16% of any one year at school – it's not very long and more of it should be spent on doing useful things. There's an awful lot of time wasted in schools with children who don't conform to academic intelligence sitting exams they aren't likely to pass, and which aren't going to be any use to them.
"My big push would be for vocational schools. And we should be more flexible about when children can leave school – there should be more apprenticeships with children still learning basic skills.
---
From the book
Snippets of wisdom from Is There A Pigeon In The Room?
Being a teacher isn't like building a bridge, more like driving a train
I taught as me, as Cam Wyllie, Waz, Willy, Cammy Chameleon, Slim and finally Mr Wyllie, and I do not think that whatever skills I developed would be easily imitated by others. As a senior teacher I watched lots of great lessons being taught by teachers of every subject, and never once thought that they were teaching like I taught; I was often left open-mouthed in admiration of the skills on display, skills which I completely lacked. I have never, ever, done a PowerPoint presentation.

However, one great universal truth for all of us in teaching is that, almost without exception, no one day, no one lesson, matters that much. The brain surgeon sneezes with the scalpel in his hand – not good. The lawyer adds a zero in a will – not good. The minister of religion forgets the name of the deceased; the electrician rewires badly; the policeman restrains someone too forcibly… in teaching, the benefits, or the damage, come over an extended period. If you are feeling unwell one day, the kids can sit and read; if you lose a set of essays it doesn't really matter (having said that, on Princes Street one day, a man came up to me and asked for his Hobbit essay back, which I had failed to return 22 years earlier).

Of course, the impact of a good teacher – or a bad one – is huge over a longer period of time and, very occasionally, a teacher will say something or teach a particular lesson that a young person will always remember. But mainly it is a long hard slog by teacher and student together. No one day, no one lesson.

Teaching is not like building a bridge, which you can then admire in your dotage. It's more like driving a train back and forth from Edinburgh to Glasgow for 40 years and then retiring, except that the passengers, some fleetingly, and sometimes forever, remember the driver's name.

My life has not been much of a geographical journey as I have always lived and worked in lovely Edinburgh. It is a journey of people, young, old, dead, exuberantly alive, and it is a journey of which I do not regret a single moment.
Hamish was brilliantly clever and, I discovered, a gifted pigeon mimic
One of the boys was called Hamish. When he was fourteen he was a brilliantly clever, very funny, astonishingly skinny boy and, it transpired, he could imitate pigeons. The boys were alarmingly quiet that day and I was consequently on the alert. A faint cooing seemed to come from somewhere and then one of them said, "Is there a pigeon in the room?" I eventually was looking under my desk for the bird, while they read silently, with, I imagine, tears of joy streaming down their faces.

Once they locked me out of my classroom. Somehow or other they had all got in before me. I had my key but they had locked the door on the inside. The hectic, noisy corridor subsided into calm and quiet as the other doors shut. Then there was just me, pleading to be let in. At that point, horrifically, Clem Bell appeared some distance away.

Clem, the Deputy Head, was, from his appearance, made of mahogany; a small, squat, very good man of the old school and as hard as nails. His favourite story was of finding a boy at the school playing fields, carving something into the wood in the changing room. "What does that say?" he said, his hand no doubt on the perpetrator's collar. "'Clem is a bas'…now what could that be?"

"Clem is a bastion of the school, sir," replied the youth. Clem laughed and laughed when he told that story. Still, I imagine the boy was put to death. Anyway, there was Clem, and there was me in the corridor. "Mr Bell is coming," I pleaded through the door.

"Everything OK, Mr Wyllie?" said Clem.

"Yes, indeed, there's something wrong with my key."

There was a click, a shuffle, and the key turned. The door swung open. There the boys were, silently sitting studying.
---
Is There A Pigeon In The Room? by Cameron Wyllie is published on June 2. The author is at Aye Write! festival on Saturday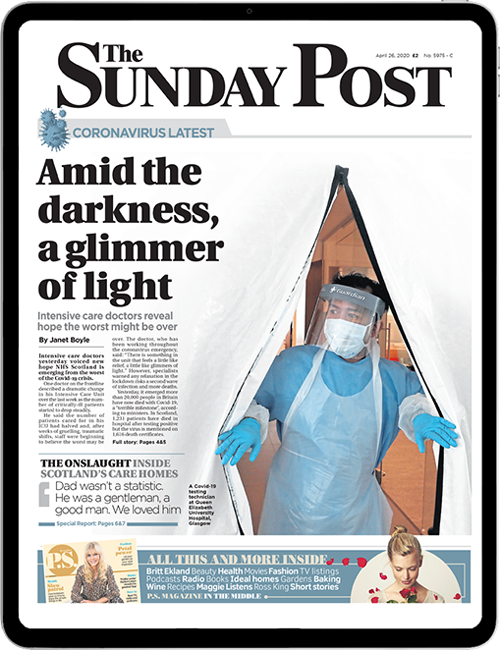 Enjoy the convenience of having The Sunday Post delivered as a digital ePaper straight to your smartphone, tablet or computer.
Subscribe for only £5.49 a month and enjoy all the benefits of the printed paper as a digital replica.
Subscribe