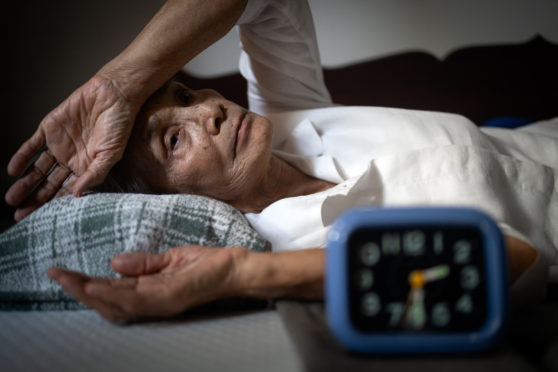 Sleep is uppermost in many people's minds at the moment.
Some of us will be suffering from poor sleep thanks to a slower daily routine than normal, or anxiety.
However, night-owl teens might actually be benefiting from later bedtimes and not having to get up for school.
It all means that James Wilson, aka "The Sleep Geek", is in great demand.
"Yes, I think sleeping is one of the things people want to know a little bit more about during this time," nods James, whose Sleep Lab works with the likes of the NHS and Coca-Cola.
"There's the general anxiety about Covid-19 and also people's body clocks are all over the place. We've lost our circadian rhythm a little bit.
"For some people that's actually not a bad thing. If you're a night owl, you're getting the chance to sleep in a way that's more natural to you which is why I'm hearing two stories a lot at the moment – 'I'm sleeping better' and 'My sleeping's a lot worse'."
I don't tend to sleep that well, and what I've found myself doing recently is forcing myself to read until I physically can't focus on the page any more, hoping I'm so tired I'll drop off.
James says: "There is more stress anxiety. Take your job in particular, when I talk to journalists, it does seem it's a job in which you are analysing, evaluating and being critical, and that's using the brain a certain way and can be hard to switch off.
"So, because for you as an individual there's that constant worry, and you're probably talking about things quite a lot at work anyway, that's going to add to that stress and anxiety.
"We're trying to get people to find good news sources – there are good and bad sources of news about Covid-19 – and try to keep that hour before bed free of any of it, so you're trying not to talk about it with your partner before bed, you're trying not to watch the news or Newsnight.
"And it's not just about what you're watching on TV. If the book you're reading, for example, is a spy novel or crime thriller, that gets your brain working a certain way and you might tire your eyes out, but it's got your brain going, so when you put the book down, boom!
"What I'm reading at the moment is the entire series of Adrian Mole, because it's always been a constant in my life and it's not hard, it's not demanding, it's just easy to read.
"And it's the same with what you're watching. If you're watching Liar, or The Nest, it's keeping your brain going.
"Watch your favourite romcom, that would be my advice, or revisit your favourite comedy film or comedy series and watch that before bed because laughter is brilliant for sleep.
"Trashy TV is good, even something like Tiger King is good, as it's trashy and makes us feel better about ourselves because we are not those people.
"So, think about what you watch and getting your brain going before you go to bed. Just because you're not watching stuff about Covid-19, you are watching or reading stuff that activates the analysis part of your brain and that's the bit you want to shut off because to your body that's work and your heart rate will rise."
In our house we're bingeing on The Crown, because it's the kind of thing that "goes down well with a nice cup of tea and a biscuit".
"Yes! It's that Sunday night-type of TV. Basically, before bed what we want is a drop in heart rate and a drop in core temperature, so if you are not relaxed with that drop in heart rate, you're not going to sustain sleep.
"One little tip is to fill a hot water bottle with warm water and put your feet on it with no socks while you're watching TV – that will drop your core temperature.
"Sleep-deprived people will generally fall asleep OK, it's sustaining that sleep that's the problem because if you've gone to sleep a bit stressed, a bit worried, a bit warm, that can be a problem.
"Another thing I'm often asked is 'Why are we so tired during the day?' and that's where that lethargy comes from, a lack of exercise and a lack of sunlight early in the day.
"Also, if you're drinking alcohol – I think we could all admit we're probably drinking a bit more – booze is a sedative, it's not a sleeping booster, so it does knock you out, but doesn't give you quality sleep so that's not helping.
"I'm not saying don't drink, just understand when you are drinking. That might be why you're a bit more tired in the morning."
Should we expect more disrupted sleep because many of us have a slower routine, working from home or just following the lockdown?
"We've all got a natural sleep type, we're all an owl, a lark or somewhere in the middle. If we try and be positive, this time allows us to create a work day and sleep routine that works for our sleep type.
"Some people say to me 'I used to go to sleep at half 10, but now I can't get to sleep till half 11.' Well, then your sleep time is now half 11 and you can wind down in that hour before.
"But don't be going to bed unless you feel sleepy. A bit of this is trying to get people to reassess how much they sleep.
"I'm a lark while my partner, she's a night owl, so in our house I'm getting up with the kids because that suits me better and she'll sleep till half-eight.
"That allows her to wake up probably better than she used to because before she'd be up at seven because we had the school run with three kids in three different schools.
"And we've found that the kids generally go to bed about 15 minutes to half an hour later, but are sleeping up to an hour longer, so they have slipped into what their natural sleep pattern would be rather than the artificial wake up we were giving them previously, going in and banging a drum to get them out of bed.
"One of the things people are struggling with at the moment is keeping bedtime consistent and that normally comes from keeping wake-up times consistent so if we are lying in, that won't work.
"Also, we need to look at a 'new normal'. This time is all about a new routine and that includes your sleep, so trying to sleep like you used to is going to be difficult.
"We need to stop and re-evaluate how you much sleep you need in terms of quantity and quality, what's your sleep type, what's preventing you from sleeping and doing little things to solve it.
"People who are doing this are finding a big improvement. There is that initial shock, we've all hit a wall, but we need to get our body used to a new normal rather than stick to the old routine when you used to travel to work every day."
I'm dragging the newly-turned 18-year-old out of bed to stop him from going completely nocturnal like several of his pals, and James says: "That sounds about right. I've got a slightly younger teenager and in a perfect world he'd wake up some time between eight and 10 and fall sleep somewhere between 11 and half-one.
"Teenagers are designed to be like that, we think it's hormonal changes, but you're also giving them a bit of space.
"The people that say they're getting their kids up at seven, putting the school uniforms on and doing schoolwork for eight hours – I'd say all that's doing is inducing stress."
For more information on James Wilson, aka The Sleep Geek, visit www.thesleepgeek.co.uk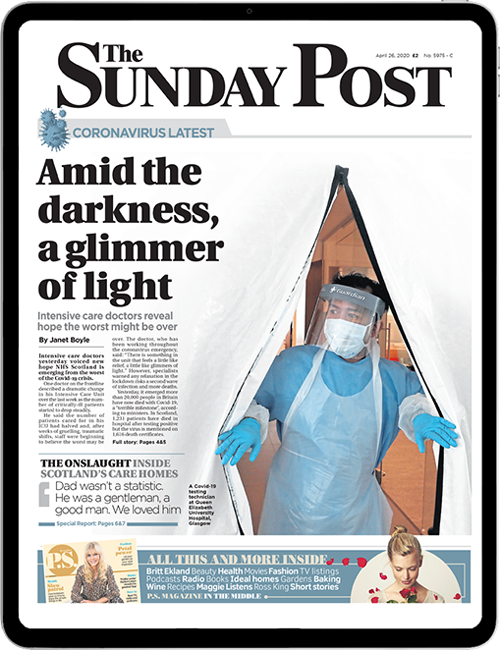 Enjoy the convenience of having The Sunday Post delivered as a digital ePaper straight to your smartphone, tablet or computer.
Subscribe for only £5.49 a month and enjoy all the benefits of the printed paper as a digital replica.
Subscribe