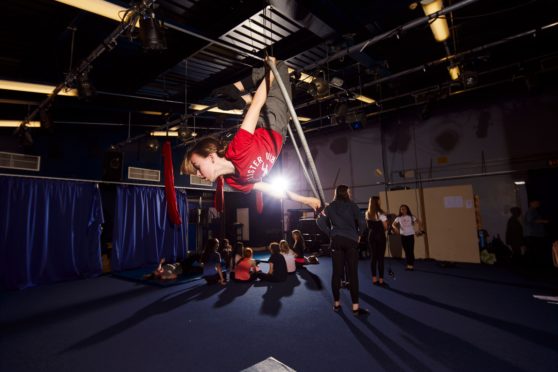 As the story of Icarus taught us, fly too close to the sun and you might get burned.
But for a group of Scottish pupils, getting high up in the air is exactly what could help them avoid being engulfed by the fiery issue of Scotland's growing mental health problems.
In response to the increasing levels of anxiety and depression in teenagers across Scotland, the Scottish Association for Mental Health (SAMH) and the National Theatre of Scotland have joined forces to teach a cast of 12-14 year olds how to fly.
Through aerial performance methods including hoop, aerial cocoon and harness work, S2 pupils from Craigmount High School in Edinburgh and S2 and S3 pupils from Auchinleck Academy in East Ayrshire are creating and starring in a new performance, Like Flying.
The public shows will see each school transformed into an aerial performance space, with audiences walking through school corridors and multiple indoor and outdoor areas with young people performing in the air above their heads.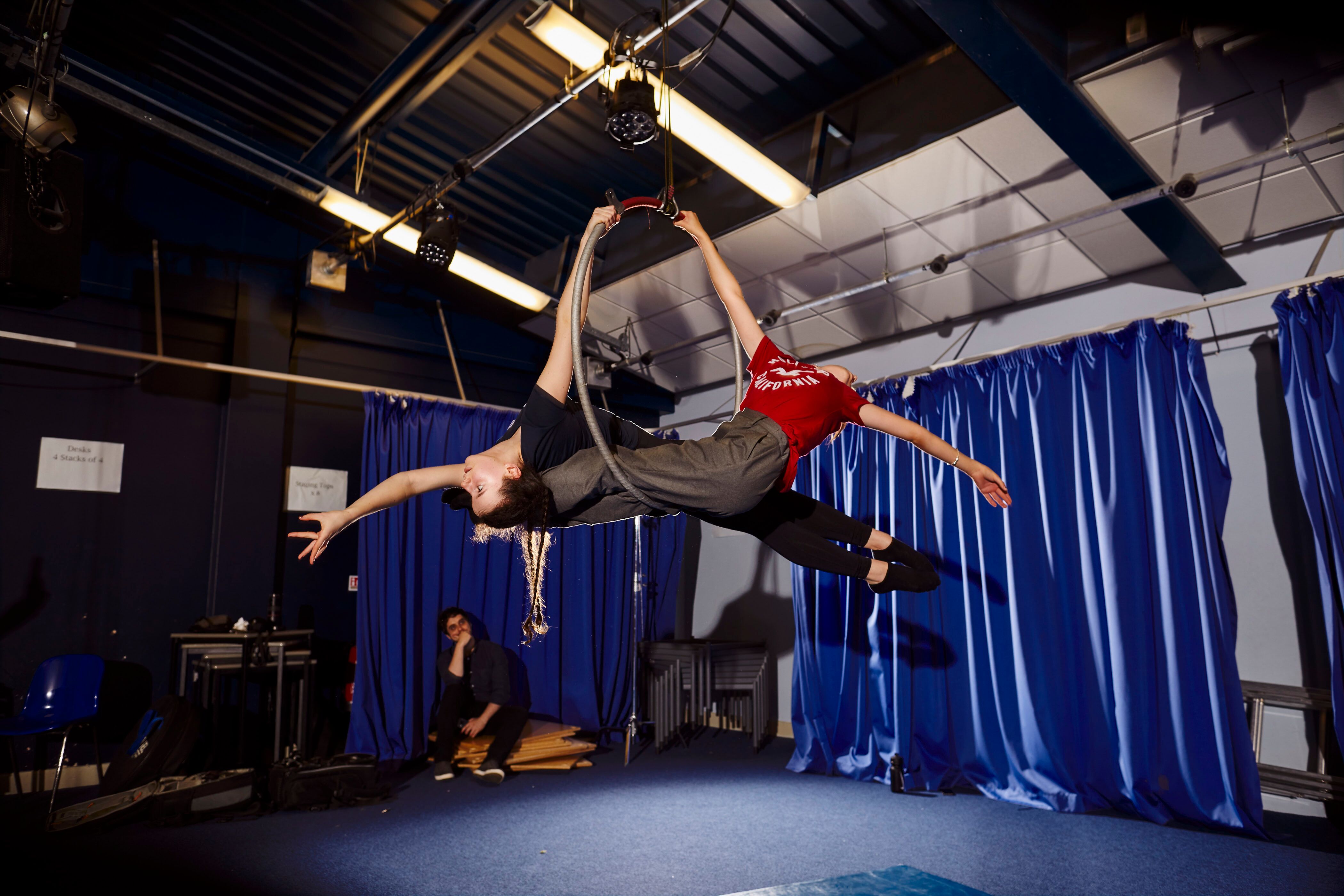 With help from All or Nothing Aerial Dance Theatre, and led by National Theatre of Scotland Artist in Residence Nic Green, the pupils will create a surreal and dream-like world, where young people flip the roles and educate adults in an inversion of authority and power.
The project took shape as a way to tackle anxiety by showing the young people that even something as seemingly impossible as flying is something they can achieve, says award-winning performance maker, Ms Green.
"I think it's really amazing because when you see someone doing aerial performance it just looks so otherworldly and difficult and complicated and technical, so I think for a lot of the young people on the project their initial reaction was 'oh no I can't do that,' and that it's not for them and their body's not going to be able to work like that," she says.
"But then of course, once you just get up there and do it you start realising your way of doing it and each young person can approach it in their own individual way."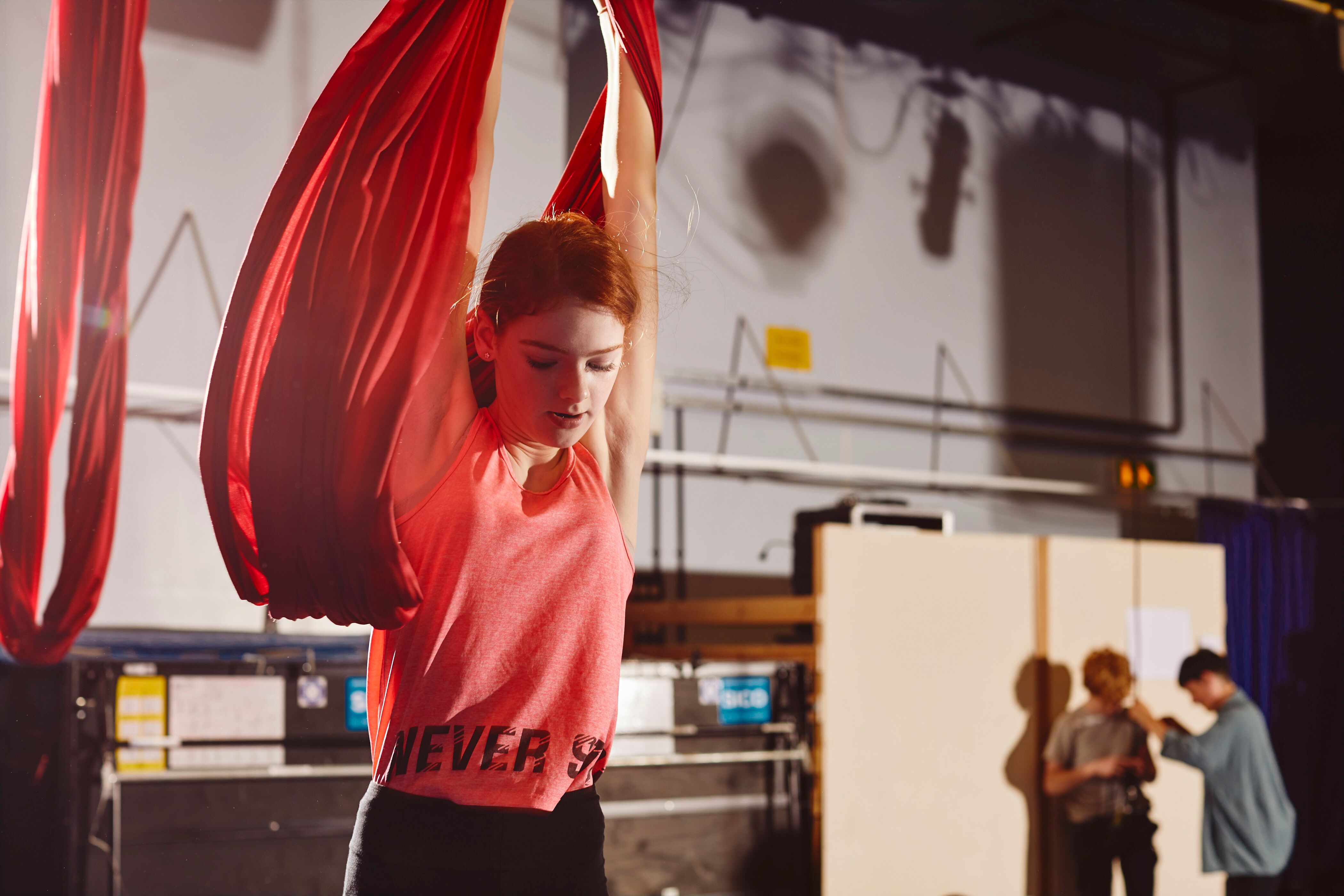 Anxiety and depression amongst children in Scotland is on the rise and becoming more common place, with roughly three children in every class experiencing mental health problems before they turn 16.
It's also estimated that half of mental health problems in adulthood begin before the age of 14.
With societal pressures and feelings of having to behave in a certain way ever prevalent in an evolving world of social media and online and offline profiles, the project's aerial genesis also came about as a way to challenge and explore ideas of being 'seen' and how this can affect mental health in teenagers.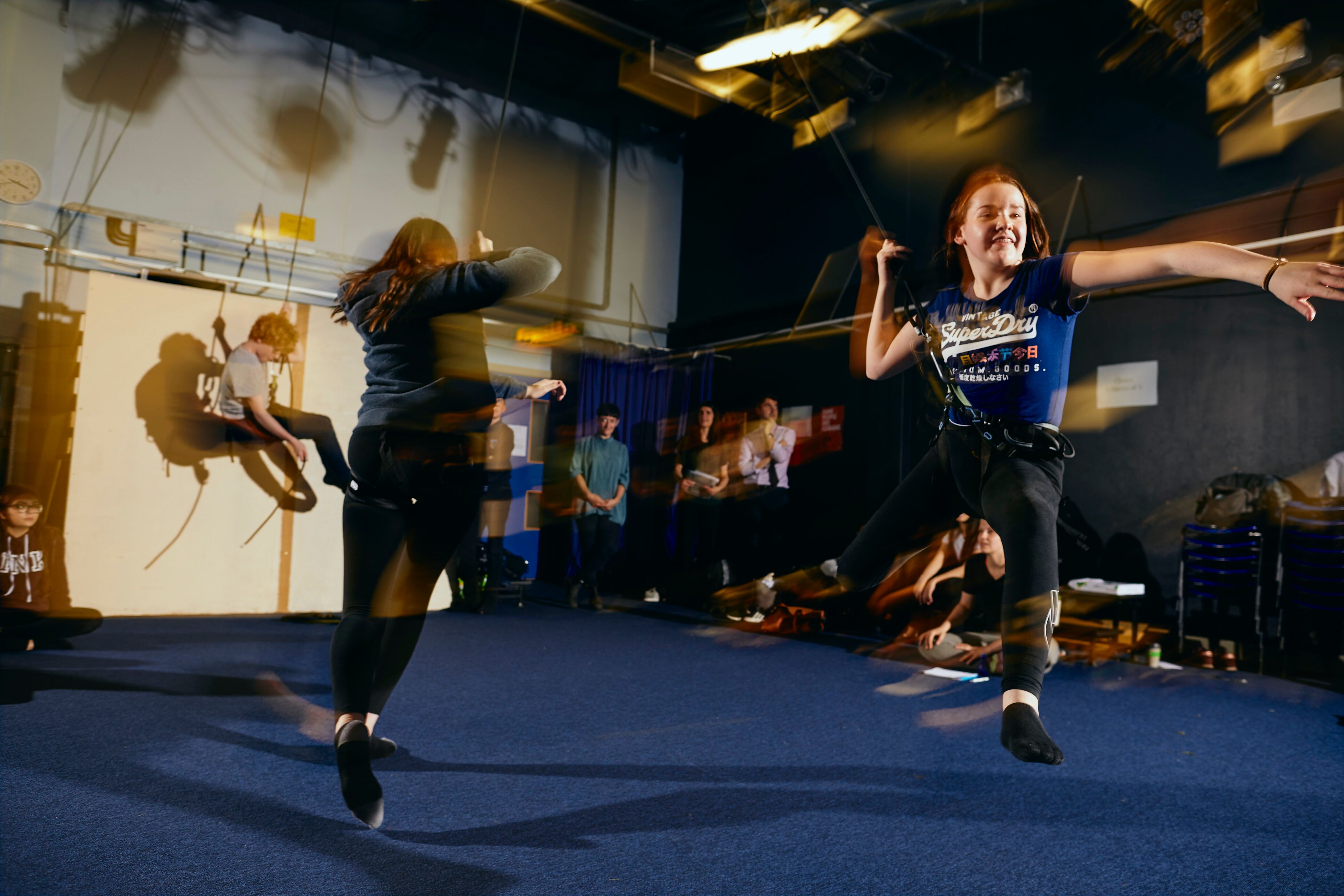 "The project is a promenade piece, so the audience move around the school with headphones on and they encounter these young people on the sides of the building or hanging over the swimming pool in aerial cocoons and in amongst it all we're placing all these mirrors so the audience sees themselves or the young person in a different way," continues Ms Green.
"So it's looking at when you feel you have to be seen as a particular version of this or that and what that can do to your mental health.
"Aerial and performance in general is all about being seen so it really gives us a chance to explore that.
"And another great thing about aerial is that it's really physical and task based, so when they're thinking about all these different movements they're so engaged and present that they're maybe not thinking about all the other things that might be on their mind."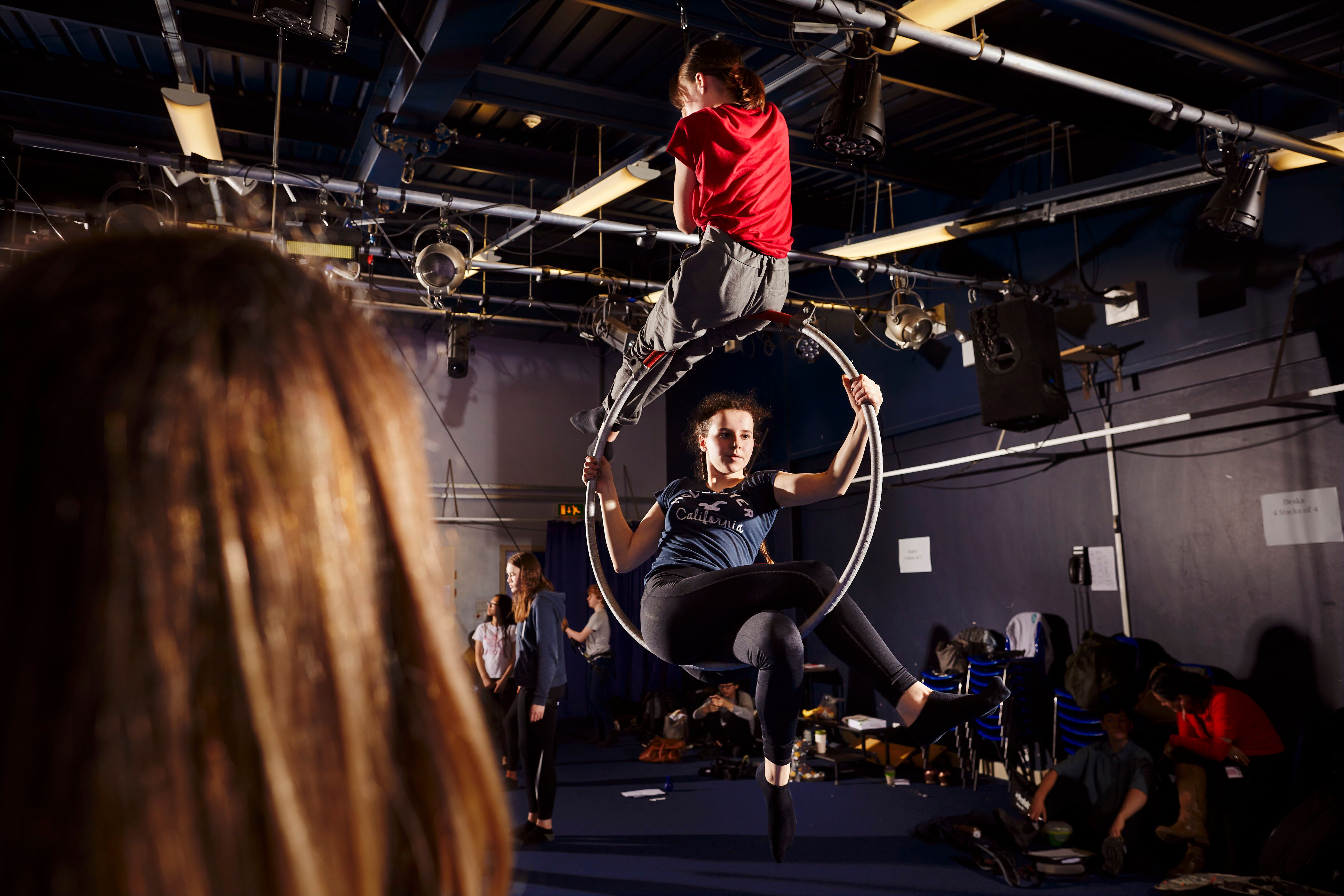 For some of the pupils, challenging the presumed norms of daily school life and acting outside the box with creativity have been paramount in their experience of the project.
13-year-old Jessica from Craigmount High School said: "You can do what you want in that space and there's no one to judge you or follow certain rules.
"You don't have to be a certain way or do exactly the same as everyone else is doing. You can create your own movements and change things about."
For others, it's the physicality of the performance that has been most inspiring.
14-year-old Abi, also from Craigmount High School said: "Being involved in this has been really fun and unique.
"I've never been involved in anything like this before and it's a really nice feeling when you're up there, being upside down and trying something new."
---
Like Flying, Craigmount High School, Edinburgh, June 18, 19 and 21; Auchinleck Academy, East Ayrshire, June 26 – 28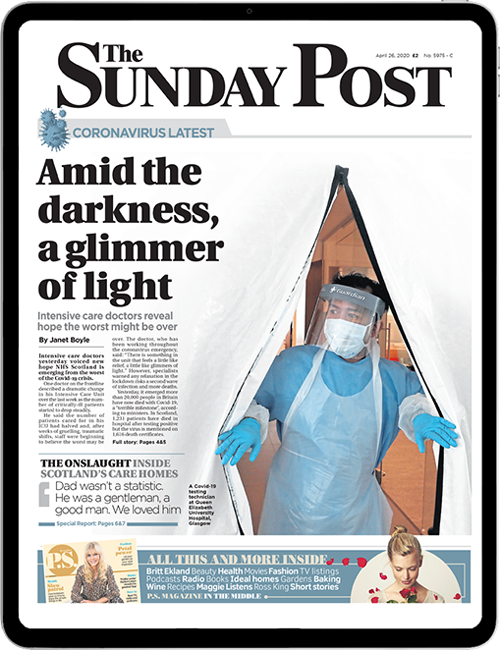 Enjoy the convenience of having The Sunday Post delivered as a digital ePaper straight to your smartphone, tablet or computer.
Subscribe for only £5.49 a month and enjoy all the benefits of the printed paper as a digital replica.
Subscribe