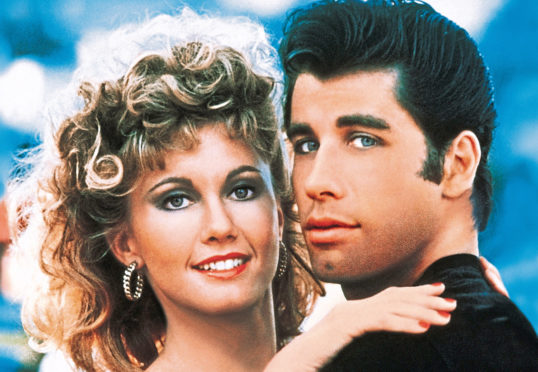 It may be over 40 years since the movie Grease first hit our screens but it remains one of the highest-grossing film musicals ever made, and a firm favourite with fans the world over.
In her newly-published autobiography, the film's star, Australian Olivia Newton-John, reveals how she nearly didn't take the iconic role of Sandy, the gawky high school kid who turns into a sexy minx in figure-hugging black leather.
At the time Grease was being cast, 28-year-old Olivia was already a successful recording artist – her song I Honestly Love You had recently been No 1 in the US charts.
She met the producer Alan Carr at a dinner party and he suggested she would be perfect for Sandy, opposite the already-cast John Travolta, star of Saturday Night Fever, who was just 23.
Her first thought was: "I could not play a high school student at 28." Her second thought was that she'd already appeared in two films – Funny Things Happen Down Under and Toomorrow – both of which had bombed at the box office.
Could she risk starring in another film that might go the same way?
Olivia told Carr she wasn't interested in making any more movies, and that she wanted to concentrate on her recording career. Besides, she added, she was too old to play Sandy and she wouldn't be able to do the American accent.
Carr offered to change the character of Sandy to an Australian transfer student in order to make it more appealing, but even seeing Richard Gere in the London production of the stage musical – "He was beyond wonderful" – wasn't enough to persuade Olivia to say yes to playing Sandy.
It wasn't until Carr sent John Travolta round to talk to Olivia that her resolve started to crumble.
Olivia recalls that meeting in her book: "I went outside to be greeted by those piercing blue eyes and the warmest smile on the planet.
"In person, John Travolta radiates pure joy and love. That day, he greeted me with a big hug like we were already lifelong friends. How could you say no to John Travolta?"
They agreed that a screen test would be a good way of deciding if their on-screen chemistry was right, but before they uttered a word of the script, everyone could see that John and Olivia would be dynamite together as Danny and Sandy.
"Everyone laughed because the chemistry was so palpable," Olivia writes.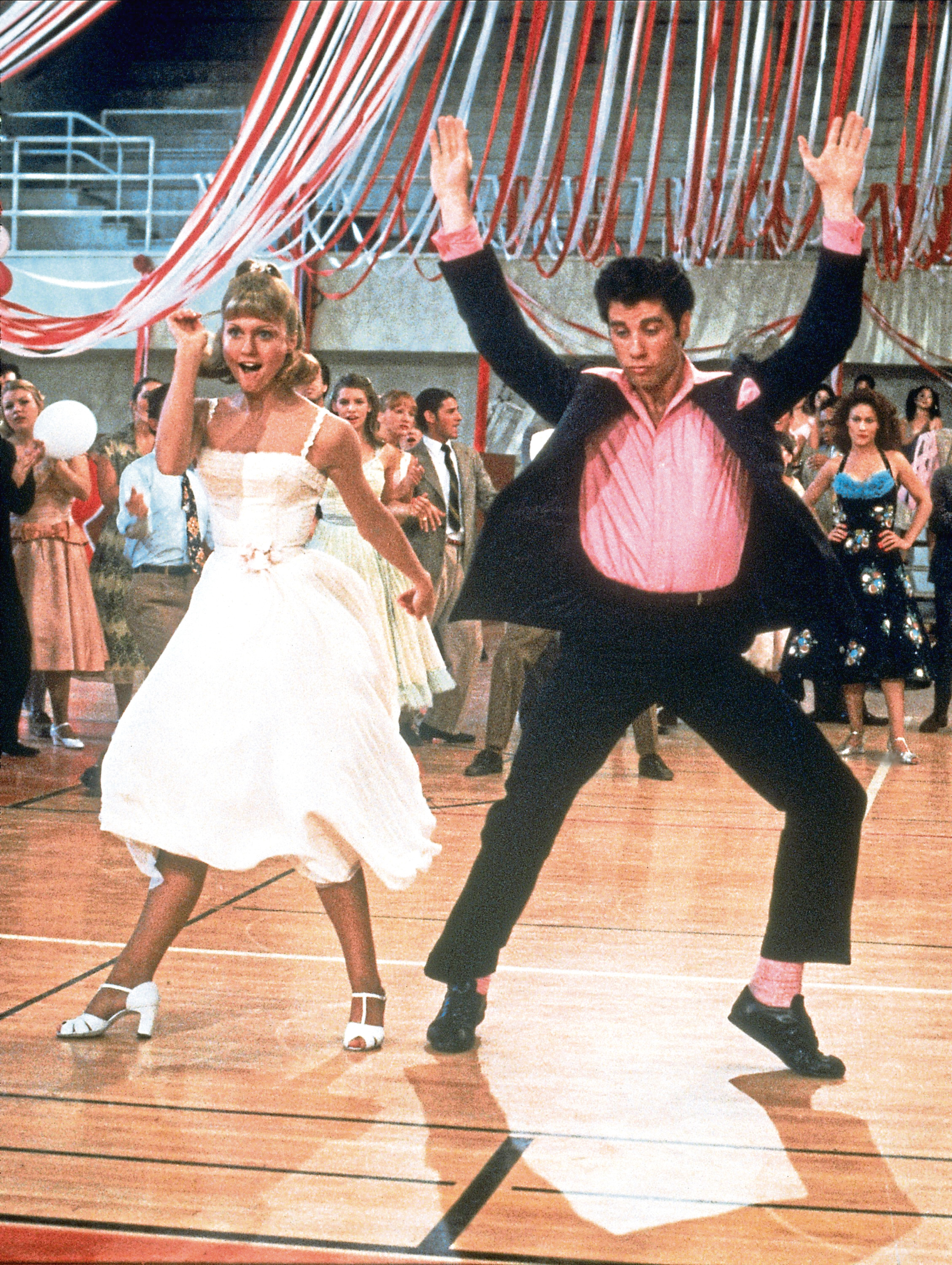 What she liked most about the whole Danny-Sandy vibe that day was that, as characters, they were equals. "He could dish it out, but so could she. Yes, she would put on that hot costume at the end but he would also change for her to capture her heart. The motivation to be together went both ways."
Shooting took place during the summer of 1977. The director, Randal Kleiser, encouraged the cast to refer to each other off-camera by their fictional names. To stay in character, they also sang lots of 1950s songs during the breaks.
The playful, collegiate feel of it all made Olivia nostalgic for the high school experience she never had, growing up in Australia and London.
At her school in Melbourne, Australia, the boys and girls had to use separate entrances and stairs, and were not expected to socialise or even look at each other. Adolescent hormones had to be kept strictly under wraps.
Olivia is very open about her affection and respect for John Travolta, but puts the record straight about rumours of any off-screen romance.
She writes: "Yes we really liked each other and there was an attraction, but we would never date because we were both involved with other people at the time, and both of us have a loyalty streak that runs deep.
"The truth is, it never went beyond friendship with John despite the fact that the fans wanted for us to become a couple in real life. We left the making out to Sandy and Danny, but the deep feeling of sisterly love I have for John continues to this day."
For his part, Travolta says: "It almost happened between us a few other times but it didn't. Sometimes life just offers you the wrong timing."
Few actors enjoy love scenes in front of the camera, and Olivia was no exception.
She says kissing John in front of 30 people was far from romantic.
Even though she was young and gorgeous when Grease was filmed, Olivia also writes that she hated seeing the rushes after a day's filming, so insecure was she about every physical imperfection.
"Now I look back and think: 'You were perfect! Look at that skin tone! Look at that baby face!' But on the set, Sandy Olsen was her own worst critic," she writes.
It wasn't enough for Sandy just to look the part. Olivia also had to learn to dance like a seasoned professional – despite having been promised before filming started that she wouldn't have to be part of the dance scenes.
It didn't take much persuading for her to try out her dance moves, though. Like a contestant on Strictly, she practised hard every day with choreographer Pat Birch. Travolta called her "an amazing dancer" especially in the hand jive sequence in the high school gym, which took a week to film.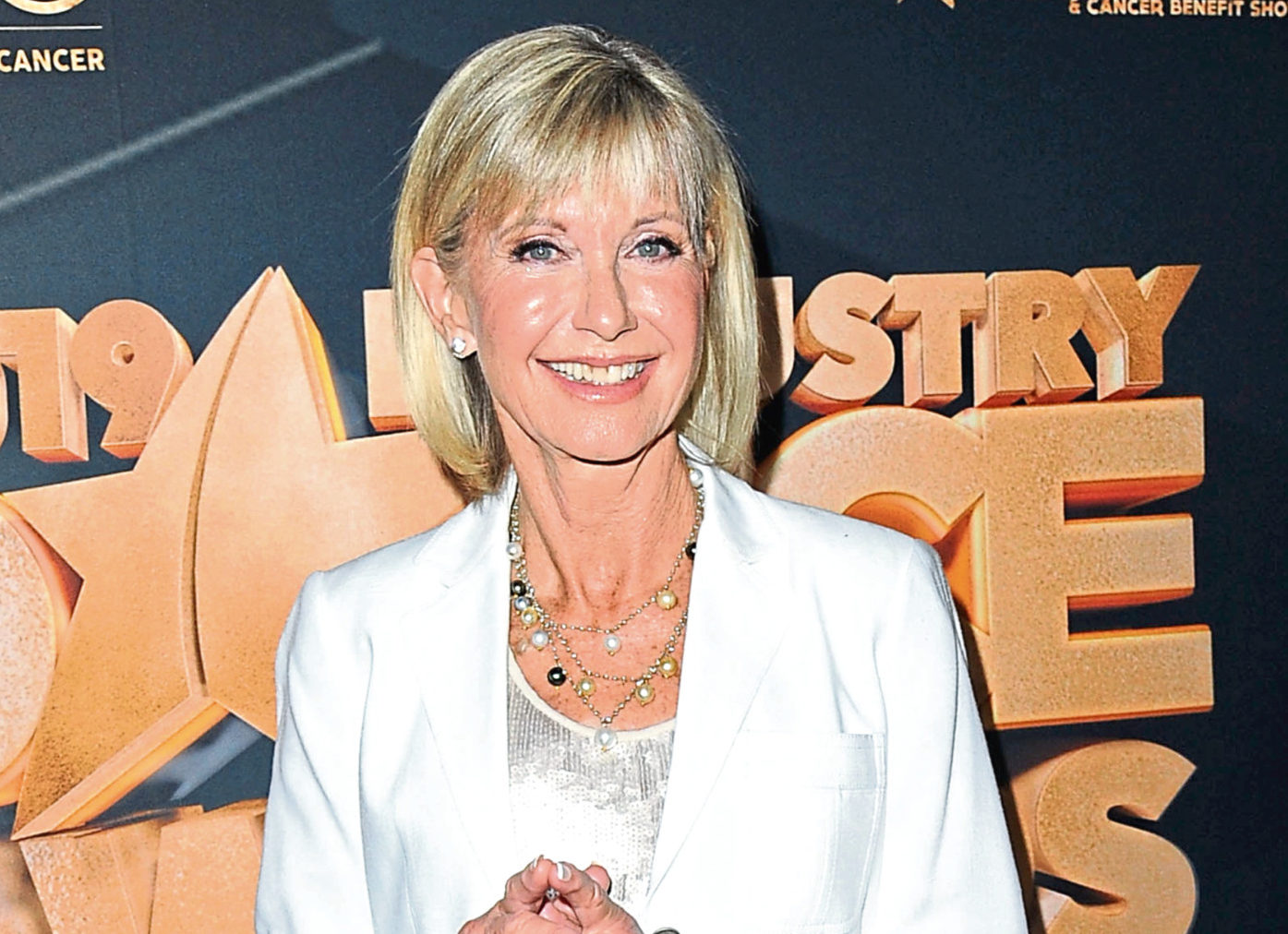 Olivia writes: "It was electric. John threw me into the air – we practised it about a million times – and then tossed me between his legs. I can still feel it now – his hands on my waist and the rush of air sweeping through my hair. In that moment, everybody wanted to be that girl."
The song and dance numbers are what Grease is most famous for, but one of the most iconic, You're The One That I Want, wasn't actually written until halfway through filming.
Olivia brought in her friend, John Farrar, formerly of The Shadows and who had written for her in the past, to come up with a duet for her and John.
The single went on to sell 15 million copies worldwide and stayed at No 1 in the UK charts for nine weeks.
Another hit single from the film, Hopelessly Devoted To You, also written by Farrar, was inserted into the film after the main shooting had finished. It earned an Oscar nomination for Best Original Song, and Olivia got to sing it at the 1978 Academy Awards ceremony.
Olivia says she always felt as if Grease was "the tale of two Sandys" – the first one understated and demure, the second one deliciously wild. Guess which one she preferred playing?
For wild Sandy, costume consultant Albert Wolsky came up with body-hugging, skin-tight black sharkskin pants that were actually from the 1950s. There was only one pair, so there was no room for error or accident. When Olivia tried them on for the first time, she had to be sewn into them. Her main concern was what was she going to do if she had to go to the bathroom!
When she stepped out of her trailer as wild Sandy – "one of the most memorable moments of my entire career" – she had sexy, swept-up hair, thick black eyeliner, bad girl scarlet lipstick, a skimpy top and bright red high heels from her own closet. Her appearance prompted gasps, catcalls, double takes and a chorus of whistling from the rest of the cast and crew.
John Travolta recalls: "It was just too good to believe, with the Marilyn Monroe hairdo, holding a cigarette, and in those sky-high heels. It was so perfect. And I knew the audience would have the exact same reaction I was having – a heart palpitation!"
Olivia remembers feeling empowered by the idea of "claiming my own sexiness. It wasn't anti-feminist – it was my choice in that moment."
She had always thought of herself as more of a hippy-type of girl when it came to her style, so this was a radical departure.
She writes: "Later people would say it was a terrible message to give out to young girls, as in we were telling them to sex it up to get their man. But it was about choice. Empowerment comes from calling your own shots and being who you want to be."
On the minus side, filming You're The One That I Want proved problematic for Olivia because, having been sewn into her costume, she couldn't eat or drink. She limited herself to a few sips of water, as she had to be unstitched for her lunch break and re-stitched after a bathroom break.
Within a month of its release, Grease became the highest-grossing film musical of all time, and it remained that way until 2017, when Disney's Beauty And The Beast stole its crown. Having cost $6 million to shoot, it would go on to gross over $400m worldwide, smashing many box office records. The soundtrack was No 1 in the album charts for three months.
Reflecting on another sequel (there was a Grease 2 released in 1982) Olivia jokes that Grease 3 might feature Danny and Sandy reuniting in an old people's home.
"We could do the hand jive from our wheelchairs," she writes.
Don't Stop Believin' by Olivia Newton-John is published by Simon and Schuster.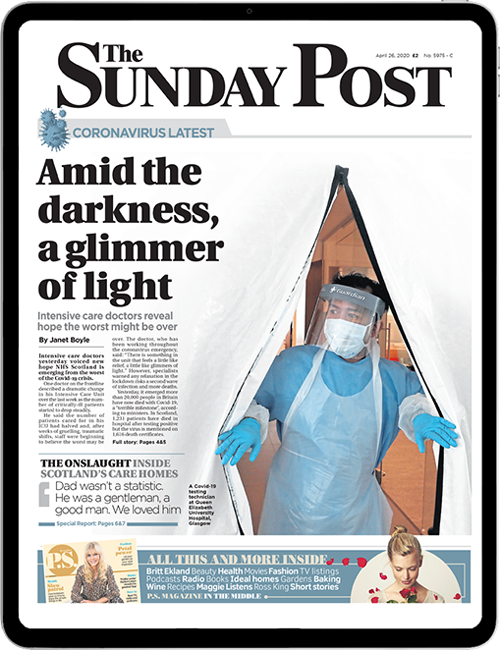 Enjoy the convenience of having The Sunday Post delivered as a digital ePaper straight to your smartphone, tablet or computer.
Subscribe for only £5.49 a month and enjoy all the benefits of the printed paper as a digital replica.
Subscribe