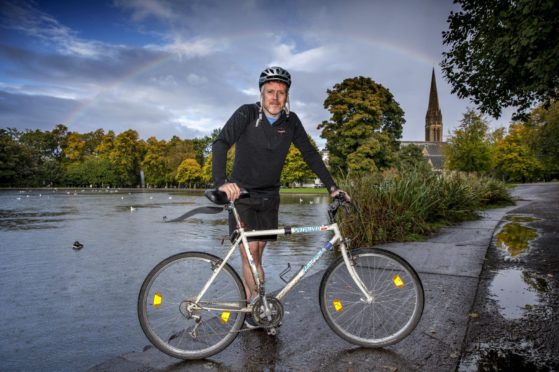 The old bike had lain in the family shed for years before it found its way to the stairwell of my tenement close, where it somehow went unstolen, chained up, gathering dust, used only on high days and holidays. But that was then.
Before March, the furthest I'd cycled was round Cumbrae. Mark Beaumont and I might have roots in the same Renfrewshire village, but his status as a record-breaking world cyclist was never in trouble.
Cycling in the city always felt too risky. I never understood the logic of bus, taxi and cycle lanes, funnelling the most vulnerable road users into the path of the heaviest vehicles.
Friends went on cycling holidays, biking around the roads of Spanish islands, and others pedalled in and out of Glasgow city centre to work.
I sometimes waved to them from the bus.
I'm not risk averse. I've ­paraglided in the Alps, hot-air ballooned through the Rocky Mountains in Colorado and kayaked on Hudson Bay with a pod of wild whales ­butting my boat.
It all felt safer than riding a bike through Glasgow's Eglinton Toll at rush hour. And as for the cycle network in Glasgow? Well, I'd heard it was out there somewhere. Just don't ask me for directions.
When the initial stages of ­lockdown forced us to consider our "one permitted piece of exercise" it forced me to confront the fact that, many days, there was no piece of exercise, permitted or not.
There was work, a car, public transport, the weather, a knee injury, operation and subsequent recovery. Always a reason not to.
But, like so much of what we ­experienced during lockdown, it's not until something is taken away from us that we truly discover its worth. And so it was that Uncle Thomas's old wheels, on a 30-year-old Specialized Hard Rock gravel bike he'd used for triathlons in the 1990s and I'd used as an obstacle on the stairwell, were dusted down for another run.
Like many did, I initially took to my bike to amble round the parks of the south side of Glasgow, occasionally venturing to the Broomielaw. Then Glasgow Green. Then discovering the path heading east along the river.
As the weeks went on, my ­distance, confidence and curiosity grew. I'd discovered the paths that connected Glasgow to hundreds of miles of cycling networks.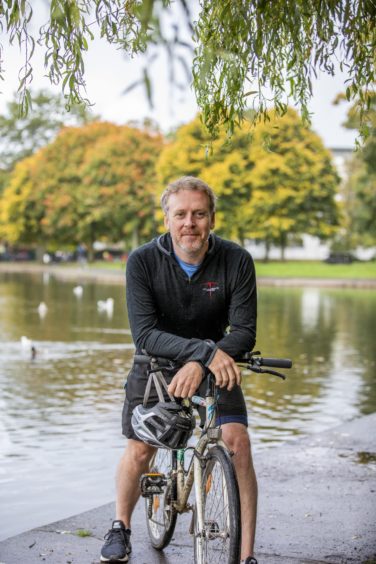 I'd no idea I could ride to Strathclyde Park and back almost entirely on cycle tracks. I never knew about the Cuningar Loop, a wildlife haven with a river- side boardwalk and climbing boulders in the shadow of Celtic Park in Glasgow's east end.
I knew nothing about the ­corridors now thick with flora and fauna that run through old industrial sites, winding past motorways and under flyovers you'd barely know where there.
Since March, I'm one of ­thousands to have expanded my cycling ­horizons as all our worlds grew smaller. I've tracked the River Leven to Loch Lomond and back, to Falkirk and the Kelpies and to visit my folks on a gorgeous autumnal ride through the countryside between Pollok Park and Port Glasgow.
And, while the effects of living through a pandemic are challenging on all fronts, this old bike has become my unlikely lifebuoy.
I soon noticed my mood was ­better after each ride. I slept better and my thoughts seemed calmer and clearer as I cycled along, enjoying the feeling of forward motion at a time when the pandemic has left our lives stalled and uncertain.
Research has shown how cycling improves the body's natural circadian rhythms, the bodyclock we rely on each day. There's even a belief that the repetitive physical exertion helps promote mindfulness, a boon redoubled by exposure to nature. Now I know not only my city, its rural boltholes and pockets of accessible wilderness better, but also my body's limits, too. My stamina and lung capacity are up, and the knee I had operated on is stronger.
I'm getting more from cycling than any gym membership I've had in my life. In six months, I've gone from not touching the bike, to frequently clocking up between 60km and 90km a week.
My only regret is that it took a ­pandemic to make me realise I should have been doing this years ago. But my personal epiphany is not unusual. It's a revelation ­common to many since March.
Data from Cycling Scotland's automatic cycling counters shows the number of cycling journeys made between March and August has increased by 43% in 2020. Some areas saw increases of more than 100%.
And Transport Scotland has ­allocated £38 million for local authorities to bid on improving active travel infrastructure.
It's also having benefits on local economies. Margaret Hood, project manager at South West Glasgow Cycles, a social enterprise at Pollokshaws West railway station in Glasgow, has seen a 75% upswing since lockdown started. "The change has been phenomenal, and the industry has taken a huge leap forward," she said. "Trying to get people to change their mindset away from taking car journeys isn't always easy. But we've found more and more people want to access bikes, and also the skills to maintain them. People's mindset is really changing."
And it seems I'm not alone in ­giving a new life to hand-me-down wheels, either. "A lot of people are getting old bikes out the shed to get them fixed up," she said. "We have people coming into the shop, realising they have the same old bikes and talking about them. A lot of people have attachments to older bikes for different reasons."
This time last year I'd probably have given mine away for free. Six months since I hauled the old wheels out, it's going for a winter service next week. Maintaining it – recycling while cycling – matters more to me than buying a new one.
Karen McGregor, director of cycling charity Sustrans Scotland welcomed the upswing and temporary changes in towns and cities, but called for continued changes to biking infrastructure. She said: "One of the few positives to come out of lockdown is seeing more people choosing to travel in active and sustainable ways.
"Through our Spaces For People programme, local authorities across Scotland have been delivering temporary infrastructure that makes it safer for people to walk, cycle and wheel and enable physical distancing. If we are to see these positive changes continue and move towards a greener recovery, we need to make sure there is safe, accessible paths and routes in place in the long term.
"Sustrans looks forward to ­continued working with partners across Scotland in the delivery of high-quality infrastructure."
In a new world of uncertainty and Covid anxieties, it's difficult for many of us to project a clear view of the future. One thing's for sure, mine will involve a lot more time in the saddle.
---
Cycling star: Even the smallest effort will be rewarded 10 times over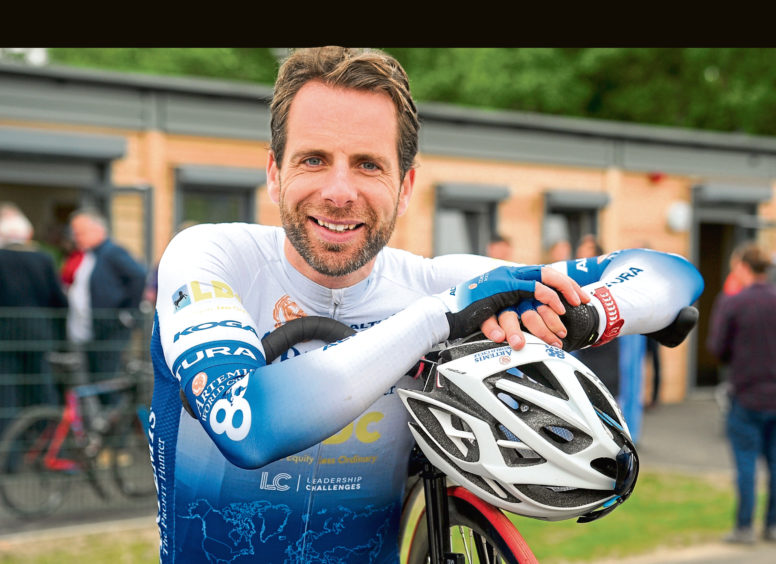 Record-breaking round-the-world cyclist Mark Beaumont says he is encouraged to see the rise in cycling but feels Scotland still has a way to go.
Author and endurance athlete Mark, who lives in Edinburgh, said: "A bike ride might be good for your waistline and your heart but it's also ultimately taking you places. We can't all be sprint athletes, but we all have the ability to endure. And that has a lot to do with confidence.
"The Swedes have a phrase which translates as 'the doorstep mile'. It's the idea that it's hard to get started. The doorstep mile exists in everyday life.
"You need to go through the doorstep mile and over those small mental blocks to create those positive memories. But once you make that effort, it's rewarded 10 times over."
Mark spent lockdown cycling and running Edinburgh's streets with his daughter, and writing his new book, Endurance, which is out next month. And while he's encouraged to see cities like Glasgow and Edinburgh to safely accommodate cyclists, he says more can still be done.
"Town planning in Scotland has been behind the curve compared to Europe," he said.
"Things are going in the right direction but we need to do more. The flow has to be more than an afterthought. We're starting to see that but I think there needs to be consistent pressure."
With autumn setting in, it doesn't mean the bike goes into the shed for the coming months.
Mark said: "Get out there, do half-a-dozen rides before winter sets in. Grab the last of the warmth and the daylight and start to build some habits which will hopefully see you through the winter."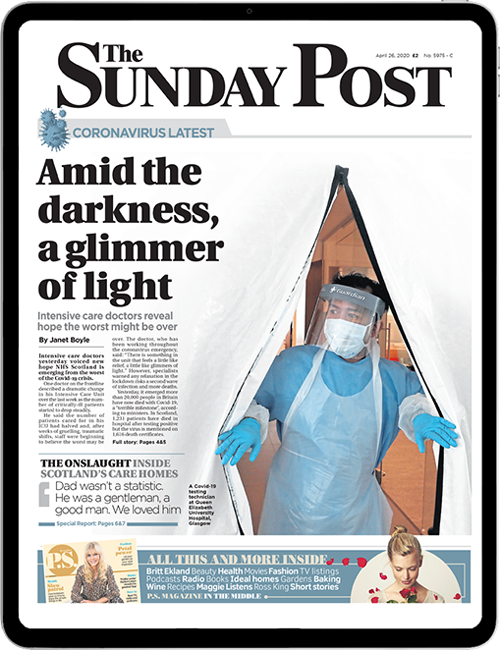 Enjoy the convenience of having The Sunday Post delivered as a digital ePaper straight to your smartphone, tablet or computer.
Subscribe for only £5.49 a month and enjoy all the benefits of the printed paper as a digital replica.
Subscribe