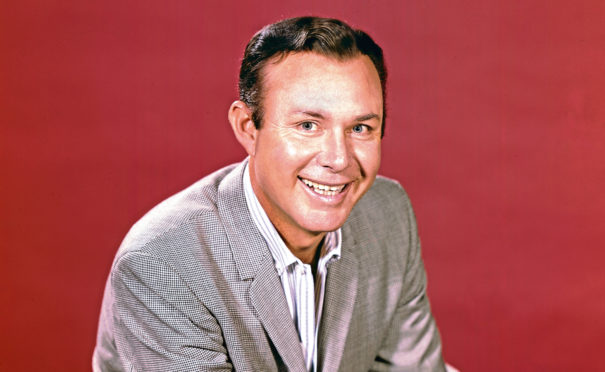 He's been dead for 55 years and only recorded for 16, achieving the impossible by mixing Sinatra-style crooning with country and western.
So why is Gentleman Jim Reeves still such a huge hero to so many, his rarest records selling for larger sums than modern rock rarities?
Simple, according to those who know Reeves and his music – he wasn't just unusual, he was unique and the very best of them all.
Born in tiny Galloway, Texas, on August 20 1923, the Great Depression would ravage America during James Travis Reeves' childhood and, as the youngest of eight children, life was challenging.
Although the young Jim attempted to make his name in baseball, a heart defect possibly damaged his chances of that, and of serving in the Army.
Approaching his 21st birthday and working as a radio announcer, a singer failed to show up and Jim was asked to stand in. And he never looked back.
Richard Moore runs Mint Records, whose first album release was Jim Reeves And Friends Live From Nashville, a collection of ultra-rare Grand Ol' Opry recordings that also features the Everly Brothers, Patsy Cline and other legends.
He can point out exactly what made, and still makes, Jim Reeves so special.
"I've done a few Jim Reeves CDs," says Richard, an expert in restoring recordings, "including the Grand Ol' Opry recordings and another that was a set of Gospel recordings. And the most recent I've done is the lost recordings, ones that have never been released before."
Having someone like Richard unearthing and fixing old tapes, then getting them out there, is Manna from Heaven for Reeves fanatics, many of whom must have everything he ever put on to tape.
When it comes to hard-to-find rarities, however, Richard knows why they cost an arm and a leg.
"Jim died in 1964, so there are still plenty of people around who remember him during his life," Richard points out. "I was exposed to him through my grandmother's record collection.
"The song quality, I'd say, is variable. There are a lot of really good songs, but it is his voice, that very deep, dark, brown baritone, and it is instantly recognisable.
"Although you know he is putting his heart and soul into it, it still sounds kind of effortless!
"It's a very laid-back singing style. I think he also inspired a lot of country singers, people like Charley Pride, to move away from more traditional music."
Up and down the United Kingdom, far, far from Jim Reeves' part of the world, countless Britons still love the kind of music he excelled at.
Why do we have our own versions of the Grand Ol' Opry in the likes of Glasgow, and why do rockers like Ringo Starr still say country music and men like Jim Reeves are the greatest?
"I really don't know how it got so deeply into our cities!" Richard laughs. "Maybe it was because of stars like Jim Reeves. Before people like him, there wasn't really much in the way of country music in this country.
"It is the more mainstream country artists like Jim Reeves who helped popularise it. I know that, in Scotland in particular, he is still very popular.
"At the end of the day, good music is good music. If it's enjoyable, people are going to buy it. Modern country music shares an awful lot with pop, style-wise, and I think that also helps make it more accessible to a lot of people."
Superstars such as Miley Cyrus and Taylor Swift back that up, bringing music that has its roots in modern country into households everywhere.
Swift was just in her early teens when she moved to Nashville specifically to follow a country career, while Cyrus – with Dolly Parton for a godmother – has also shown what the "crossover" from country into pop can do.
As for Reeves himself, his style seems to have been imposed on him at first, until he put his foot down. The record company had insisted he sing in the brash, loud style expected, and he disliked it.
Eventually, Reeves yelled: "One of these days I'm gonna sing like I want to sing!"
He lowered the volume of his singing, had his lips right up close, almost touching the microphone, and the new style immediately brought him a No 1 with Four Walls.
The record company, it seemed, were clueless – Jim Reeves knew exactly what the public wanted!
It was a style he'd use to great effect on songs like Welcome To My World, Blue Christmas, Adios Amigo and Am I Losing You, and, of course, He'll Have To Go.
Distant Drums and Blue Side of Lonesome, a couple of many posthumously successful songs, also remain Jim Reeves classics. And none see him yell at the top of his voice like the record company had wanted.
They were so good, in fact, that they may even have fooled a Beatles star into thinking he had written them.
"Ringo is very much into his country music," says Richard. "They used to tell this story that Ringo would try to write songs, and he'd come up with a new one and have to be told, no, that was the B-side of some country single!
"Some of Reeves' posthumous work beat The Beatles in the charts. People today don't realise just how famous and popular he really was at the time.
"He even made a film, Kimberley Jim, and, as a singer, you had to be ridiculously popular – almost Elvis Presley standards – to get yourself a part in a film.
"I think Jim Reeves made people sit up and say: 'Hang on, this guy can really sing. He's not just one of these country singers that sings at the top of his voice.'"
The early 1960s were a remarkable time for the man who got his Gentleman nickname because he was always smartly-dressed and behaved just as impeccably.
Bigger in South Africa than even Elvis, he recorded some albums in Afrikaans, toured the country and then starred in that movie, Kimberley Jim, which was made there.
He also became part of a remarkable trio, along with Elvis and Slim Whitman, to have released albums on a speed almost nobody will recall as it was so rare.
The use of 16-and-two-thirds rpm (half the traditional 33rpm) proved to be more suited to spoken-word recordings. With Jim's unique breathy voice, however, it was perfect.
Now, those are extremely rare, as are machines that will play them!
He would also go on to tour Britain and Ireland, fitted in between concerts all across South Africa, and many a future star would be inspired by Jim Reeves' music.
Daniel O'Donnell, for one. The Irish star has covered several of Reeves' classics, and done a very good job of them, too.
Even cool crooner rock star Bryan Ferry has done covers of Reeves songs, such as He'll Have To Go, and it is believed that a version of this song was also the very last thing Elvis Presley ever recorded.
Now, if that doesn't make a very wonderful song even cooler, we don't know what does.
Jim Reeves' own last recording was I'm A Hit Again, with its lyrics about feeling he had gone out of favour but was popular again at last.
As if Jim Reeves could ever be forgotten!
He was just 40 when he was killed, the aircraft he was flying heading straight into a violent storm and Jim apparently becoming disorientated. Despite rumours, eyewitnesses said the plane was not flying upside-down when it crashed.
It is thought it stalled when he inadvertently let it get too low.
What's certain is that, far too soon, the world lost one of its all-time music greats, a real gentleman and a revolutionary in how he changed country music.
We'll never hear a voice like his again.