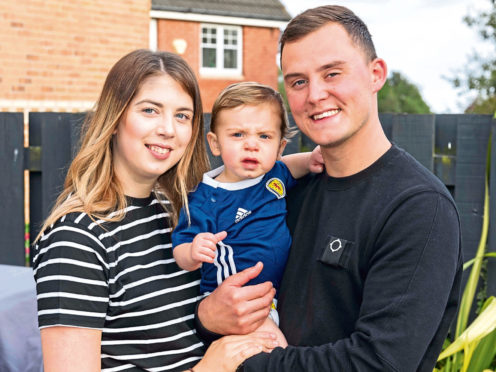 A first-time father has described how he assisted with lifesaving surgery on his newborn son.
Chris MacDonald comforted three-day-old baby Jaxon as surgeons performed a procedure to push the infant's intestines inside his tiny body.
Little Jaxon had gastroschisis, a serious condition meaning he was born with his abdominal wall open and his bowel on the outside. "I felt like I had to be there," said Chris, from Bridge of Don, Aberdeen. "He was the one who had to go through it, I was just watching. We were told to expect him to cry, but when it's your own kid, it's unbearable. My bones were shaking."
Jaxon's mum, Shannen, agreed: "I was standing outside the door but I couldn't bear to hear him howl so I had to walk away."
When Jaxon was born, doctors at Royal Aberdeen Children's Hospital whisked him away immediately. His exposed bowel and intestines were pushed into a plastic tube, known as a silo, by medics.
"When I went through to see him, they were putting his intestines into the silo," said Chris, 29. "They were trying to put it into his belly and it kept popping out. I was beside myself and thought I was going to be sick." Chris and Shannen, 25, were told early on in the pregnancy that their baby had the condition, which affects one in every 3,000 newborns due to the muscles in the abdominal wall not forming properly.
"We found out at 12 weeks," explained Shannen, a personal trainer and fitness instructor. "It was hard to hear and to stay positive, but once we got over the initial shock we felt like we were ready for it by the time they induced me at 38 weeks, because they had been scanning me every four weeks and he was growing well."
Chris continued: "We were a bit shellshocked when he was born. Shannen needed to have an emergency section, so they didn't even hold him up when he was born, they whisked him away to the neonatal.
"It was four hours before Shannen went to see him, once she got the feeling back in her legs. It was a weird feeling, we were sitting there thinking, 'Have we really had a baby?'
"I went through to see him and there were more intestines out than they first thought.
"I was beside myself as I watched them pushing the intestines into the silo, which was right up to the roof of the incubator. Each day they tried to squeeze more inside Jaxon."
Paediatric surgeon Mr Patel carried out the procedure 72 hours after Jaxon, who weighed 6lbs 10oz, was born. Chris had a sugar solution on his finger, which Jaxon sucked on to keep him calm while Mr Patel put stitches around the hole in Jaxon's stomach to create a purse-string suture, which he pulled closed once the silo bag was removed.
Chris said: "Mr Patel warned me that when he took the silo out, the guts come with it. You would've thought he was running out of fingers trying to push it back in, it was like a snake in a box."
Jaxon spent a further 11 days in hospital before being allowed home. Now 10 months old, he has come on leaps and bounds and his proud parents couldn't be happier.
"He has no issues or problems, he's just a normal baby," said Chris. "He's spot on."
"The surgeon was on a video chat with us a couple of weeks ago and he seemed happy," Shannen continued. "Jaxon has one more appointment next year and then he'll be discharged if everything is OK."
The couple will be able to relive the surgery this week, when behind-the-scenes documentary The Children's Hospital returns for a second series. Cameras captured the moment Jaxon was operated on last November, one of 900 babies who are cared for at the Aberdeen hospital each year.
Narrated by former Dr Who David Tennant, the eight-part series is an intimate account of day-to-day hospital life, showcasing the efforts of the RACH's team and the lifesaving support they provide, as they deal with everything from a toddler with a chickpea lodged up his nose to childhood cancer.
Chris, who is a remotely operated vehicle technician, helped to raise £8,500 for the neonatal unit thanks to a charity single he released with his football team. And he and Shannen are in no doubt about the special work that goes on at the hospital.
"Until you've had a baby and see the work they do, it's hard to explain," added Shannen. "They are just an amazing team, they go above and beyond and are just so good at what they do."
---
The Children's Hospital returns on Wednesday, BBC Scotland, 8pm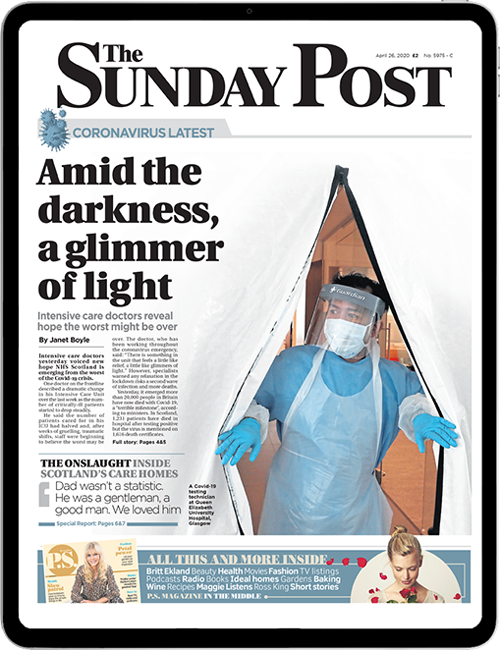 Enjoy the convenience of having The Sunday Post delivered as a digital ePaper straight to your smartphone, tablet or computer.
Subscribe for only £5.49 a month and enjoy all the benefits of the printed paper as a digital replica.
Subscribe