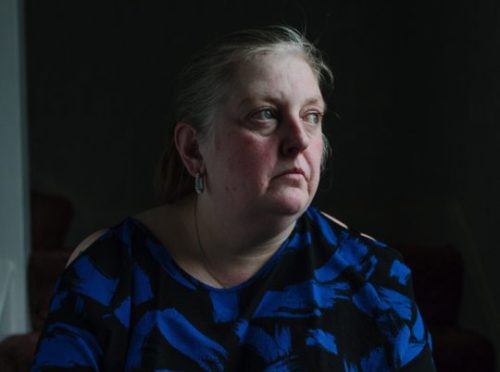 Scotland's slow justice has been condemned by families forced to wait years for answers after losing loved ones in tragedies demanding official investigation and explanation.
They spoke out after a public inquiry into two flagship hospitals opened last week only to reveal it could be up to a year before a word of evidence is heard.
Lord Brodie's inquiry into ­potentially-fatal construction flaws at the Queen Elizabeth University Hospital, in Glasgow, and the still-to-open Royal Hospital for Sick Children, in Edinburgh, was announced a year ago by Health Secretary Jeane Freeman after a contamination scandal was linked to the death of patients at the QEUH in 2017. It is feared the inquiry could take at least three more years to conclude.
Theresa Smith, from Greenock, whose newborn daughter Sophia died after catching a fatal infection at the Glasgow hospital three years ago, said that is untenable and called for change. She said: "Having to wait years for answers has made it impossible for us to properly grieve for Sophia. It's an extra burden none of us should have to endure."
From launch to conclusion, ­public inquiries and Fatal Accident Inquiries in Scotland are taking up to nine years and leading lawyers have backed grieving families asking why the process is so slow.
In England, former prime ­minister Theresa May announced there would be an inquiry the day after the Grenfell Tower blaze claimed 72 lives in June 2017 and the first public hearings began on the anniversary of the tragedy. In Scotland, in contrast, it took five years for an inquiry to start into the Clutha disaster when 10 people died after a police helicopter crashed into a busy pub.
Another inquiry into a helicopter crash involving a North Sea Super Puma in 2013 had a preliminary hearing in January when Sheriff Principal David Pyle compared progress to "wading through treacle".
Leading lawyer David Short, ­writing in The Sunday Post today, says such long delays are unnecessary, avoidable and make it impossible for families to move on from their trauma and grief.
He said the Crown Office needs more resources to reduce the long delays in delivering justice, but added: "Unless we see a major investment in staff and resources, I cannot see things changing for Scotland. The backlog is too big, and there are too few people able to tackle those major cases waiting, some of which are extremely complex."
The daughter-in-law of a woman who lost her life in the C-Difficile outbreak at the Vale of Leven Hospital backed calls for an investigatory system that is more responsive to families. Michelle McGinty described her battle to get answers but says she met only closed doors and indifference.
Michelle, 43, said: "In the ­beginning, I thought we were on our own when we lost my mother-in-law, Sarah. It was such a shock because she was only 67 when she died in February 2008. She'd suffered a stroke and was in the Vale of Leven waiting for a care package to be put in place so we could get her home when she became very ill.
"I quickly learned I had to ask the right questions, and that's how I discovered we weren't the only ones losing loved ones. We were right at the heart of one of Scotland's biggest health scandals. Before it was over, 34 people had lost their lives and we would face a five-year battle for justice that all but broke us."
The Vale of Leven Inquiry ­overturned the cause of death of Sarah's death certificate from a stroke to C-Diff, the highly infectious bacteria that rampages through hospitals and care homes when proper infection controls are not in place. But Michelle said it took too long: "It was six and a half years after Sarah died before we finally got to hear the inquiry report by Lord MacLean. How can it take six and a half years to hold an inquiry when so many people have died, and families need answers? How can that be allowed to happen in a civilised country?"
The determined mum said she does not blame Lord MacLean who she believes did a "wonderful job" but accuses NHS Greater Glasgow & Clyde and the Scottish Government of failing to put in place the rigorous inspection regimes that should prevented what he described as "dysfunctional practices" at the hospital.
Michelle said: "The whole trauma of fighting for the truth made me determined to help others so they didn't have to, so I'm now in my fourth year studying law at university. I'm determined to see if I can play a part in making the system change. There's so much effort put into ­covering up instead of organisations being upfront and learning from their mistakes. The Vale of Leven inquiry cost about £12 million, and it hurts me that nobody seemed to really learn from the mistakes."
Dumbarton MSP Jackie Baillie says the years waiting for the Vale of Leven inquiry still "tears her apart". She said: "Nobody got the chance to grieve. We were all too busy fighting to get answers, get an inquiry and, of course, get the truth. It took two and a half years for the government to even agree to an inquiry. I understand why families feel angry and cheated, and it's the same reason why our system needs to radically change."
Other families who lost loved ones in accidents have spoken of their frustration at the length of the process and feelings of helplessness.
Marie Murray's beloved husband Kenny was killed in the Stockline factory explosion in Maryhill, Glasgow, on May 11, 2004, when eight others died and 33 were injured. Marie, 60, from Paisley, said her husband was the only one in the basement and took the full force of the explosion. She couldn't protect her three children from the awful truth, but none of them was prepared for the length of time the inquiry would take.
She said: "It took five years for us to learn the whole truth, and that is too long. I don't think any of us ever felt we got justice for those we lost. The system took too long and was too impersonal for that."
And a father whose son was killed in the Clutha helicopter disaster said the families of victims waited five years for an inquiry that failed to provide the answers they needed.
Ian O'Prey, 74, who lost his only son Mark, 44, said: "The torment of waiting years for that inquiry meant we never got a proper chance to grieve for our son and, as a result, we've continued to suffer.
"My son lay just three feet from the front door of the Clutha for hours, and we still don't know why he wasn't brought out of the building. Nobody was really interested in getting the answers we needed. It was all about money not people. Our son never had a voice in that inquiry, and neither did we."
Meanwhile, the Scottish Child Abuse Inquiry last week announced its next series of hearings will look at why it took so long for the inquiry to be set up, despite calls beginning as far back as 2002.
The Crown Office said: "Crown Office Prosecutor Fiscal Service has made significant changes to its working practices in relation to the investigation of deaths through a modernisation project. Additional resources have been brought in, and there has been a focus on clearing older cases.
The Scottish Government said: "We have provided extra resources to the Crown Office in response to an increasingly complex caseload. Preparations for the Scottish Hospitals Inquiry were inevitably affected by the Covid-19 restrictions in place earlier this year."
---
The Cruellest Wait
How long did enquiries take to begin?
STOCKLINE FOUR YEARS
Factory explosion in Glasgow, May 11 2004 which killed nine people and left 30 injured. Began July 3, 2008.
CLUTHA FIVE YEARS
Police helicopter crashed into Clutha Bar, Glasgow, in November 2013, killing 10. FAI began April 8, 2019.
SCOTTISH CHILD ABUSE INQUIRY THREE YEARS
Tasked with investigating the abuse of thousands of children in care across Scotland. Announced in December 2014, opening statements May 31, 2017.
SHEKU BAYOH FIVE YEARS
Sheku Bayoh died in 2015 while being detained by police. A public inquiry has been announced but not fixed.
SUPER PUMA 2009 FIVE YEARS
The helicopter crashed into the North Sea oilfields off Peterhead on April 1, 2009, killing 16. FAI began January 6, 2014.
SUMBURGH 2013 SEVEN YEARS
A Super Puma helicopter ditched in the North Sea off Shetland on August 23, 2013, killing four offshore workers. Inquiry, delayed because of Covid-19, to begin August 31.
---
A year ago, we were promised action. A year on and we have heard nothing. Not one word.
By Norman Silvester
The family of Allan Marshall say they have heard nothing in the year since the publication of a damning report into his death in prison prompted official promises of action.
The 30-year-old was on remand at Edinburgh's Saughton Prison in March 2015 when he suffered a cardiac arrest after a struggle with up to 13 staff. The incident, which was captured on CCTV, showed the untried inmate being dragged naked, face down and feet first across a segregation unit floor with a towel over his face.
In a 109-page judgment issued on August 9, 2019, Sheriff Gordon Liddle described his death as entirely preventable and accused prison officers who gave evidence to the 25-day Fatal Accident Inquiry (FAI) of dishonesty.
Twelve months later the Marshall family have not been told if any of the 13 key recommendations – designed to improve restraint procedures and prevent future deaths – have been implemented.
They have also heard nothing from the Scottish Government about a review of deaths in prisons promised nine months ago. The inquiry was due to be led by Wendy Sinclair-Gieben, chief inspector of prisons for Scotland, with bereaved relatives asked about their experiences of the system.
However, the family have had no contact from Ms Gieben or her office since the November 7 announcement. They have also heard nothing from Justice Minister Humza Yousaf since a face-to-face meeting last September. He had apologised for the failures that led to his death and promised answers. But there's been no contact since.
Earlier that month Allan's family met with Scottish Prison Service officials in Edinburgh to address their concerns over his death. They were promised a meeting with the then chief executive Colin McConnell, but it never took place.
Allan's aunt, Sharon MacFadyen, 47, from Rutherglen, Glasgow, said the family have been kept in the dark by the authorities.
"We feel there has been a cover-up from day one," she said. "No one has been held accountable for Allan's death. Even if his [Sheriff Liddle's] 13 recommendations to improve things have been implemented no one has told us.
"We've heard nothing back from Humza Yousaf or the SPS, despite promises to keep us fully informed."
Allan died four days after being admitted to Edinburgh Royal Infirmary. The Marshall family plan to sue the Scottish Prison Service, Police Scotland and the Crown Office.
Allan, who ran an electrical recycling business in Castlemilk, had been remanded in custody over unpaid fines after appearing at Hamilton Sheriff Court on a breach of the peace charge. On the day of the restraint he had been taken to Saughton's segregation unit after allegedly damaging his cell.
In his FAI report, Sheriff Liddle said: "It was clear that prison officer staff did not tell the whole truth on a number of occasions. Sometimes they appeared to be mutually and consistently dishonest."
Family solicitor Jelina Berlow-Rahman said: "The family was heartened by Sheriff Liddle's determination. However, with a lack of information and failure to be consulted for the death in custody inquiry, they continue to be left in the dark."
The Scottish Government said: "The Justice Secretary wrote to the Justice and Health and Sport Committees in May to provide an update on the independent review into the handling of deaths in prison custody.
Work is under way and after an understandable pause due to the pandemic, it will report to the Justice Secretary early next year."
The Scottish Prison Service did not respond to our requests for a comment.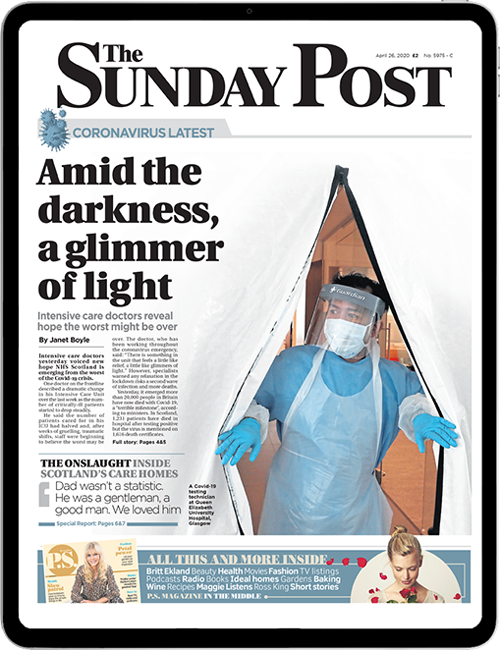 Enjoy the convenience of having The Sunday Post delivered as a digital ePaper straight to your smartphone, tablet or computer.
Subscribe for only £5.49 a month and enjoy all the benefits of the printed paper as a digital replica.
Subscribe