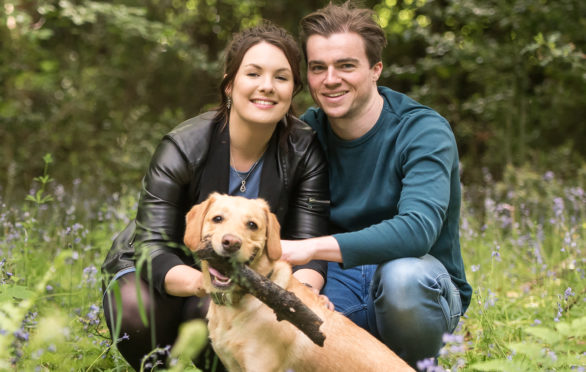 A chip-stealing dog that took the internet by storm has inadvertently boosted a cause very close to his owner's heart.
When Ross and Anna Paget, from Edinburgh, shared a clip earlier this month of their dog, Rab, stealing a chip from their dinner table, the clip went viral.
Five million people have watched the three-year-old Labrador Cocker Spaniel cross covertly slipping a French fry from Ross and wife Anna's meal at the capital's Safari Lounge.
The worldwide publicity has helped Ross to raise funds and awareness for Alzheimer Scotland in memory of his grandad Tam, who passed away on Hogmanay after living with the condition for nearly a decade.
He actually thinks we cannae see him. pic.twitter.com/dp3QfYtTnf

— Ross (@_PAGET) March 1, 2019
Ross is running his first marathon in London this month in honour of Tam and says he's amazed by the reaction to Rab's exploits and the knock-on effect it's had in raising awareness of dementia.
"Anna and I always joked about how Rab has never contributed anything financially, but we can no longer say that after helping me towards my fundraising target," smiled 29-year-old Ross, who is in the Merchant Navy.
"We were in hysterics in the restaurant when we saw him do it, so I brought out my phone to see if he did it again.
"He's a character but he's actually well trained – he usually doesn't take food from the table. It was the way he did it, like we can't see him, that was so funny.
"We shared it with family and friends, but never thought it would gather so much coverage. Then it just exploded, with more than a million views overnight.
"When I realised the views it was receiving, I linked my fundraising page and pretty soon I was receiving notifications of donations from random people who had come across the video.
"It's an unusual way of fundraising, but it shows the generosity of people around the world."
Ross was very close to his grandad and it was hard for him and the rest of the family to watch the illness take a hold on Tam.
"We're a close-knit family and he was a big family man – he spent most of his time with his grandchildren after retiring," Ross continued.
"He was the first to volunteer for school trips and was always taking us on days out.
"He was first diagnosed with short-term memory loss and later Alzheimer's, around 2010.
"I can remember early on, he was at my parents' house and looked out the window and said he'd never been there before.
"It gradually got worse and it was common for him not to know he was in his own house.
"My gran had to deal with him 24/7 and he would often go out wandering, to the point where my dad had to buy him a tracker.
"As distressing the effect the illness was having on my grandad was, equally so was the knock-on effect I saw it having on my family, mainly my gran and my mum."
Ross teamed up late last year with Alzheimer Scotland to take up a place in the London Marathon, which happens on April 28, but sadly Tam passed away on Hogmanay aged 82.
Spending so much time at sea isn't ideal preparation for a first marathon, but Ross is quietly confident of his progress.
"I didn't really do any running until a few years ago, and since then I've done three half marathons.
"There is a treadmill on board, but with the rolling and pitching of the boat, it makes for some interesting runs!
"I've managed to link up the scheduling of my long training runs with getting into port and I think I'm ahead of schedule at the moment."
But Ross won't be taking Rab on his training runs.
"I tried it once," he added. "And ended up having to prise a raw black pudding he'd found on the ground from his mouth!"
---
Ross' fundraising page is at www.justgiving.com/fundraising/rosspaget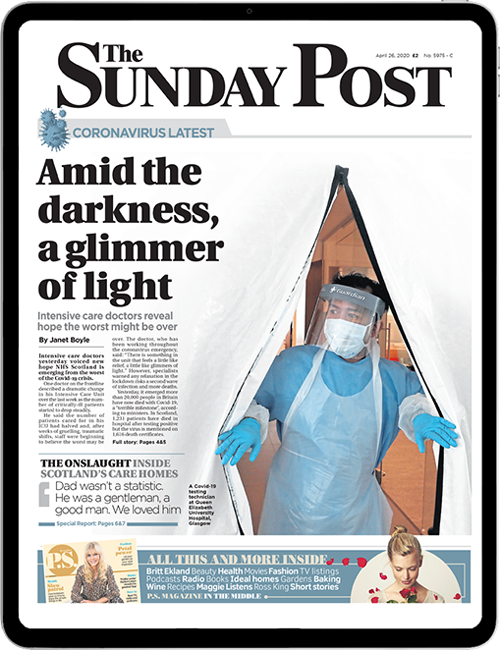 Enjoy the convenience of having The Sunday Post delivered as a digital ePaper straight to your smartphone, tablet or computer.
Subscribe for only £5.49 a month and enjoy all the benefits of the printed paper as a digital replica.
Subscribe