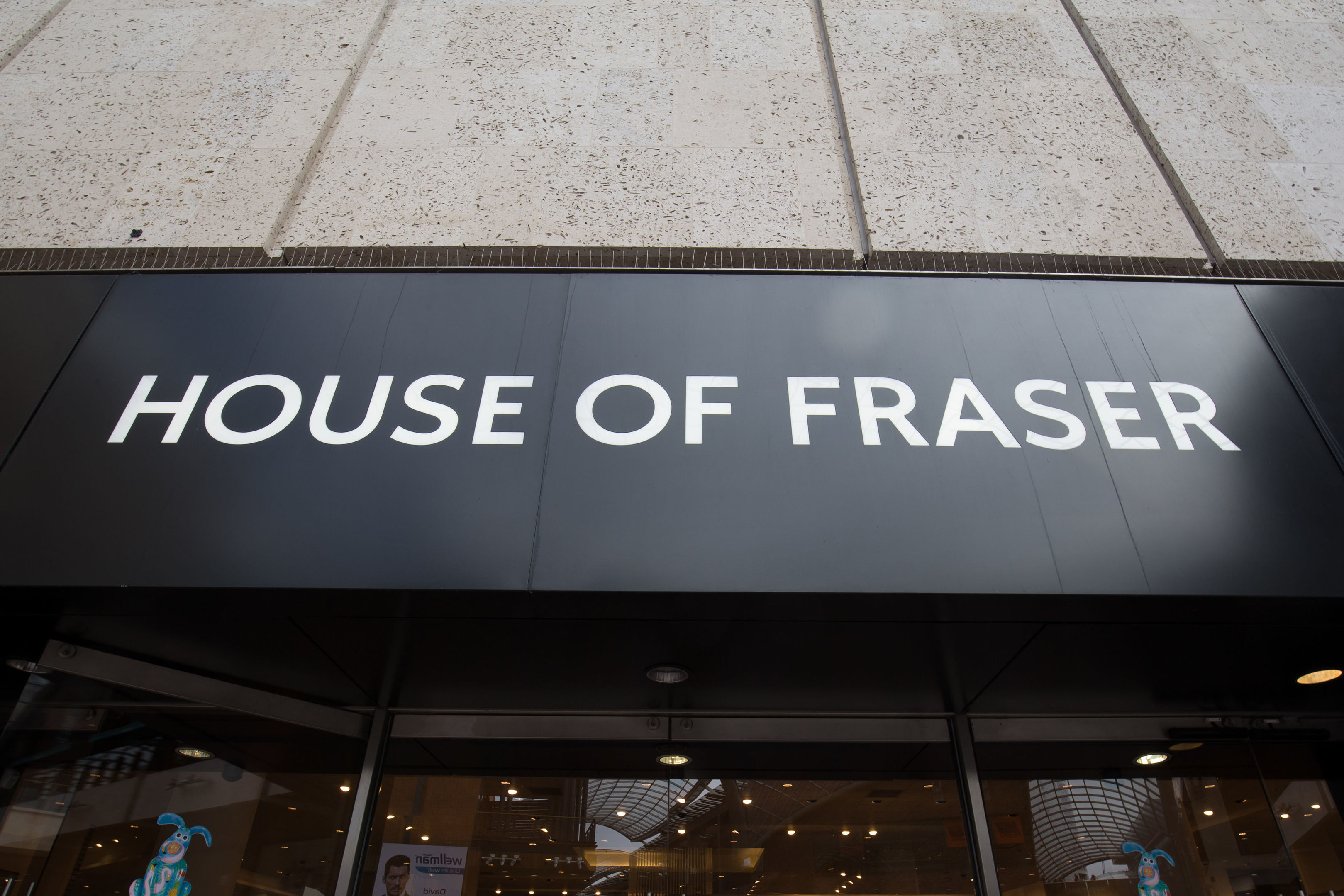 THE House of Fraser name was once a jewel of high streets across the country – a department store steeped in history, which typified style and variety.
But like so many before it – including Woolworths, Toys R Us and, most recently, Poundworld – it has fallen victim to the rise in discount stores and the shift in consumer habits from physical purchase to online shopping.
Today, Mike Ashley's Sports Direct has struck a deal to rescue House of Fraser out of administration for £90 million, raising hopes for the future of thousands of staff.
In a stock market announcement, Sports Direct said it has acquired all of the UK stores of House of Fraser, the brand and all of the stock in the business.
Some 17,000 staff are being informed that they will be transferred over from House of Fraser to Sports Direct.
The deal was struck through a pre-pack administration process, where a company is put into administration before a new buyer cherry picks the best assets.
The tycoon beat off competition from retail rival Philip Day, the billionaire owner of Edinburgh Woollen Mill.
For House of Fraser, the future once looked so bright. A series of marquee acquisitions over a 50-year period in the middle of the 20th century saw the company's portfolio blossom, offering customers an everything-under-one-roof shopping experience that allowed people to browse for wedding gifts, homeware, beauty products and designer clothes, all within the same four walls.
Departing stores? Fears for High Street institutions as shoppers turn to smaller, cheaper and online rivals
It was a far cry from its humble beginnings as a small drapery shop in Glasgow in 1849, the brainchild of farmer's son Hugh Fraser and small business owner James Arthur.
The name Arthur & Fraser was born, and could be found on the corner of Argyle Street and Buchanan Street in the Scottish city.
A century later, and after the wholesale business splintered from the retail side, the firm had grown to become a national chain known as House of Fraser.
It would go on to acquire numerous other businesses as its stores emerged bruised and bloodied but emboldened from the Second World War, from clothes broker Brown Muff & Co in Yorkshire to Dingles drapery shop in Plymouth.
Harrods, too, would become part of the House of Fraser family in the late 1950s. Then, in 1985, the company was bought by Egyptian-born tycoon Mohamed Al Fayed and its profile soared further.
But trouble was afoot.
By January 1997, new chief executive John Coleman delivered on his promise to sell three stores – with the loss of 1,000 jobs – having been hit by a slump in the womenswear market and "poor buying policies".
A slight increase in sales the following year was not enough to drag the company into the black, and House of Fraser would go on to mortgage some retail estates to raise money for store revamps.
A further rise in like-for-like sales at the turn of the millennium gave cause for optimism, new store openings and the creation of hundreds of new jobs.
It would go on to acquire more regional chains, such as Jenners and Beatties, but the company's wheels had started to come off by the time it was bought by Chinese conglomerate Sanpower Group for nearly £500 million in 2014.
The rise of discount stores such as Primark and Poundland, and the growth of internet shopping through sites such as Amazon, had already been credited as a contributory factor for hastening the demise of several high street staples.
Finally, after signalling that its future looked bleak, House of Fraser announced on Friday that it had fallen into administration, endangering the future of 17,000 staff.
As of June, the group had 59 locations across the UK and Ireland.
Pioneering department stores of Scotland changed the way we shop forever
by Laura Smith
THEY were towering temples of commerce that introduced a new way of shopping that was sociable, exciting, and glamorous – and took place under one majestic roof.
But today, the classy, sprawling department stores that flourished from the mid-19th Century into the early 1900s have mostly vanished from our high streets.
The rise of high street chains, internet shopping, next-day delivery and click and collect services have helped place convenience over pleasure when it comes to shopping.
Last year, Edinburgh author Jane Tulloch looked back on how we used to shop more than a century ago.
After delving into the Edinburgh Central Library archives, she found it was a very different – and far more lavish – experience.
"These department stores sound fantastic with their beautiful front-of-house departments and window displays. The theatrics of it all was a real lure," said the 62-year-old.
"Customers would get dressed up, have their carriage or car parked by a chauffeur, and after shopping would relax in tearooms as their purchases were sent to the side door for collection.
"Most opened in the mid to late 19th century and probably the golden age was the earliest part of the 20th Century up until the 1930s."
While there were iconic department stores spread across Scotland, Jane has focused her research on Edinburgh.
The Capital was home to numerous department stores, especially in the late 19th and early-mid 20th Century, including J&R Allan and Patrick Thomson on South Bridge, and Maule & Son and RW Forsyth on Princes Street.
In Edinburgh, the iconic Jenners alone remains standing proudly on Princes Street, although it ceased to be Scotland's last independently-owned department store in 2005 when it was bought over by the Glasgow-based House of Fraser.
Jane's interest in the lost department stores of Edinburgh – she's written two novels based on the subject – stems from her time working behind the counter in Jenners during the 70s.
Launched on Princes Street in 1838 by draper Charles Jenner and Charles Kennington (it was first known as Kennington & Jenner), Jenners was described as The Harrods of the North.
Other stores like Selfridges, launched by Harry Gordon Selfridge, whose story was told in the popular ITV drama, have been hailed for changing how Britain shopped but would not open for another 70 years. And Jane discovered the store had similarities with its London equivalents, Harrods and Selfridges, which today are as much grand tourist attractions as shopping destinations.
"One of the most interesting things I found was a huge inventory of everything in the store from what I think was 1906," said Jane.
"It included 102 bedrooms for the staff, which was very unusual for Scotland at the time. You could tell their rank based on if they had an iron bed or oak three-bedroom suite. There was a hospital room, medical room and a live-in housekeeper
"They could have their meals as part of their salary and one chap was actually retained full time to slice the staff roast.
"The head cleaner would have six eggs for breakfast, so it sounds like they were taken care of by Mr Jenner."
The store burned down on November 26, 1892 but its canny owner ensured his staff and customers didn't go without for long.
"He insured the business with 23 different companies so he was back in business within weeks and paid to have all his staff put up in a hotel while the store and their living quarters were rebuilt," she said.
Shopping for ladies' attire, in particular, was a very refined affair, during a period when the shop mannequins actually moved.
"I recently met a lady whose granny was a model in Jenners," said Jane.
"Back then staff would model the clothes and you'd sit and choose what you wanted. Then it would be made in your size."
Departments displayed their miscellaneous wares in gleaming glass topped counters. Customers would take a seat and be shown a selection of goods stored in drawers.
Comfort was also key. "If you were buying gloves there was an elbow pad to put your elbow on as the shop assistant eased your gloves on to your hand," said Jane.
"There was also someone who would park your car for you on arrival at Jenners.
"Tearooms were popular, especially in Scotland. At Patrick Thompson, you could have two scones and a cup of tea for a shilling."
The South Bridge store, nicknamed P.T.'s, was popular with the middle classes and boasted 60 departments, selling items like shoes, furniture, carpets, millinery, drapery and toys.Jane discovered mourning wear was a money-spinner with the Victorians.
She added: "I know J & R Allan, which opened in Edinburgh in 1880, had a very large mourning department – it was serious business in Victorian times.
"You could purchase mantles, a type of cloak, hats and gloves in different grades of black depending on how recently you were bereaved."
Of course, things are very different today – so what changed?
"These shops were a way of life for more than a century but tastes changed and they just went out of fashion," explained the author.
"House of Fraser hoovered up the majority of them. And then chain stores popped up in the 1950s-60s offering cheaper products.
"Boutique shopping also became more popular as customers desired specialist retailers instead of going to one big place for everything."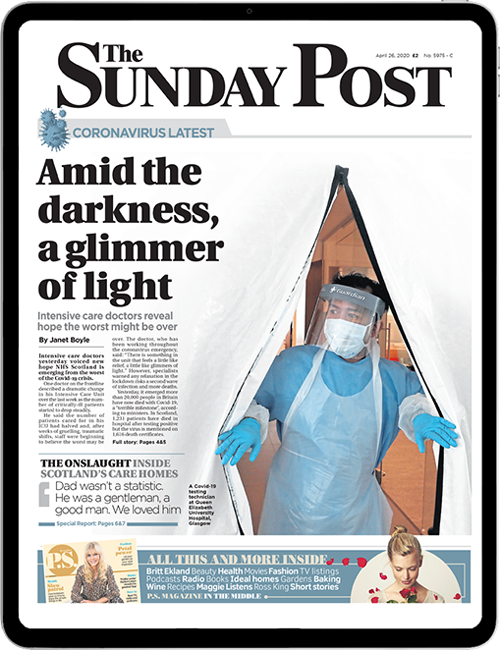 Enjoy the convenience of having The Sunday Post delivered as a digital ePaper straight to your smartphone, tablet or computer.
Subscribe for only £5.49 a month and enjoy all the benefits of the printed paper as a digital replica.
Subscribe