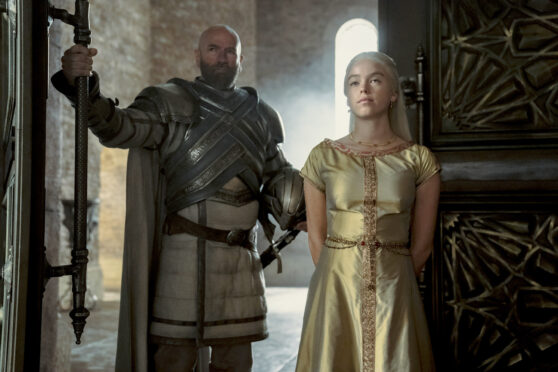 Under the glare of the Los Angeles sunshine, Graham McTavish began to sweat as he feared he had made a life-altering mistake.
A busy jobbing actor in the UK, he had chosen to sacrifice a major West End role to chase the Hollywood dream. It almost ended before it had started but looking back now, 15 years on and with a major part in the next instalment of the Game Of Thrones franchise, McTavish can be satisfied that it was a risk worth taking.
"I landed in LA on January 23, having managed to get myself out of the role of Saruman in the West End version of The Lord Of The Rings and committing to going to America, which I felt like I needed to do," he recalled. "I had a tiny part in a film called Rendition, but when I got to LA I received a phone call from my manager to say the part had been cut.
"I had a two-month-old baby at the time and I stood there thinking I had made the worst decision of my life. Miraculously, seven days later I went in for a meeting about Rambo and got the role."
It was a major part in the action franchise, starring alongside screen legend Sylvester Stallone. From that moment, McTavish hasn't looked back and has featured in box office hits like The Hobbit Trilogy, Creed and Aquaman, and series like Outlander, Preacher, Lucifer, 24 and now House Of The Dragon, the highly-anticipated prequel to Game Of Thrones, the world's biggest television show.
"I do kind of believe that if you put energy out into the world and if you push and try, then the world responds one way or another. Maybe that's what happened with Rambo, and it led to a great experience."
So, too, did the 61-year-old have a great experience on House of The Dragon. The series is a prequel to Game Of Thrones, taking place 300 years earlier. McTavish stars alongside Paddy Considine, Matt Smith, Bill Paterson and Olivia Cooke in the series, which its writer Ryan Condal – who adapted it from the George RR Martin novels – has described as being "Succession with dragons".
McTavish plays Ser Harrold Westerling, the ward commander of the king's guard. McTavish was never available for Game Of Thrones, so he jumped at the chance to become involved in House Of The Dragon, having been tipped off about it five years ago.
"Ryan Condal and I worked together on an NBC pilot in 2013, which wasn't picked up, but we became friends and I subsequently worked with him again on another of his shows, Colony," McTavish explained. "About five years ago, we were having lunch and he told me he was working on a Game Of Thrones prequel and he would love me to be in it. When it came closer, he said there were two possible characters I could play, but one of them died in episode four, so of course I went for the other one!
"This is not something you hear happening very often, where someone has an idea, writes it, meets with the original writer, who loves it, then approaches HBO and they say yes. Every day when we were working on it, I would say to Ryan, as we were surrounded by hundreds of people and massive sets, 'Can you believe this?'
"The king's guards that my character is part of are almost like Templar monks/warrior types, who forsake all worldly things and are not allowed to have relationships or money. They are completely devoted to the king. I had to wear a lot of armour and never once was I allowed to sit down in a scene."
Having become a familiar face in fantasy and comic book-inspired films and series, McTavish says he is no stranger to unusual costumes.
"Fabien Frankel, who plays Criston Cole, and I are the two characters seen most in the armour. It was Fabien's first time encountering an uncomfortable costume but it wasn't mine. We worked closely with the costume department to make sure it was as comfortable as possible, and to make sure we would be able to breath and not collapse.
"It's a spectacular costume. Once you have it on and are carrying the giant sword, while walking through enormous sets like the throne room, you almost don't need to act. There is such a sense of grandeur."
The dad-of-two hasn't managed to snaffle any costumes or props from House Of The Dragon so far, but has an impressive memorabilia collection at home, which he splits between New Zealand – where he relocated while making The Hobbit films – and LA.
"I have the weapons from The Hobbit and my plaid, bunnet and broad sword from Outlander. You used to be able to take costumes back in the day. I remember doing an episode of CSI Miami where I wore a really nice suit, with a Versace shirt and tie. It looked great and they told me I could have it if I wanted. Nowadays you need to practically prise a button from their hands!"
McTavish understands expectations for the new series are high due to its association with Game Of Thrones.
"Anticipation is enormous among anyone who watched Game Of Thrones and with that comes a responsibility, while at the same time throwing it off and saying this is our thing, and we're not here to deliver a carbon copy or watered-down version of what went before. It's the same universe but a new show."
McTavish left Scotland when he was young, moving to Vancouver and then the south of England. Despite his nomadic lifestyle, Scotland is where he feels most at home, and he returns whenever he can. Shooting Outlander here, and making the travelogue Men In Kilts with co-star Sam Heughan, which in turn led to two spin-off books, also gave him more time in his homeland.
"I always feel that calming sense of relief when I go back there," he explained. "It's a familiar, wonderful place that I know and love. I love London, where I am right now working on the next Witcher series, and I feel at home here, but only one place is truly home and that's where your blood is from, where you can feel those deep roots that stretch back in time. That, for me, is Scotland.
"I'm coming up with friends later in the month to experience a wee bit of the Festival – I always love being in Edinburgh at this time, as it has such an incredible atmosphere."
A second series of Men In Kilts has been filmed, this time in New Zealand, McTavish's adopted home for a decade – "It's a great place to be a child and grow up, and that's what motivated me. It means commuting has become a little bit of an issue for me, especially last year, but it's getting easier."
As well as House Of The Dragon and The Witcher, McTavish has a number of movie projects recently filmed, which will be out next year. One is Somewhere In Montana, where he plays a rancher, and another is Chasing Nightmares with actress Anne Heche, who is said to be "brain dead" after a car crash. She remains in hospital in Los Angeles to allow possible organ donation.
"It's terrible, heartbreaking," said McTavish. "I don't know Anne other than having worked with her on the film and she was lovely to work with. It's a terrible, terrible, tragedy. I can't even imagine."
McTavish has become the go-to guy for fantasy series, and he has no problem with that. "I practically sleep with a candle at my bedside and a sword within reach these days," he laughed. "It's quite bizarre and I don't know why it has happened but I love it, because I'm a huge fan of these stories. I loved Preacher as a reader and Game Of Thrones. It is strange that I don't seem to be looked at for anything now that requires a suit and comfortable shoes! It's partly due to the way the business runs – you're seen in something and they think, 'He's done that so he'll be good in this'. So much of it is outside of my control but I'm not complaining."
---
House Of The Dragon, Sky and Now TV, from August 22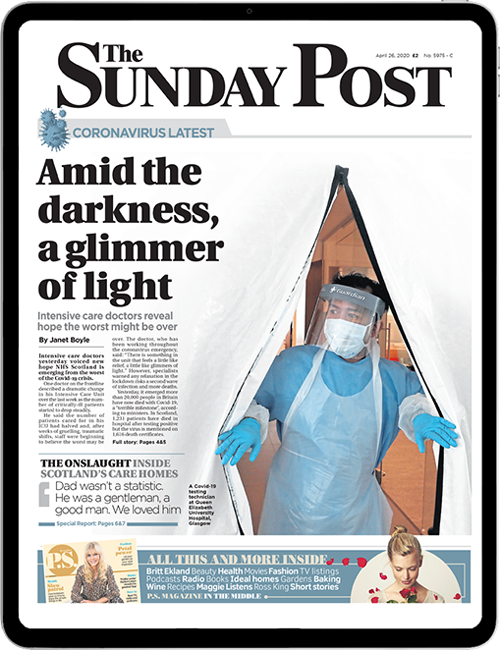 Enjoy the convenience of having The Sunday Post delivered as a digital ePaper straight to your smartphone, tablet or computer.
Subscribe for only £5.49 a month and enjoy all the benefits of the printed paper as a digital replica.
Subscribe