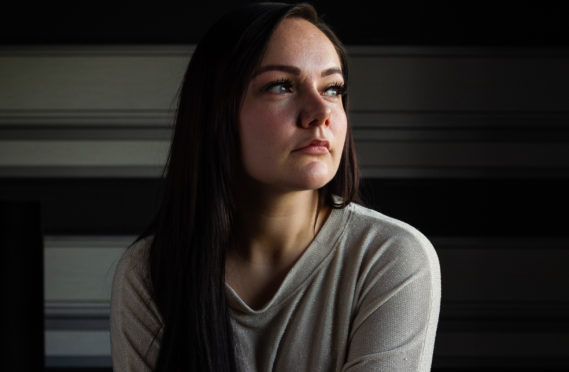 Victims of domestic abuse are being targeted by their attackers even after they've been convicted and jailed, campaigners warn.
Up to 600 crimes have been recorded under Scotland's new domestic abuse act, making psychological abuse and coercive controlling behaviour an offence, we can reveal.
Men convicted – and jailed – for violence against their partners are continuing to menace them, physically and mentally, often using discussions over shared children as a vehicle for threats and abuse.
And Scottish Women's Aid reports a sharp increase in abuse during child access meetings in recent years.
Dr Marsha Scott, chief executive, said: "We're seeing more and more mothers being abused in custody and visitation scenarios.
"In fact it's the single biggest reason that we get inquiries for legal advice on the Women's Aid phoneline.
"There's a myth in Scotland that separation equals safety and once the case has been dealt with women and children are safe, but we're seeing that's not the case."
The new domestic abuse law requires courts to consider imposing a non-harassment order on an offender convicted of a domestic abuse offence to protect their victim from further abuse.
"More than 400 crimes were recorded by Police Scotland in the first three months after the law was introduced in April this year.
It is understood this figure is now approaching 600, including cases of harassment from inside prisons.
But Dr Scott says there is still concern about the extent to which the system protects women and children from continued coercive control.
She said: "The notion somehow is that abusers have a right to children. Some courts still believe it – and abusers use the legal system and civil court system around visitation to pursue the abuse further. It should be that there are more tools available to courts for post sentencing protections.
"We really need to pay attention to the implementation of harassment and domestic abuse orders – and enforce them in ways that really sanction effectively when these orders are breached. Abuse can result in physical and mental harm to victims, but evidence has shown children are affected too so we need to look out for their interests as well."
Sarah Crawford, lead solicitor at the Scottish Women's Rights Centre, confirmed that abusers often used child contact to exert control.
She said: "Survivors of domestic abuse who approach our centre often mention child contact as one of the ways in which the abusive ex-partner continues the cycle of abuse.
"We also hear that child contact arrangements are used to exert control over the woman, even in cases where the abuser has received a conviction."
Detective Superintendent Gordon McCreadie, who leads Police Scotland's domestic abuse task force, said: "We know that offenders often try to continue their abuse from the confines of prison.
"This is all about extending power and control over the victims while manipulating them in ways such as trying to prevent them from giving evidence.
"We treat any complaints of this nature very seriously and will work closely with the Prison Service to stop this from happening.
"The big benefit of the new domestic abuse laws is the expectation that the courts will apply non-harassment orders to offenders which means that if they break this order they could face criminal charges.
"I would urge anyone who is experiencing abuse from someone who is in prison to contact the police and the prison immediately so that this can be investigated and dealt with appropriately."
Jail chiefs say people who receive unwanted letters and phone calls from offenders should report the incidents to the prison as soon as possible.
Letters written by prisoners are not censored but if a complaint is received from a recipient then the inmate can be barred from continuing to write to the same address.
The Scottish Prison Service said: "In reference to phone calls made from a prison phone, the person on the other end will receive a message telling them where the call is coming from, so they have the option to accept or reject the call.
"Complaints made about calls made from a prison phone would result in that outgoing number to be blocked.
"Mobile phones are illegal in prison so anyone receiving such unwanted calls should inform the prison or the police so that appropriate action can be taken."
---
After repeatedly punching me, he told me: 'This is the night you die, I'm going to finish you off'
As she watched her ex-partner being led away from the dock, Danni Wolschke thought her worst nightmare was over.
Kris Auld was jailed for an attack on her so vicious that he left her battered beyond recognition, just six weeks after she gave birth to their baby son.
She was knocked unconscious in the attack, and came round to Auld telling her: "Tonight is the night you are going to die".
It was the culmination of months of mental and physical abuse.
Auld was sentenced to three years and nine months in 2016 for abducting and assaulting Danni, but got an added five years for historical charges associated with domestic violence and abuse on ex-girlfriends. He's due out in 2025.
But little did Danni know that he would still be able to taunt her from behind bars.
Despite moving away so he couldn't track her down, Auld continued his torment by penning dozens of letters and sending them to her gran's computer shop in Strathaven, South Lanarkshire.
Most of the letters centred around losing his parental rights to their son, now three, as a result of the court proceedings.
Auld issued thinly-veiled threats because she refused to take their son to visit him in prison.
In one of the letters, he wrote: "I have no hope if I don't get to see Leo, I'm going to come out looking for people, looking for answers. Without my son what have I got to lose?"
In another he appeared to blame Danni for what he saw as his harsh sentence. He said: "You set me up a belter, you've managed to lie your way into me not getting a fair sentence."
The letters only stopped six months ago after Danni contacted Barlinnie Prison and staff intervened.
The 23-year-old said: "It was like he was still trying to brainwash me, despite being locked up.
"After everything that happened, I moved to get away, so he didn't know where I was and couldn't bother me anymore.
"It's hard to believe he wouldn't just leave me alone – but I think it's typical of abusers.
"They keep coming back, even if it's just with mental abuse. I think the only way he will leave me alone is if he meets someone else and turns to abusing them instead. But the fact that we have a child together creates a tie that is harder to break."
When Danni met Auld around Halloween in 2014, he appeared caring and well mannered. She said: "When I first met Kris, he was shy and quiet – and polite. When we went to my mum's for dinner, he would load up the dishwasher after we'd eaten. Everyone thought he was just a 'nice' boy."
But six months into the relationship, Danni started to notice Auld's controlling behaviour.
"It was tiny things to begin with, like he would ask me about people I had befriended on Facebook and tell me not to talk to other men," she said.
"It didn't bother me, so just to save an argument, I would delete them from social media. But one night he got violent. We were at the pub having a few drinks when we got into an argument. I tried to leave to go home, but he punched me and gave me a black eye.He seemed genuinely sorry. I believed it of course and we made up."
But soon a pattern emerged. Danni, a customer service adviser, added: "It was the same every time. It didn't happen every single day but probably at least once a month I would end up being punched. When it happened, I would usually have a bruise, so I would either stay away from people until it was better – or make up lies.
"I would say I fell or hit my eye off the bed post. Whether people believed me or not I don't know.
"Every time he would say sorry and every time, I would convince myself I'd done something to deserve it."
Auld's violent and dominant behaviour escalated even while his partner was pregnant.
When their son arrived five weeks early, Danni hoped in vain that becoming a dad would end the violence. But, realising things weren't working, the couple took a break.
However, Kris hounded Danni by phone or turned up at the house. And when their son was just six weeks old he attacked her in the early hours, outside her home.
"I went out in my pyjamas to see what he wanted. It was the only way to get him off my back," she said."I sat in his car to talk to him and he drove off. He had one hand on the steering wheel and was punching me with the other one on the eye.
"I blacked out a few times, but when I woke, he would hit me again.
"The car broke down in the middle of a country road. He grabbed me by the throat and pulled me out, then kept kicking and punching me.
"He said, 'Tonight's the night you die. I'm going to finish you off'. He walked away and left me for dead."
But Danni made it to a house with a light on and the occupants called an ambulance. She suffered severe bruising and swelling all over her body, had her hair ripped out, teeth chipped and a fractured cheek bone.
Danni said it was in fact the psychological damage that was harder to recover from. However, she has now carved out a new life for herself since meeting a new partner and giving birth to second child Lyle eight weeks ago.
She also takes self-defence classes at the Scottish Centre for Personal Safety, and hopes soon to become an instructor. She said: "Learning how to defend myself has brought a huge sense of confidence."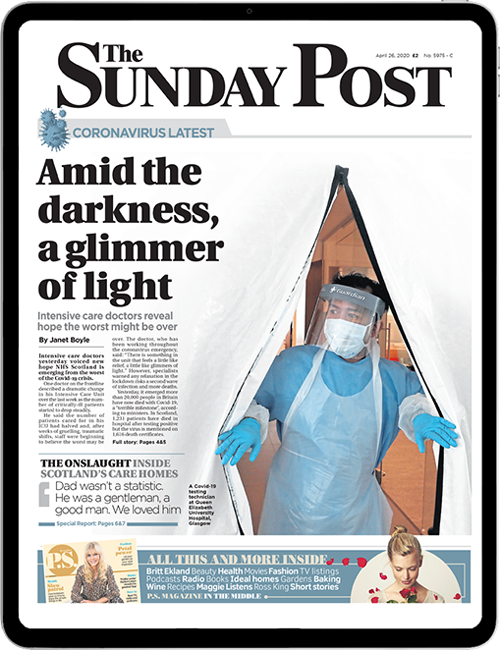 Enjoy the convenience of having The Sunday Post delivered as a digital ePaper straight to your smartphone, tablet or computer.
Subscribe for only £5.49 a month and enjoy all the benefits of the printed paper as a digital replica.
Subscribe