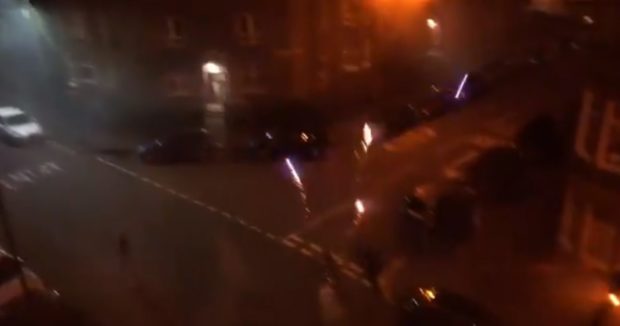 Doctors have demanded the sale of fireworks are banned after the number of people treated in hospital on Bonfire Night in Scotland's biggest city tripled.
Almost 30 people were treated in hospital in Greater Glasgow and Clyde in the days around November 5, compared to nine last year, as doctors saw big rises in A&E units across Scotland.
The cancellation of public displays due to Covid had prompted fears more people would let off ­fireworks at home.
The Scottish Fire and Rescue Service revealed it dealt with 1,193 call-outs on the evening of November 5, its highest number of Bonfire Night incidents since its formation in 2013.
Police received almost 10,000 calls on Bonfire Night, with the number of 999 calls up by a third on last year's figure. And a Scottish animal help­line revealed it dealt with three times as many calls as it usually does from the owners of terrified pets.
The figures for ­firework injuries were compiled by burns and plastic surgery registrar Eleanor Robertson, who last year co-authored a report into these types of cases across Scotland. She said: "This year in the NHS Greater Glasgow and Clyde health board area we have had 27 attendances for treatment to firework injuries. This is the most we have had since 2008.
"We feared this was going to be a bad year for more serious burns injuries, serious incidents, attacks on firefighters and police and distress to animals, and we got a full house."
She said that, while on previous Bonfire Nights the central belt had the greatest number of injuries, this year all regions had been badly affected.
"Children in Edinburgh were seriously burned after finding a box of fireworks, two houses were badly damaged by fire in North Lanarkshire and an area at Arthur's Seat in Edinburgh was set alight. Firefighters were attacked by fireworks as they attended out-of-control fires.
"There is a real ­opportunity to make a legislative difference if we seize the opportunity and there is support in both the House of Commons and the Scottish Parliament."
Yep. Here is my video of last night in Shawlands. The Police were nowhere, probably overwhelmed. The time to legislate is now! Communities have had enough of this. pic.twitter.com/jXrKYAd9Gx

— Jude Hunter (@msjudehunter) November 6, 2020
Senior plastic ­surgeon David McGill, the Scottish Burns Network clinical lead, said: "The feedback is A&E units across Scotland have been busier. Feedback from ­colleagues in the east of Scotland reveals a patient with a serious facial injury caused by fireworks. In our plastic surgery unit we have recently treated patients, one with life-changing injuries to their hand and another with serious arm burns.
"It is important to seek a way to ban the sale of fireworks to the public."
Last October, the Scottish Government published its Firework Action Plan, to promote the safe use of fireworks in Scotland, after almost 90% of 16,000 respondents to a public consultation backed a ban on sales. But it fell short of a full ban because it said this power was reserved to Westminster.
Campaigners are now calling for the Scottish and UK Governments to act. Amy McCabe, family liaison officer with the Scottish Burned Children's Club support group, said: "This increase in firework injuries is what we feared."
Amy, a dental nurse and mum to Ben, 13, who was burned by a firework aged four, added: "Ireland and Australia have banned firework sales to the public. It would be good if the Scottish Government could find a way to ban the sale of fireworks to the public."
The independent Firework Review Group, chaired by former chief fire officer Alasdair Hay, this month submitted a report to the Scottish Government calling for changes, including restrictions on the times of day fireworks can be sold, and times they can be set off.
Community Safety Minister Ash Denham said: "We are determined to keep Scotland's communities safe from the harmful use of fireworks and the group's findings will help us achieve that. I will now explore how these recommendations can be implemented, within the powers available to Parliament."
The UK Government said: "We want the public to enjoy fireworks, but this should be done in a safe way. This is why we have robust laws in place controlling the sale, purchase and use of fireworks, to promote their responsible use."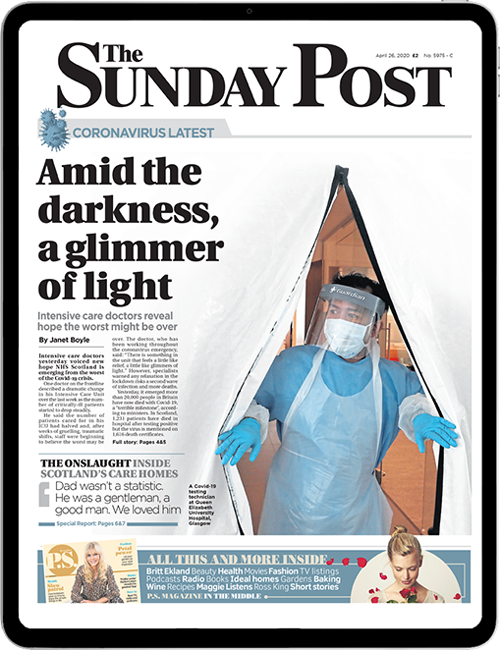 Enjoy the convenience of having The Sunday Post delivered as a digital ePaper straight to your smartphone, tablet or computer.
Subscribe for only £5.49 a month and enjoy all the benefits of the printed paper as a digital replica.
Subscribe