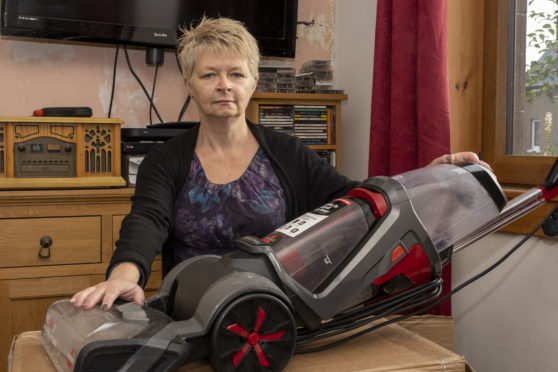 Shirley Brown is breathing a sigh of relief after a three-year saga with a wonky carpet cleaner was finally sorted out.
The support worker from Hawick paid £267 for a top-line Bissell ProHeat device from Argos in 2016.
However, it wasn't long before it went on the blink.
"There was water pouring out of the bottom of the clean water tank, which made it impossible to use properly and it made a right mess," said Shirley, 52. "It looked like the tank had a hole in it."
Bissell agreed to replace the machine – which had a six-year warranty – but it wasn't long before the same fault soon cropped up.
However, when Shirley contacted Bissell again, she was then told that nothing could be done because she didn't have the original receipt.
"It was crazy," she said. "They had already replaced the machine with no questions asked, so they knew fine well that I had bought and paid for it.
"I had paid more than I intended to for the cleaner because it had £100 off the original price and I thought it would be a top-quality device. Because it had developed the same problem, I assumed it had come from a duff batch."
When Shirley couldn't get the company to budge, she asked Raw Deal to step in.
We asked her to locate her bank statement showing the original payment of £267 and then forwarded this to the company as proof of purchase.
It wasn't long before Bissell asked for the faulty carpet cleaner to be sent back and agreed to a free repair.
Bissell said: "It looks like there was some confusion. The customer services team have asked for a photo of the product and the label for them to treat it within warranty."
Shirley thanked Raw Deal for intervening and said that from now on she would file any receipts she gets for any future purchases in a safe place.
"I must say a big thank you to Raw Deal for sorting this out for me," she said. "I felt like I had been banging my head against a brick wall. I now have the carpet cleaner back and repaired, and it seems to be working fine."