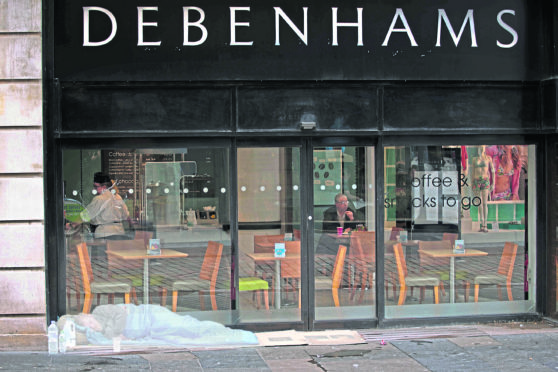 There are just 11 rough sleepers in Scotland after hotels were used to house the homeless during the pandemic, according to contested government figures.
The official estimate of how many are living on the streets has been challenged by campaigners but has prompted calls for the authorities to seize the opportunity to end homelessness.
Thousands of homeless people have been accommodated in hotels and B&Bs during the coronavirus pandemic but charities, including Shelter and Crisis, warn this is only a short-term solution and an urgent plan is needed to find suitable housing for the homeless when hotels and B&Bs reopen to the public.
Shelter Scotland director Alison Watson said: "Our focus now is on ensuring we never go back to the days when an estimated 500 people slept rough on any given night in Scotland.
"Scotland's homelessness ­legislation is some of the strongest in the world and means councils have a duty to accommodate those they have reason to believe are homeless. That's the law. It was the law and it remains the law but it was broken frequently, especially in Glasgow and Edinburgh.
"The question is, when hotels start opening up to tourists again in the weeks and months ahead, where will councils accommodate those experiencing homelessness?
"It's not about keeping the hotels in place indefinitely. A hotel room isn't a home. Last May the government introduced a law banning the use of unsuitable temporary accommodation for longer than seven days but then promptly introduced an exemption which is in force until the end of June.
"We urgently need a plan to increase supply of good temporary accommodation and we need to commit to building 37,100 new social homes in the next five years so that we bring down the numbers of people living without the safe, secure and affordable permanent home they need."
Crisis chief executive Jon Sparkes said action taken during the pandemic has led to a massive reduction in the number of people sleeping rough across Scotland.
"But, while rapid responses by national and local government, as well as homelessness services, saved lives from both corona­virus and the cold, many of these interventions represent short-term solutions," he said. "There are now record numbers of Scots living in temporary accommodation, with many people being left without access to proper laundry or cooking facilities. We now need to see action to ensure these people are supported quickly into safe and settled homes.
"We are concerned that, as the economic impact of the pandemic takes effect, job losses and rent arrears could see more and more people who are currently only just getting by being pushed into homelessness. It is vital that anyone at risk of losing their home can access support and advice early, to help them avoid making decisions at a point of crisis and risk losing their homes.
"The best way to end ­homelessness is to prevent it happening in the first place. That's why we are calling on all parties to make preventing and ending homelessness a national priority ahead of the election."
Scottish Tenants Organisation campaign co-ordinator Sean Clerkin, whose Freedom of Information request revealed the number of rough sleepers in the country had fallen from 26 in January to 11, said: "Whoever forms the next Scottish government after the election must make it an overriding priority to end homelessness in Scotland once and for all."
Glasgow City Council said there were currently two rough sleepers in Glasgow, adding: "Our close collaboration with the city's social landlords continues to successfully progress people out of hotels and into more suitable settled accommodation.
"The number of people in hotels has almost halved since it peaked during the pandemic at around 600 and we are confident that it will continue to do so in coming months."
Homeless Project Scotland ­chairperson Colin McInnes said: "What we see on the streets suggests there are more than 11 rough sleepers in Glasgow, never mind Scotland. I think the number could be over 100. Last Friday night we fed 240 people at our soup kitchen in Glasgow. The people who come to us are homeless, rough sleepers, people who have mental health issues, people with chaotic lives. There are also people who are lonely and people who want a nutritious meal that they can't afford themselves.
"Last Friday we had seven ­potential rough sleepers – people who asked us for help with accommodation, people who were homeless and needed to be brought off the street. If it wasn't for our charity, they would have been sleeping on the street in the rain.
"My message to all politicians is come out and see with your own eyes what is going on in our streets. These people are broken and need support and to feel love and compassion, and as far as I am concerned there is no love and compassion and support being shown to homeless people."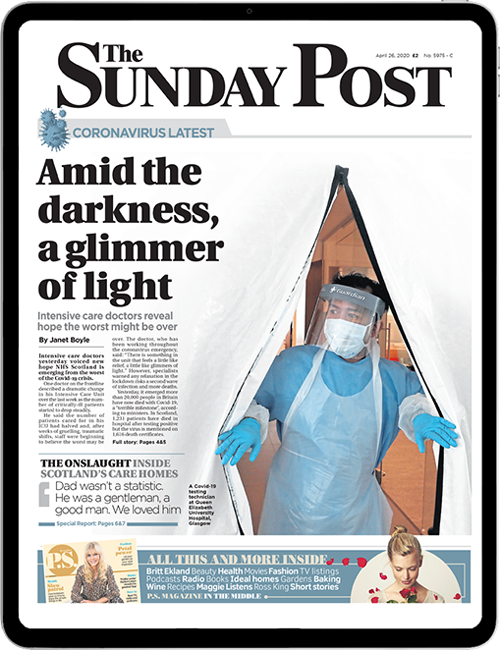 Enjoy the convenience of having The Sunday Post delivered as a digital ePaper straight to your smartphone, tablet or computer.
Subscribe for only £5.49 a month and enjoy all the benefits of the printed paper as a digital replica.
Subscribe