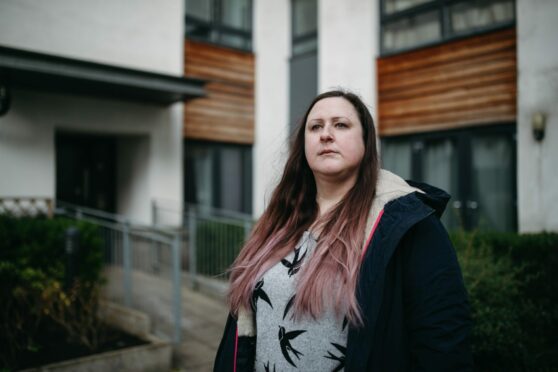 A pilot scheme to assess the extent of the cladding crisis in Scotland has yet to complete a single survey, six months after it was launched.
Almost five years after the Grenfell fire tragedy, flat owners and tenants in Scotland remain in limbo, with many still unclear if they have dangerous cladding, those with it unable to move, and no clarity over whether and when compensation will be available.
In August the Scottish Government announced a pilot scheme to assess the number of affected buildings, with free tests to be carried out on 25 different apartment blocks, but last week confirmed it had yet to receive the results of these tests, saying instead that multiple reports are ongoing and would be finalised in the weeks ahead.
Asked how many single ­building reports had been completed, it said: "Within the pilot programme there are multiple surveys ongoing. These reports will be finalised in the coming weeks and will allow us to understand what actions need to be taken to further support homeowners in these buildings."
The lack of progress in Scotland is in contrast to England, where payments are already under way, along with work to remove dangerous cladding after the blaze at the London tower block in June 2017 when 72 people died.
Earlier this month UK Housing Secretary Michael Gove announced that developers who refuse to pay the costs of removing unsafe cladding south of the Border could now also have planning permission and projects blocked under new UK Government plans. New legislation would also allow cladding companies to be sued and face fines for defective products.
The Scottish Government, however, told The Sunday Post it had limited powers to pursue developers and would rely on a share of any money brought in by the Westminster scheme, which is expected to eventually be extended to the rest of the UK.
Firefighter leaders, safety experts and affected flat owners in Scotland say the response to the situation here has been too slow and are calling for more action.
Ian Sim, regional secretary of the Fire Brigades Union in Scotland, warned: "It's nearly five years since the Grenfell tragedy, yet work on removing cladding still has a very long way to go in Scotland – that leaves both the public and firefighters who may have to rescue them from deadly cladding fires in potential danger.
"There can be no excuse for delays in fixing the building safety problems that have been identified."
He added: "Westminster and Holyrood need to work together to provide urgent action to rectify the areas of concern as everyone in Scotland deserves a decent and safe home."
The Scottish Government says about 700 high-rise buildings and many smaller buildings have cladding that will need to be checked, but owners and safety experts have criticised the speed of the response.
In the immediate wake of Grenfell, the focus was on buildings over 18 metres in height to require safety checks, but estate agents in Scotland report a surge in sellers living in low-rise apartments who are being asked by mortgage lenders to provide a specialist EWS1 fire safety certificate, which can cost £700-£800 plus VAT.
And, if major work was then required, the sellers could be left facing a huge bill.
Piers Baylis, a senior property lawyer with BTO Solicitors in Glasgow, said: "Some clients have been unable to sell their homes since the issue arose.
"They simply cannot afford to fund the cost of works required and in some cases even obtaining an estimate of costs is difficult.
"Lack of clarity on funding leaves them in limbo or requiring to sell to cash purchasers only as mortgage providers will not lend, given the uncertainty."
Sean MacFarland, a 43-year-old pilot who has owned his property at Western Harbour in Edinburgh since 2005, said his apartment complex has cladding issues and that if he had to sell up and move it would be problematic.
MacFarland said: "I think in the sense that if something was to happen with my job or my wife's job and we did have to move it would be a big worry because we know in this development and the others around us that getting a mortgage on the flats is almost impossible, which is having an impact on the price and people's ability to move.
"Fundamentally, I think that pot of money given to Scotland by the UK Government is just nowhere near enough for them to make any headway."
Leading fire safety ­consultant Stephen Mackenzie said he was concerned by the slow progress and called for a dedicated cladding taskforce in Scotland.
"It is disappointing the ­conversation is now all about who will pay, when there are many families whose lives are potentially at risk," he said.
"But if low-rise buildings are included into the testing schemes at some point, then we would be looking at a problem that could cost anywhere between £2 billion and £10bn pounds to sort, and that would just be to get the ball rolling.
"We are facing a tsunami of safety issues and all these years after Grenfell we haven't even done a proper audit on our buildings yet. We need a separate claddings taskforce in Scotland to get things moving with a lot more urgency."
After Grenfell, when ­combustible cladding was blamed for the swift spread of fire on the high-rise, a special remedial fund of almost £100 million was given to the Scottish Government to help address the cladding fears.
It is believed that Holyrood can expect a further £350m from Westminster to deal with the costs of removal and replacement.
When asked how much money had been earmarked for dealing with cladding in Scotland, the UK Government said buildings safety was a devolved matter.
The Scottish Government insisted its priority was to help homeowners assess their properties free of charge through its Single Building Assessment pilot and said that money has now started to be paid out for safety checks.
It also pointed out that it had formed a new cladding stakeholder group, whose members include the Cabinet Secretary for Social Justice, Housing and Local Government, industry representatives and a homeowner representative, which meets monthly to monitor progress in delivering the assessment programme.
It said: "Grants for the first ­surveys under the scheme have begun to be paid with activity escalating over the coming weeks.
"Once each assessment report is received, we will provide a range of support, including grants, to help people live safely in their homes."
The government said all of the £97.1m it has received so far would be used to tackle cladding but admitted that levels of future support from Westminster remained unclear and said Holyrood also has restricted means of enforcement when it comes to making developers pay up.
"Developers absolutely must take corrective action on buildings that fail to live up to the necessary safety standards," it added.
"We have limited powers to compel developers and, while we are working with the UK Government on the development of the UK developer fund, the only fair approach is for UK ministers to allocate a fair share directly to the Scottish Government."
The High Rise Scotland Action Group said it hoped the UK Government's plans to target developers will pay off and ease worries of owners.
Scottish Labour housing ­spokesperson Mark Griffin, however, described the current cladding situation north of the Border as a "scandal".
"This has affected the lives of thousands of people across Scotland," he said. "But the SNP government has entirely failed to act to give proper support to those who have been hit by this scandal.
"We need the SNP to stop ­passing the buck to Westminster and develop clear and effective plans to help Scots in need."
---
Home-owner: There's no timeline, no road map, no support, no help and no interest
Ria Lewis is among the home-owners left distraught after cladding guidelines made their homes unsellable virtually overnight.
The 42-year-old of Colonsay View, Edinburgh, has wanted to sell her flat since 2019 after the death of her mum and sister who also lived in the city.
The change in guidance after the Grenfell disaster has meant that mortgage lenders will not loan on properties with potential cladding issues, meaning buyers of affected properties would have to purchase them outright in cash.
Lewis, who is no longer able to work due to illness, wants to move closer to her brother near London, but is currently unable to leave her apartment because of ongoing issues with the building.
She paid approximately £70,000 to own 50% of the property in a share with Hillcrest Homes, who has had to postpone work on the property a number of times. Lewis said: "I was told it would be finished around July last year and then they said there had been a delay with the council so it would be finished by October.
"Then they said there had been another delay and that it would be finished by January. I've been up and down this road and no one is doing any work, nothing is been done, nothing's been started.
"There are rules about living here too, you can't leave the place vacant for a certain amount of time and you can't sublet."
Hillcrest Homes wrote to Lewis in June last year to say that the scope of work would include "removing and replacing all timber and smooth panels between windows, along with the installation of new and associated fire separation detailing next to the render".
The company said in an email that they would cover costs of the work themselves as funding details from the Scottish Government at that point were unclear.
Hillcrest wrote: "The cost of the works will be fully borne by Hillcrest Homes because, at this time, the Scottish Government has yet to determine whether funding will be available.
"However, we are keen to progress with the work regardless of confirmation of funding so that EWS1 Certificates can be issued at the earliest possible date following overall completion of the works."
Hillcrest said yesterday that work is now expected to commence in April/May, irrespective of any prospective government support. It said: "The Scottish Government is currently considering bids from Hillcrest and other organisations for funding assistance as part of a pilot."
Lewis said meantime not being able to be around close family who could support her was distressing.
She said: "If I could even see they've started at that end of the road and they're doing that work and then eventually they'll get to my end of the road and it will be done," she said.
"But there's no road map, there's no timeline, there's no clear evidence to me that anything is being done."
She added: "I wish I could sell, I need the money desperately."
---
Real estate expert: Clarity is needed urgently
Real estate expert Alex McTurk is the owner of AB Property Consultants in Glasgow
When the new fire safety certificates were introduced, at first I thought it was another scheme to make money, like the arrival of Home Reports in 2008.
Initially, mortgage lenders were only asking for fire safety reports for properties that are more than 18 metres in height but it wasn't long before we started seeing sellers in much lower buildings being asked for them, and, at more than £700 each, they aren't cheap.
We also had a recent case where the owner of an apartment for sale that had no cladding issues was asked to provide an EWS1 (External wall survey) report because they had installed some decking on their balcony.
It would have been cheaper to have the decking removed than pay for a certificate. I have also come across other sellers in traditional four-in-a-block housing which is usually classed as being relatively low risk also being asked for these certificates.
There is so much confusion still going on around which properties require them that it is hard to blame lenders for being very cautious. I have also seen flat owners who simply can't sell their flats because there is an issue with the cladding and lenders can class these properties as being of zero value.
The only way to sell is to a cash buyer but that usually means the seller would have to accept an offer that is much lower than the property should actually be worth. And there are not a lot of cash buyers around anyway.
I really feel for people who have found themselves trapped in this situation and who also have concerns about their safety.
They desperately need more clarity on when free single building surveys will finally be introduced and also a clear indication of who will pay for any remedial work that may need done to their building due to the type of cladding that is on it.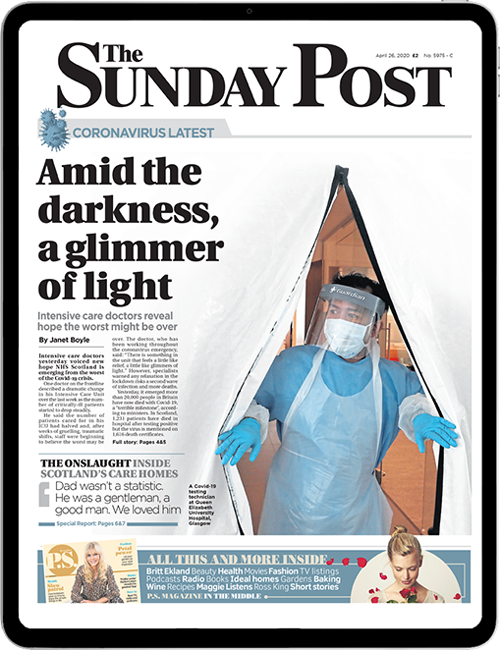 Enjoy the convenience of having The Sunday Post delivered as a digital ePaper straight to your smartphone, tablet or computer.
Subscribe for only £5.49 a month and enjoy all the benefits of the printed paper as a digital replica.
Subscribe