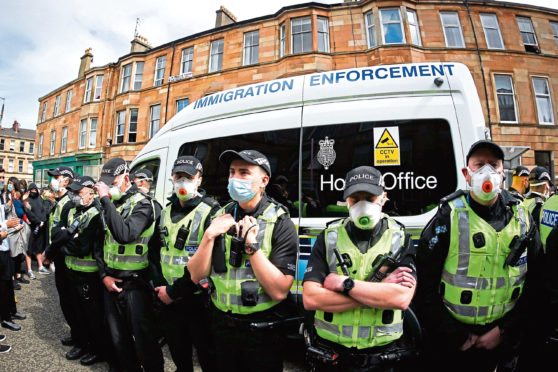 A migrant charity has said it is investigating taking legal action against the Home Office following the attempted detention of two Indian nationals as illegal immigrants.
Lakhvir Singh and Sumit Sehdev were released from Border Force detention after crowds swarmed around the van in which they were held, preventing it from leaving Kenmure Street in Pollokshields, Glasgow, on Thursday.
Demonstrators blocked the ­vehicle for several hours, with one even lying underneath its axles, before police released the pair on public safety grounds.
Yesterday lawyer Aamar Anwar revealed he had warned police the situation could escalate into a riot if the pair were not released.
Scottish Justice Secretary Humza Yousaf has blamed the Home Office for its "reckless action", while First Minister Nicola Sturgeon has attacked its "appalling asylum and immigration policy".
Singh and Sehdev, both in their 30s and reportedly a mechanic and chef respectively, have lived in the UK for several years and are "part of a community", said refugee and migrant charity Positive Action in Housing.
The charity's director Robina Qureshi said: "The Home Office have referred to these men as illegal. Well they are wrong, and we are now investigating legal action against the Home Office for casting such aspersions.
"The term illegal in this context is part of the hostile environment. It's not appropriate to use it for people who have lived in the UK for several years and are part of a community. The men now have legal representation and are in the process of trying to regularise their status."
Singh's lawyer Jelina Berlow Rahman said he has been in the country since 2008 and "has a right to a private life, a family life".
Meanwhile Anwar told how he warned police they faced a riot if they did not act quickly. "I told police I thought they had two options," he said. "Either release the men into my custody with a guarantee they would not be arrested or use force and, if you do the latter, you could have a massive riot on your hands with repercussions which will last for years.
"This was a community which had come out in force. Reverting to riot tactics would have been provocative and, on the day of Eid, in the heart of the Muslim community, would have been inadvisable in the extreme.
"As we got closer to 5pm, I told police the stopwatch was counting down and more people would start arriving. I said to police that all it would have needed was one incident and the place explodes."
Police finally agreed the men should be released from the Immigration Enforcement van.
"This could have gone horribly wrong, with scenes being flashed all over the world of people being hurt or arrested," said Anwar. "These are pictures that could have haunted us. Instead we got a picture of what people power means."
Singh, 36, said yesterday the community had given him "strength and courage" despite the fear of deportation now hanging over him.
But Scottish Conservative ­justice spokesman Liam Kerr rejected Sturgeon and Yousaf's criticism, saying: "The rule of law must be respected. It is irresponsible and reckless for MSPs to encourage people to attend mass gatherings when the Covid situation is so precarious."
A Home Office spokeswoman said: "The operation was conducted in relation to suspected immigration offences and the two Indian nationals complied with officers. The UK Government continues to tackle illegal migration in all its forms and our New Plan for Immigration will speed up the removal of those who have entered the UK illegally."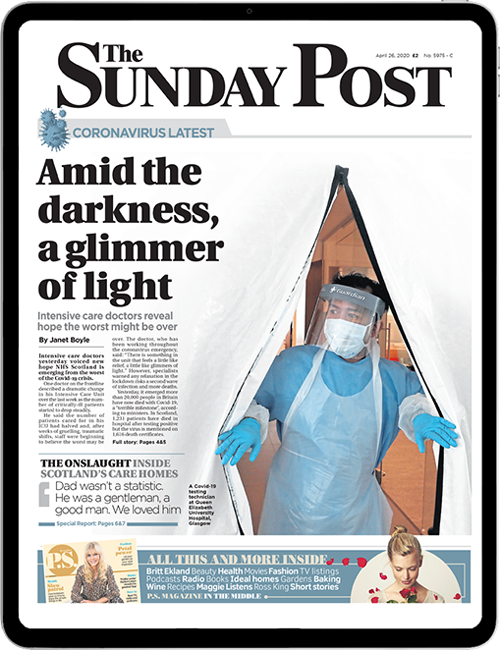 Enjoy the convenience of having The Sunday Post delivered as a digital ePaper straight to your smartphone, tablet or computer.
Subscribe for only £5.49 a month and enjoy all the benefits of the printed paper as a digital replica.
Subscribe