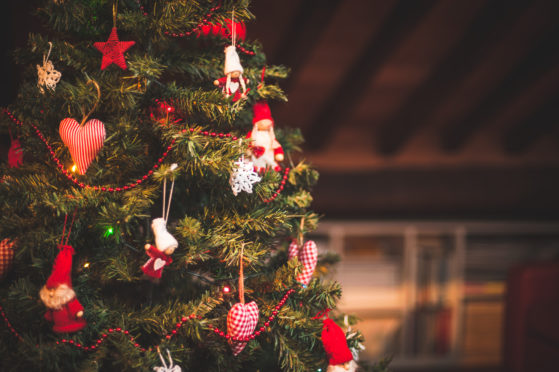 Introduced by Prince Albert in the 1800s, the Christmas tree has now come to be the pillar of all festive decorations.
While things have moved on since Victorian times, with convincing faux firs and artificial trees adorning many a living room, others, like Prince Albert himself, still prefer the real McCoy.
There are however, obvious challenges to having a real tree in your home.
With Bring Your Christmas Tree Home Day landing today (December 7), Richard Lockwood, senior plants buyer at Dobbies Garden Centres, gives some tips to keeping your tree alive and well so it's still standing proud when the lights and tinsel come down.
---
A happy homecoming
Once you get your tree home, make sure you take it out of the netting as soon as possible.
Make sure you have a saw to hand and cut an inch or two off of the bottom of the trunk. Then leave it outside in a bucket of water for as long as possible. This will make sure the tree is well watered before you bring it inside.
Location, location, location
Pick your position carefully. Try your best to keep your tree out of the way of radiators and a good distance from your fireplace or any other sources of heat.
This is especially important if you stay in a flat or somewhere where you don't have a space outside where you can safely sit your tree in water. The key is making sure it does not dry out.
Take a stand
We have a number of options at Dobbies when it comes to stands for your tree, with bigger bases for bigger firs.
Each of them has space to hold water and this is crucial. It's very important to have a secure base which will balance well and our stands guarantee that. But water is very important.
Have a drink on me
You should treat your Christmas tree like fresh cut flowers – make sure they have fresh water almost every day.
People make the mistake of thinking that their tree won't need watered, but this is how you end up with a living room full of pine needles. Believe it or not, large trees – which stand around 7 or 8 feet tall can sometimes drink up to a pint of water per day.
Mind your roots
We stock lots of cut trees and also have pot grown options, which are very popular, with people maintaining them through the year and using them again next Christmas.
It's important to remember that pot grown trees require less upkeep and will not need watered quite as much, only about once or twice a week.
---