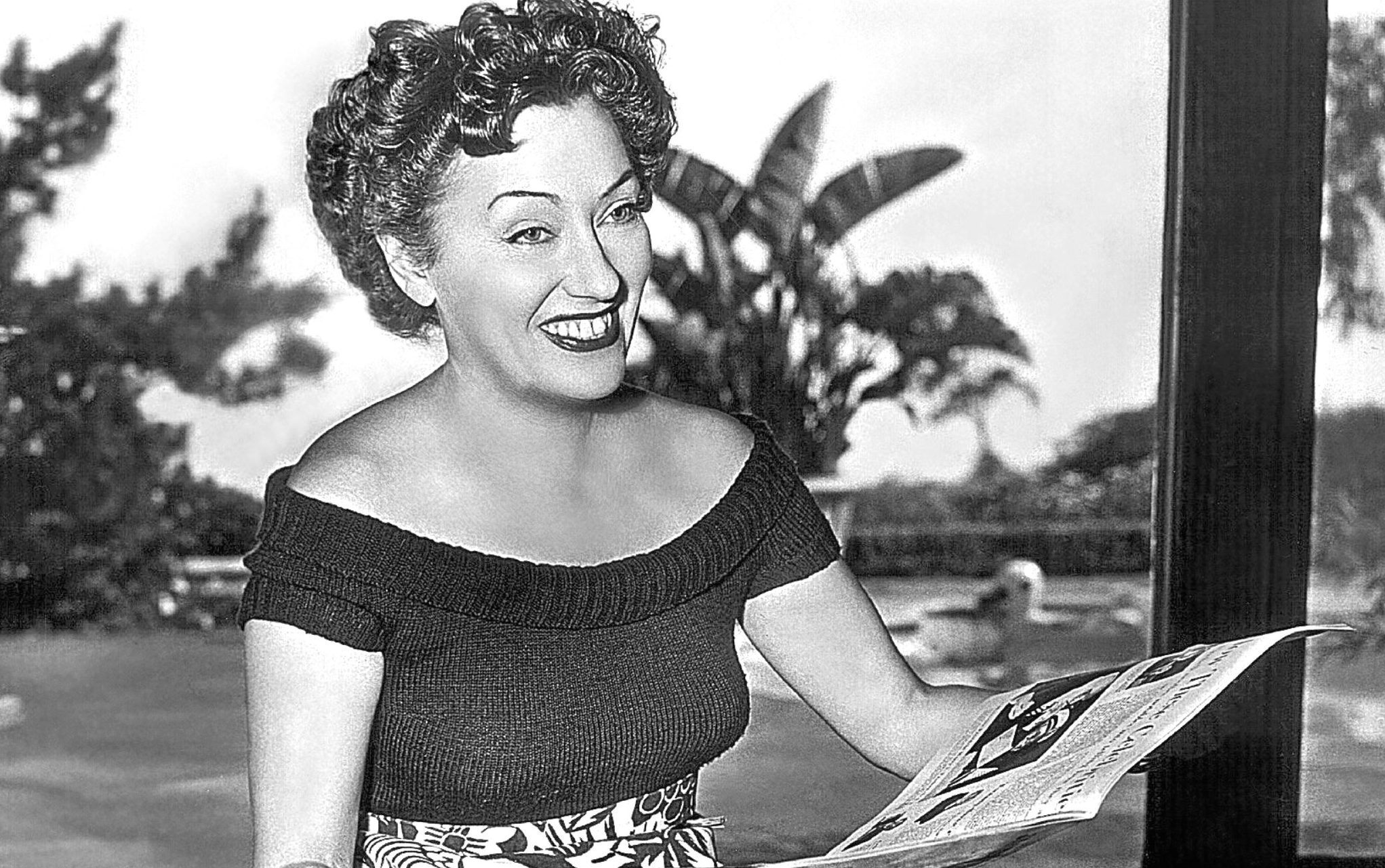 A STAR of both silent films and talkies, Gloria Swanson grabbed the world's attention in every era.
Now, 35 years since she passed away on April 4, 1983, she is remembered for many achievements, and a life so eventful, it would seem exaggerated if they filmed it.
Swanson has, in fact, been portrayed at least five times, although nobody has truly captured her essence quite like her best movies did.
And no-one has really shown just what she was capable of outside the world of cinema.
Married six times and raising three children, Gloria helped save many Jews during the Second World War, was a vegetarian who brought her own meat-free lunch to work long before most of us had heard of veggies, and was credited with helping save Dirk Benedict's life.
Her movies brought her Golden Globes and many other honours, and she remains one of Hollywood's greatest ever names.
Born in Chicago on March 27, 1899, her parents had Swedish, German, French and Polish roots, and her father was a US soldier. His job meant Gloria spent most of her childhood in Puerto Rico.
When she was shown round a studio, Gloria fell for the glamour, having shown no previous inclination to act, and before long she was earning small money as an extra alongside other budding stars like Charlie Chaplin.
It seemed only natural to leave school and throw herself into it. As her parents were separating, she and her mum moved to California to be close to all the action.
She was just 15 when she asked to be an extra in The Song of Soul. This led to her also being used for His New Job, directed by the now famous Charlie Chaplin.
Gloria would soon get work in Mack Sennett's wonderful Keystone comedies, and though she was terrified of the stunts done by her opposite number, Bobby Vernon, they made a great duo.
By the time Gloria was 20, Cecil B DeMille had taken a shine to her, and cast her as a romantic lead in films including Don't Change Your Husband, Male and Female, and The Affairs of Anatol.
With a Paramount Pictures contract, she quickly became one of Tinseltown's biggest names.
Beyond the Rocks in 1922, which co-starred her friend, Rudolph Valentino, added to her fame, but the film was subsequently lost for many years.
It resurfaced 14 years ago, when it was found in a private collection in the Netherlands.
Paramount certainly tried hard to find it — at the time, Gloria Swanson was so important to them, they would often bend over backwards to keep her sweet.
Just as with today's trend-setting superstars, audiences went to the cinema not just to enjoy her acting, but also to check out what she was wearing.
Swanson's wardrobe choices would set new fashions, just as actresses in the modern era can help sell humungous amounts of the dresses, shoes and headwear they sport, on screen and off.
Her jewels, too, would be quickly copied all over the world. Women of every description simply wanted to get that Gloria Swanson look.
You don't have to look long at her movies to find her in weird and wonderful, over-the-top beads and gems, peacock or ostrich feathers and the like!
Her tastes also influenced men. During his battle with cancer as a young man, she told actor Dirk Benedict about macrobiotic diets. Having turned down the usual treatments, he did what Gloria suggested, and would claim it was this that had aided his recovery.
In the 70s, Gloria would even tour the USA to promote a dietary book, Sugar Blues, written by her last husband William Dufty, which became a classic of its kind.
By the time she wed Dufty, Swanson had been married five times — to Wallace Beery for three years, Herbert Somborn for six, Henry de la Falaise for five, Michael Farmer for three and William Davey for just months.
She kept her own name throughout, and when she wed Dufty at the age of 77, she only had six years of life remaining.
Whatever the highs and lows of her personal life, it never got in the way of a remarkable career.
By 1927, Swanson was so huge, she could refuse a million-dollar-a-year Paramount offer to move to United Artists. There, she was virtually her own boss and could make the movies she fancied, when she fancied, with whichever co-stars she fancied.
Trouble was, she lacked experience and ran into trouble with some films, such as the very promising The Love Of Sunya, about a woman who could see into her own future.
If only Gloria had been able to do likewise, she would have realised that she lacked the expert cameramen to make the film she dreamed of.
Though it did all right, it was far from the classic she had envisaged. Studio bosses hinted she might like to try something less odd and more commercial.
Swanson agreed — but what she made was Sadie Thompson.
Based on Somerset Maugham's classic Rain, it would come up against serious opposition from just about everyone, except Gloria and director Raoul Walsh, who came up with the idea.
The moral codes of the day applied to films even more back then, and they were warned that cinemas would refuse to show such a dark, grim tale of a lusty, murderous women.
Furious and intent on getting it filmed, Swanson would watch the whole thing slowly unravel.
Lionel Barrymore, chosen in a lead role, enraged her by wearing the same outfit for his first week, until she got the crew to ask him to have a wash and change!
Next, Gloria fell ill, and a vital cameraman was suddenly called away for another job, sending her stress levels through the roof.
The whole thing went over budget, and when it came out, there were scandalised reports that audiences could see "dirty words" on characters' lips, despite the censors having done a hatchet job on it.
Incredibly, and to her great satisfaction, it became a big hit anyway!
It also attracted the interest of a man who wished to invest in Gloria's film work, a man she would apparently have a fling with — Joseph P Kennedy, father of the future president.
Queen Kelly, from 1929, was another Swanson movie with a story of its own.
Produced by Kennedy and directed by Erich von Stroheim, the star actor, director and producer from the silent days, it told the tale of Prince Wolfram, who was set to wed mad Queen Regina V.
When he spots Kitty Kelly, Swanson's character, he loses his mind with passion, kidnaps her from her convent and professes his undying love! The mad queen promptly has her whipped and chucked out of the castle, and imprisons him for refusing her hand in marriage.
Kitty ends up having to marry a horrid chap, and it all ends badly.
As did the movie itself, with Stroheim fired and a sex-mad queen and distasteful scenes eventually disgusting Gloria. All this led to the whole project being shut down before it was complete.
The only place you can see part of it now is in Sunset Boulevard.
Made a full 21 years later, this would be Gloria Swanson's biggest and best-known hit movie. She plays Norma Desmond, a silent star who falls for a younger writer, and extracts from the abandoned Queen Kelly are shown as an old film she'd made.
In the many years in between, Gloria Swanson's career had gone into decline, and she also turned down a lot of promising flicks.
But film directing great Billy Wilder had never forgotten just how good she could be.
In Sunset Boulevard, she proved it all over again, and the role would win her the Golden Globe for Best Actress. The film gained 11 Academy Award nominations, winning three, and is ranked No 12 in the greatest 100 American films of the 20th century.
Gloria would pop up from time to time for the rest of her life on TV shows such as The Beverly Hillbillies and Dr Kildare, and also starred alongside Brigitte Bardot in 1956's Nero's Weekend. Her last film appearance was playing herself in Airport 1975.
But Gloria will be remembered as much for her life away from the screen. She would claim that one of her husbands raped her on their wedding night, and another husband accused her of adultery with 13 different men.
During a lull in her career, in 1938, she moved to New York and started an inventions and patents firm, Multiprises, to rescue Jewish scientists and inventors from across Europe and get them to the States and safety.
Clearly a woman ahead of her time, multi-faceted and multi-talented, no wonder Gloria Swanson is still revered in the cinema world and beyond.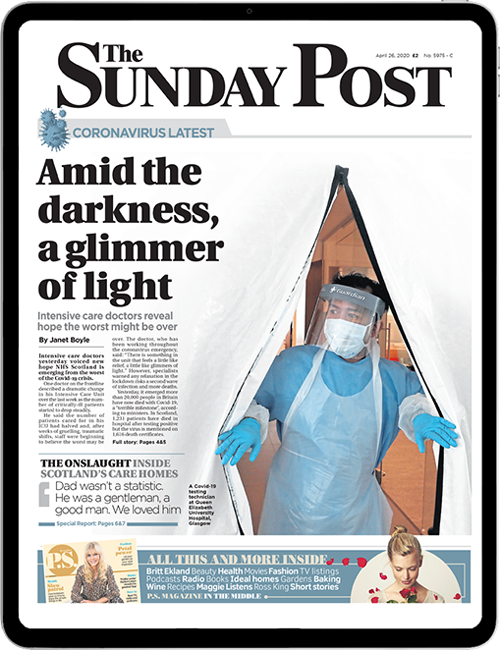 Enjoy the convenience of having The Sunday Post delivered as a digital ePaper straight to your smartphone, tablet or computer.
Subscribe for only £5.49 a month and enjoy all the benefits of the printed paper as a digital replica.
Subscribe