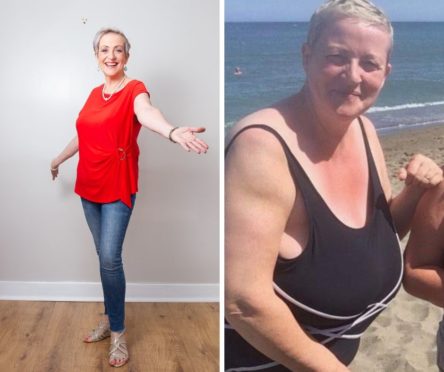 It was the photograph that changed everything for Mary-Francis Waterson.
For decades, she'd been a yo-yo dieter, the weight piling on even more after every failed attempt.
Her agonies were compounded by a crippling back injury that made walking so excruciating she even had to use a wheelchair.
She felt utterly miserable, ashamed and at her lowest ebb – until that picture.
It was a snap taken on a holiday with pals and when Mary-Francis saw herself in a black swimsuit, she knew enough was enough.
"You know you're overweight and you know you look horrible, but it's not until I looked at that photograph that it really hit me," Mary-Francis, 57, told P.S.
"It was the moment I knew I couldn't go on. I needed to do something to help myself."
Now, after joining Slimming World, Mary-Francis has shed almost five stone and gone from a size 22 to a size eight.
And as a result, she has got not just her joy for life back, but also her mobility and is now looking forward to an active future she could barely have imagined.
Fit and sporty at school, Mary-Francis, from Lennoxtown, started on the slippery slope to unhealthy over-eating when she was juggling three jobs at once in her 30s.
"I was working as a home help and a carer and would just grab food when I could," she explained.
"I still enjoy bread in moderation, but back then I'd make sandwiches or get rolls several times a day.
"It was also when working as a carer that I hurt my back. If you go out in the morning to get someone up and there's no one to help, you just lift them yourself."
As her weight ballooned, Mary-Francis dabbled with "just about every diet you can imagine", but every success was followed by demoralising failure.
At times she lost two-and-a-half to three stone for special occasions and holidays but she would always put it back on.
And as her back problems worsened, she had to give up work and saw her mobility decline dramatically.
"About five years ago I had to start attending hospital because I was in chronic pain when I lay down at night," she explained.
"A disc was compressing a nerve and I was losing the power in my left leg so much that I was finding it difficult to walk.
"I came home with shopping one day and couldn't get up to the house.
"My husband Cal found me sitting on the bottom step, distraught. He actually insisted we pay for a stairlift so it didn't happen again."
The misery brought on by the pain, and the inability to exercise at all, saw Mary-Francis comfort eat during the day and then munch snacks on the sofa at night.
"My mental health took a real dip. I was frustrated and felt very alone.
"I'd sit there and think that surely this wasn't how it was going to be for the rest of my life.
"I was only in my 50s but couldn't do basic things such as walking or looking after myself.
"Thank goodness my husband was there and fully supportive."
The critical point was in June, 2017, a girly holiday to Costa del Sol with friends and her sister. She almost didn't make it, having been at the doctor suffering just the day before and was in such pain her pals had to push her around in a wheelchair.
"It was just horrible being in a chair and trying to have a happy time like that was tough."
But confronted by the damning evidence on her return, she signed up for Slimming World that August.
"I'm just 5ft 4in but I was 13 stone 9½lb. I was a size 22 on top and a 16 to 18 on the bottom.
"I had been to Slimming World once before but although I hadn't stuck it, I remembered how motivating the consultant had been and I knew I'd be welcomed back.
"This time I was focused. It took me 10 months to get to my target weight and I only took two days off, which I declared at the start, for my niece's hen nights.
"Even in those weeks I just stayed the same and I reached my target on June 27, 2018.
"That was 9 stone 7lb and I can't explain the emotion of that day, seeing my new weight and seeing how it looked.
"Sometimes I can't believe it's me. I still think I am that really big woman."
Mary-Francis has since lost another seven pounds.
But, still going to her weekly class and buoyed by the support of those who attend, she is happily holding at that and doesn't want to lose any more.
"I'm an eight on the bottom and a 12/14 on top and clothes shopping is fun again.
"I want to go out, not hide away and I'm hoping to get back to really active work soon," added Mary-Francis, who has relieved Cal of cooking duties and loves making their meals again.
"My mobility is so much better and my BMI has come down from 31.9 to 21.6.
"That's helped steer me away from the diabetes I was told I was on the verge of getting.
"I couldn't be happier."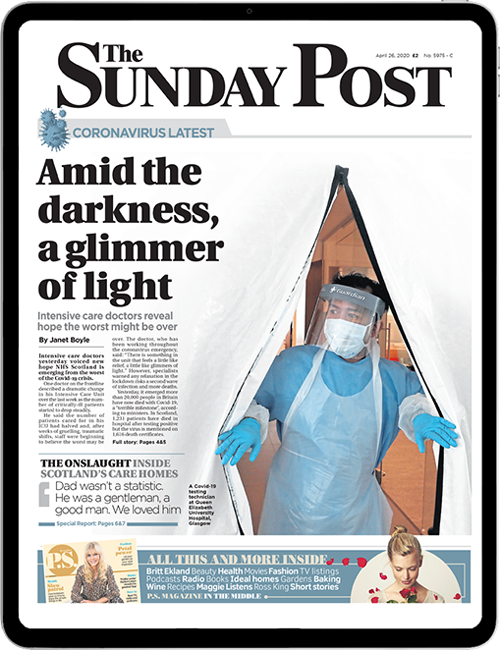 Enjoy the convenience of having The Sunday Post delivered as a digital ePaper straight to your smartphone, tablet or computer.
Subscribe for only £5.49 a month and enjoy all the benefits of the printed paper as a digital replica.
Subscribe