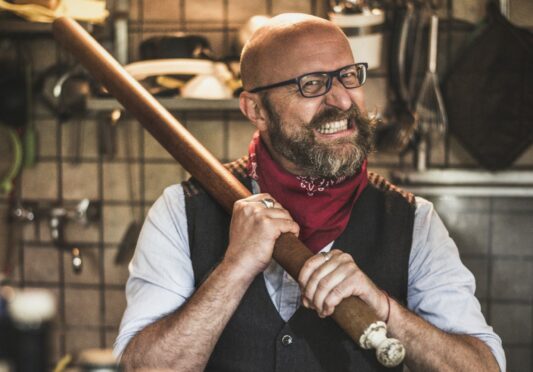 Carbonara may have united the world in its love for fresh pasta, but the ingredients for the signature silky sauce remain inherently divisive.
While eggs, cured ham and pecorino are key to what many consider the flagship dish of Italian cuisine, debate rages between food lovers over pretty much everything else, including where the produce should originate, how many yolks to include and, the most factious of all, whether the sauce requires cream.
However, says food historian Luca Cesari, arguing over what constitutes a traditional, authentic carbonara is a pointless pursuit.
"Shocking as it may seem, even carbonara, in its brief history, has gone through major changes to arrive at the current version," he writes in his new book, A Brief History Of Pasta.
"The invention of carbonara is a widely debated topic, and the absence of any written record of the dish in the first half of the 20th Century makes it even more contentious. In any case, there seem to be no reliable sources pointing to its existence until the 1950s."
The dish, he explained on a video call to The Sunday Post, is a prime example of the quick and easy pasta recipes that typify modern Italian cooking. And, while its origin remains a much-debated mystery, we do know the first written record pops up in an illustrated guide to, of all places, Chicago restaurants.
"It's the perfect example of a mash-up of the tastes of different countries," explained Cesari, who was born and raised in Bologna, the food capital of Italy. It has the very typical American and British tastes for eggs and bacon, which is very far from Italian tastes.
"One theory is the dish was created in Rome when it was occupied by the Allied troops, and originates when rations of eggs and bacon were added to pasta. Nowadays, it is always entered on lists of the most typical Roman dishes but until the 1990s most connoisseurs would say it was not totally Roman.
"After all, the first traditional dishes of Roman cuisine were fettuccine alla Romana, which is made with chicken giblets, or Amatriciana, the most ancient dish.
"Many more people are ready to swear carbonara was made identically centuries ago, but it's quite easy to look at recipe books and find carbonara made with mushrooms or bacon or parmesan rather than pecorino. And cream – sometimes a lot of cream – as anyone who was a child in the 1980s, like me, would have eaten a lot of carbonara with cream."
Carbonara is just one of 10 dishes Cesari explores in his new book, published last week, which he wrote to better understand the roots of Italian cuisine, and share his passion for pasta. From gnocchi and lasagne to spaghetti al pomodoro and fettuccine alfredo, each delicious meal has its own merits but nothing, admits Cesari, outshines the rich meat sauce made famous by his home town.
He said: "Ragu alla bolognese is my favourite. In Bologna, if you ask for spaghetti Bolognese, you might think you've been served the wrong dish, as it's only served with tagliatelle – only the tourist restaurants will have spaghetti Bolognese!"
And for those inspired to make the fresh tagliatelle, tortellini and lasagne featured in his fascinating deep dive into salty pots of pasta, Cesari has a few more words of advice. First of all, have fun. Second, keep things simple.
"If you have eggs, flour and a rolling pin you can make the perfect dough," he said. "It sounds difficult, but it isn't. If I went to the supermarket to buy fresh pasta, it would take me the same time to make it myself with flour and eggs at home.
"Plus, when you make pasta, you have to talk with each other. It's impossible to look at your phone or send messages because your hands are occupied by pasta, so you have to talk, drink wine and eat salami. It's a very fun sport.
"And if you want a good sauce for pasta – particularly dried pasta – you only need three, maybe four, ingredients maximum.
"For example, I make a sauce with only butter, parma ham, lemon zest and parmesan. It's marvellous. Or with one or two cloves of garlic, some basil leaves and one good tomato, you have the most economical, traditional and beautiful dish.
"For me, that's the real secret to pasta – it was born to be simple."
Ugo Tognazzi's carbonara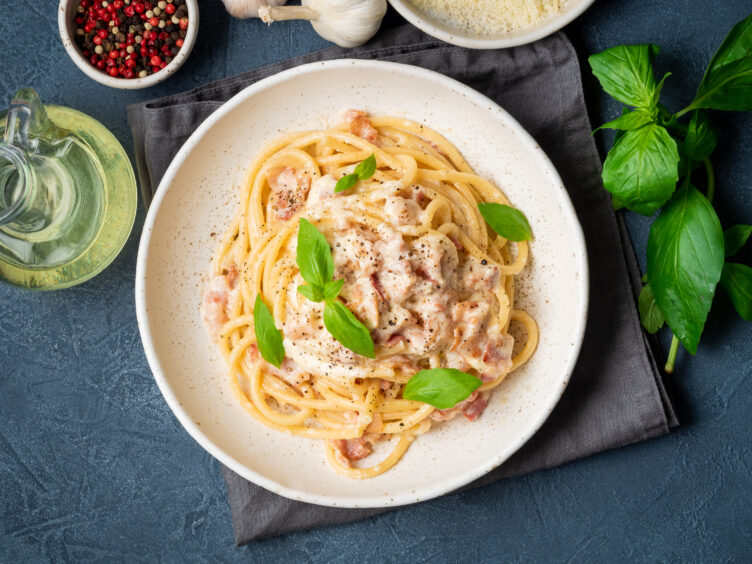 The Italian actor, director and screenwriter was a sophisticated gourmet. He once said: "When I look back over my acting career 20 years from now, I may have one regret: that I didn't quit halfway through to become the greatest chef in America, and maybe the world".
At the 1964 launch of his film Marcia Nuziale (The Wedding March), he made pasta carbonara for 350 guests in a huge suite on the 48th floor of the New York Hilton. The guests went wild over the dish – though they struggled with its name, pronouncing it along the lines of "kerboonarow" – and Tognazzi was forced to cook it again and again in the homes of wealthy hosts on every leg of the tour. Here's the recipe.
Serves: six
You'll need:
½ kilo spaghettini
1 cup of cream
6 eggs (less the whites of three)
150g bacon
100g prosciutto, both fat and lean
50g butter
100g Parmesan
30g pecorino
Black pepper
Cognac (or other brandy)
Method:
Beat the six egg yolks and three whites in a bowl, add cheese, cream, salt and pepper, mix well.
Fry bacon and, after a while, add the prosciutto: both diced. Drain the spaghetti al dente, stir in butter, add the egg sauce, and finally the meat.
As a final touch, the cognac. If it seems too liquid, toss it in the pan over the heat for 10 seconds.
---
A Brief History Of Pasta: The Italian Food That Shaped The World, Profile Books, £16.99, is available now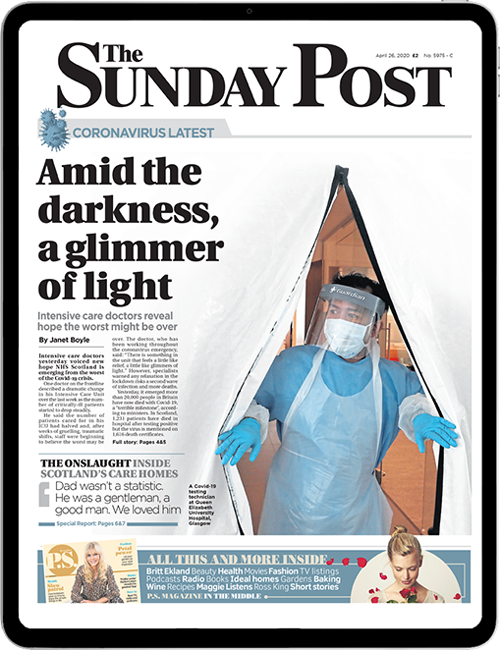 Enjoy the convenience of having The Sunday Post delivered as a digital ePaper straight to your smartphone, tablet or computer.
Subscribe for only £5.49 a month and enjoy all the benefits of the printed paper as a digital replica.
Subscribe