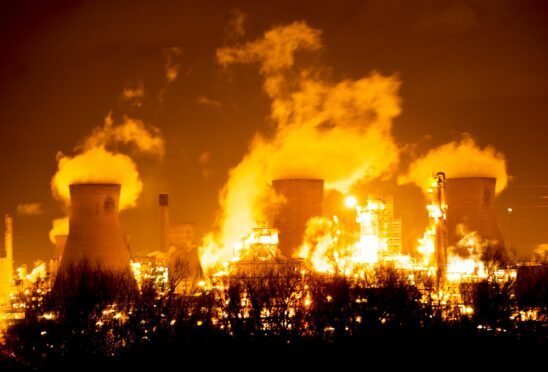 White steam drifts from the cooling towers and orange flames quiver on the stacks.
From a distance Grangemouth Refinery is a mass of pipework and smoke-plumed chimneys. Get closer, wind down the windows and you let in the roar of distant flares and the air's acrid smell.
At the heart of the complex is a bold blue tower block. This is the head office of Petroineos, its novelty untarnished, its shiny surfaces standing out against the other buildings.
Grangemouth Refinery, the Forties oil pipeline that feeds it crude from the North Sea, a host of offshore oil and gas fields, and an array of petrochemical plants across Britain are largely in the hands of Ineos and its owners – Jim Ratcliffe, Andy Currie and John Reece – three of the UK's richest men, with a combined private wealth recently estimated at more than £35 billion. The "Petro" in Petroineos stands for PetroChina, a Beijing state-owned company with whom Ineos shares ownership of Grangemouth.
James – now Sir James, but always referred to as Jim – Ratcliffe became a powerful figure in the UK oil and gas world in 2005 when Ineos bought out the entirety of BP's global chemicals business for $9bn. However, he remained unknown to wider British society until named as Britain's wealthiest person in the Sunday Times Rich List of 2018.
The closer you explore his biography, the more his life epitomises the changing life of Crude Britannia. This is the oil world we describe in our book, tracking the past and predicting the future of fossil fuels, the companies that own them and the influence they have on British governments and society.
When oil corporations are criticised in the media it is usually the likes of Shell and BP who are focused upon. But much of the power of these "Oil Majors" is ebbing away to companies whose names are barely known and whose financial structures are even more opaque. The history of Ineos and its founder offers a window into how the industry has morphed into these new companies.
Ratcliffe, 69, grew up downwind of BP's Saltend chemicals plant near Hull: it was part of the city's future in the "white heat of technology" described by the-then Labour prime minister Harold Wilson. Ratcliffe's father ran a company making laboratory equipment that supplied the plant. On graduating from Birmingham University, Ratcliffe Jr became a trainee engineer at Saltend in 1973. After three days Ratcliffe was laid off. He had a history of eczema, which the company doctor feared could be exacerbated by toxic chemicals handled at the site.
Ratcliffe switched to the finance side of petrochemicals and, as Britain struggled with the "oil crisis", became a trainee accountant at Beecham Pharmaceuticals. By 1980 Ratcliffe had been a management accountant at Esso and completed an MBA at London Business School. From the latter he learned "it is all about money, and the numbers. Money and generating equity return", as he later explained in his autobiography, The Alchemists.
In 1987 Ratcliffe was headhunted by US venture capital firm Advent International, luring him with a salary of £115,000 and plunging him into the field of private equity. "Private equity was a new world to me. I knew absolutely nothing about it. I didn't have the tools in my armoury, but I just had to get on with it. I sweated a lot, but I survived," he later wrote.
Ratcliffe's fate intertwined again with that of BP. In early 1991 the corporation determined to close two chemicals factories. Ratcliffe established his own venture capital unit to buy the plants. He paid £37 million for the assets. "I managed to persuade Bill Teasdale of PricewaterhouseCoopers to perjure his life away and explain to BP that the money was as good as in the bank," he candidly admitted.
In May 1995 Ratcliffe bought BP's vast petrochemicals works at Antwerp in Belgium. By the early 2000s about 70% of his employees were ex-BP. On the back of these purchases Ineos was founded in 1998. It was not listed on the London Stock Exchange but is a private company owned by Ratcliffe, Andy Currie and John Reece. A new type of private equity-backed vehicle; a new form of capital for a new era of oil and gas in Britain.
In the two decades since, Ineos has grown from a number of plants in Western Europe into a global corporation with sales revenues of nearly €14bn. It has expanded by raising cash through selling high-yield bonds, from hedge funds and other private equity providers who themselves utilise money from a pool of high-net worth individuals.
This system ensures that ownership of the industrial plants remains in the hands of Ratcliffe and his two colleagues. Whereas the shareholding that Ben van Beurden, the chief executive officer of Shell, has in that corporation constitutes an infinitesimally small fraction of the world's several billion Shell shares, Ratcliffe owns 60% of the shares in Ineos.
There is now an array of companies that follow the Ineos model who own oil and gas fields in the UK North Sea. These include Siccar Point Energy, run by former Centrica (British Gas) man Jonathan Roger and backed by private equity groups Blackstone and Blue Water Energy. Siccar Point is unusually prominent in the media for it is in a joint venture with Shell to develop the now-notorious Cambo oil field west of Shetland.
In 2005 Ineos bought Grangemouth Refinery as part of the purchase of BP's chemicals arm. Ratcliffe called Jim Dawson, Ineos board member, for advice.
"Dawson, only half tongue in cheek, sent him a link to a website called HowStuffWorks.com. It is a running joke that the company learned nearly everything it knew about refineries from that website."
Bill Reid, a director of Ineos, recalled: "Refining was a $10bn business, but our understanding of it was very, very thin…We were utterly clueless."
The town of Grangemouth was largely built for those who laboured in the refinery. The proximity to the plant is astounding, the stacks and cooling towers rise above the rooftops.
Mark Lyon, 57, was an organiser for the Unite trade union branch at the refinery and the figurehead of a public campaign that eventually saw him sacked by Ineos in February 2014. There had been a decade of intense struggle between the company and its workforce, much of it around the owner's insistence the refinery's future could only be guaranteed with a wage freeze and cutback in pensions. Ratcliffe made little attempt to hide his apparent view that unions were a brake on good management.
Lyon recalled: "When Ineos bought (the refinery), there was a meeting arranged for us (in the union) to meet Ratcliffe. We were sort of saying, 'All we want really is a seat at the table'. And we wanted to be involved in decision-making and hoped there was going to be investment at the plant. He treated us like he didn't want us to be there. He wouldn't talk to us.'"
Lyon described a second meeting four years later: "He sat side-on to us, eating grapes. It was almost like 'Peel me a grape'. He was speaking over his shoulder to us. 'I pay your wages and give you bonuses. What more do you want?' So it's not a contractual thing. It's like: 'You work for me so you should be grateful.' Of course, it didn't go well. A strange, strange kind of character."
The disputes at Grangemouth between Ineos and the workforce eventually escalated into an all-out strike. In the end, Ratcliffe got what he wanted and in his autobiography he boasted: "The incident has since remade industrial relations on the site and changed the course of British union politics for good."
Ratcliffe seems to have a variable loyalty to Britain. The head of public relations insists that Ineos "is headquartered in the UK and registered for tax in various locations where it operates". Others dispute this and there is no clear answer as to where Ratcliffe himself is domiciled, though media reports suggest Monaco.
Unlike public companies such as Shell and BP that hold annual general meetings where journalists can question executives, Ineos, as a private group, needs offer no such scrutiny.
Some of the Oil Majors have made promises to wind down their oil operations and sell their assets. But, away from public view, the private-equity-backed companies, and the even more opaque state-owned groups, are busily purchasing these unwanted fields. Ownership in the North Sea is changing but production is continuing.
Ineos has announced it will slash carbon emissions at Grangemouth by using hydrogen. However, a company executive recently told the Financial Times with regard to oil and gas fields: "We have an appetite to acquire."
---
Citizens' movement must drive a just transition
The recent petrol queues, soaring gas prices and fears of electricity blackouts emphasize that energy is central to our lives.
This is what happens when there's underinvestment and weak government in the face of corporate power. Moving to new sources of energy makes for difficult financial, technological and political decisions but Covid has shown governments and citizens can be very adaptable if necessary.
The oil companies insist they must keep drilling in order for the UK to avoid energy shortages, though BP admitted last year that global demand for oil may have already peaked. However, OPEC declares it will not plateau before 2040. Either way there is an energy transition happening and oil corporations are fighting to stay relevant.
Which is why BP, Shell and others trumpet their tentative steps back into the renewable energy sector they largely abandoned over a decade ago. They promote the concept of "Net Zero" in which fossil fuels continue to be used but their negative impacts are countered by carbon capture systems, reforestation and other "offsets." A key part of this is a "hydrogen" economy fuelled by natural gas.
But the climate scientists gathering for Cop26 see we need a rapid turn away from fossil fuels to an economy powered by renewables. By 2050 the world may need some oil, but it must be a fraction of the nearly 100 million barrels a day we use now if we are have any chance of tackling climate chaos. This drives calls to stop new oil extraction at fields such as Cambo.
The public is becoming more sceptical of fossil fuels even though they still provide 83% of primary energy worldwide. There are strong arguments that the only way to decisively change is to put an end date on all hydrocarbons usage, including gas.
The UK Government has committed to all electricity being generated with renewables by 2035. New petrol and diesel cars are to be phased out by 2030. But ministers prefer to support the "decarbonisation" of North Sea production, which effectively back the oil companies' Net Zero proposals. For the oil majors have helped shape government policy for more than 80 years.
There needs to be a "Green New Deal", a jobs revolution to turn talk into action as a rapid retreat from fossil fuels is executed. At its heart must be those currently working in oil and gas, as well as the communities that have depended upon employment in the industry. It is vital that people in the industry do not suffer the same fate as those in the coal industry did when the mines were closed.
We need a citizens' movement to drive the Just Transition, ensuring that national and regional government assists the change. The recent upheaval in energy supplies shows what happens when decisions are delayed and policies muddled. We can use the inevitable shift to a low carbon world as a means to build a more just and equal society.
---
James Marriott and Terry Macalister are co-authors of Crude Britannia: How Oil Shaped A Nation by Pluto Press and consultants to Black Black Oil, to be broadcast by BBC Scotland on Wednesday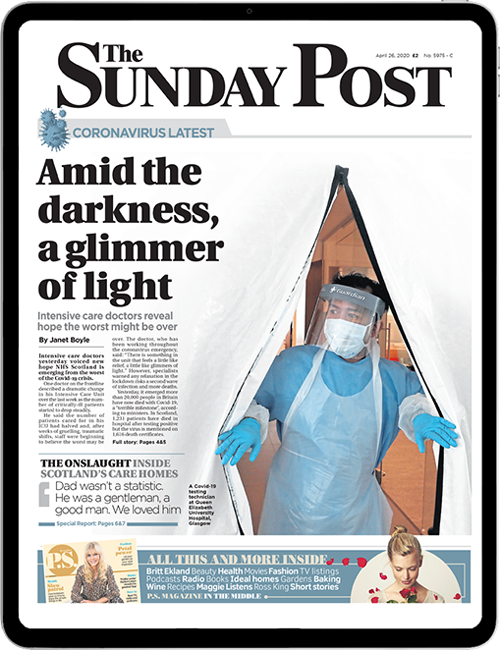 Enjoy the convenience of having The Sunday Post delivered as a digital ePaper straight to your smartphone, tablet or computer.
Subscribe for only £5.49 a month and enjoy all the benefits of the printed paper as a digital replica.
Subscribe