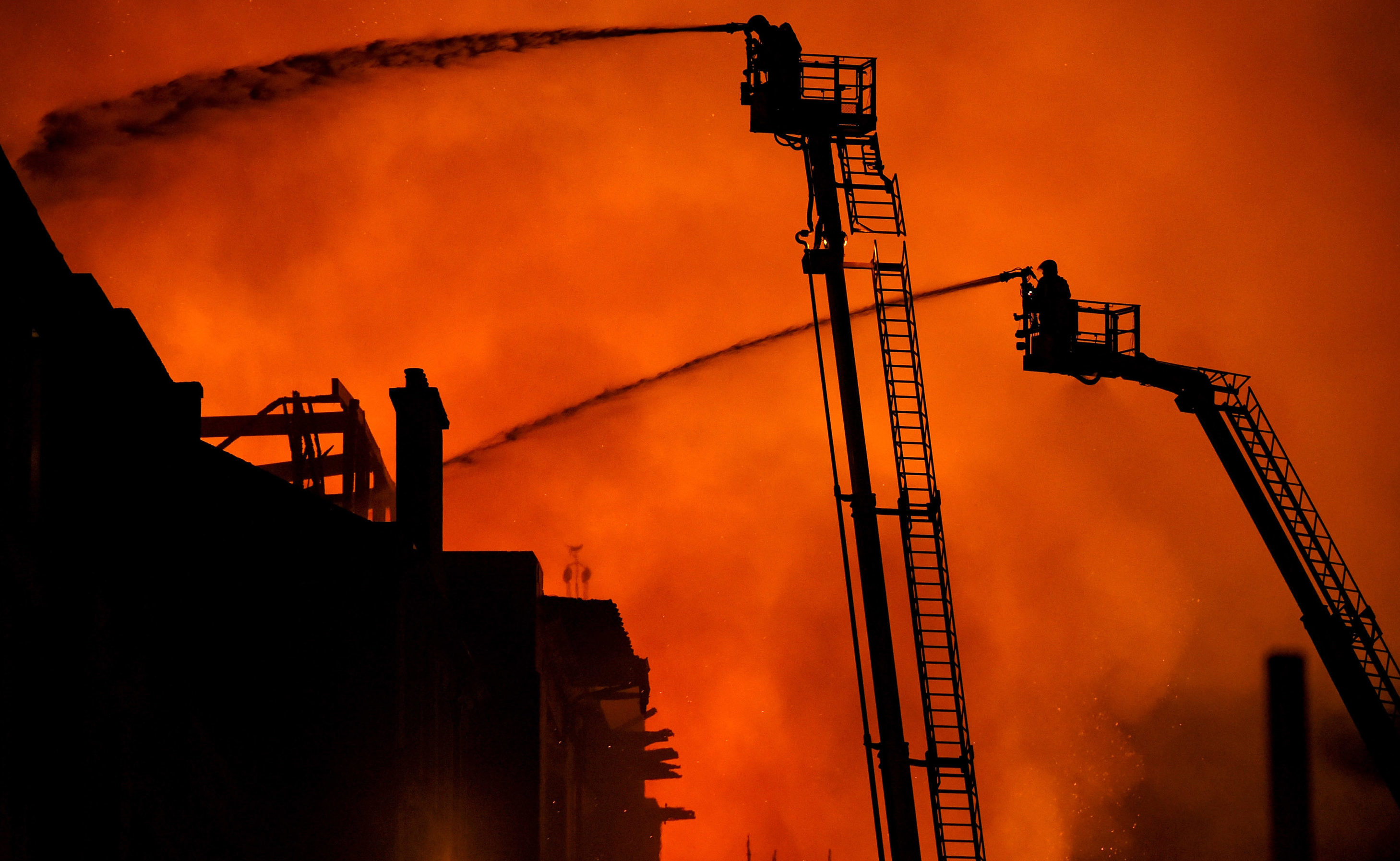 ONE of Scotland's iconic buildings, the Glasgow School of Art, lay in ruins yesterday after being gutted by a massive fire.
The blaze ravaged the building just months before completion of a £35 million refurbishment after another major fire in 2014.
Nicola Sturgeon described her "heartbreak" after visiting the scene yesterday afternoon.
The First Minister said the building was now "just a shell" adding: "Obviously there are assessments and discussions ongoing with the fire service and building control about the structure of it and its structural safety.
"All of us hope the building can be saved but I think it's too early to draw any conclusions.
"It's actually quite hard to find the words, given what happened four years ago, the fact it was so close to being reopened after the restoration, that this has happened."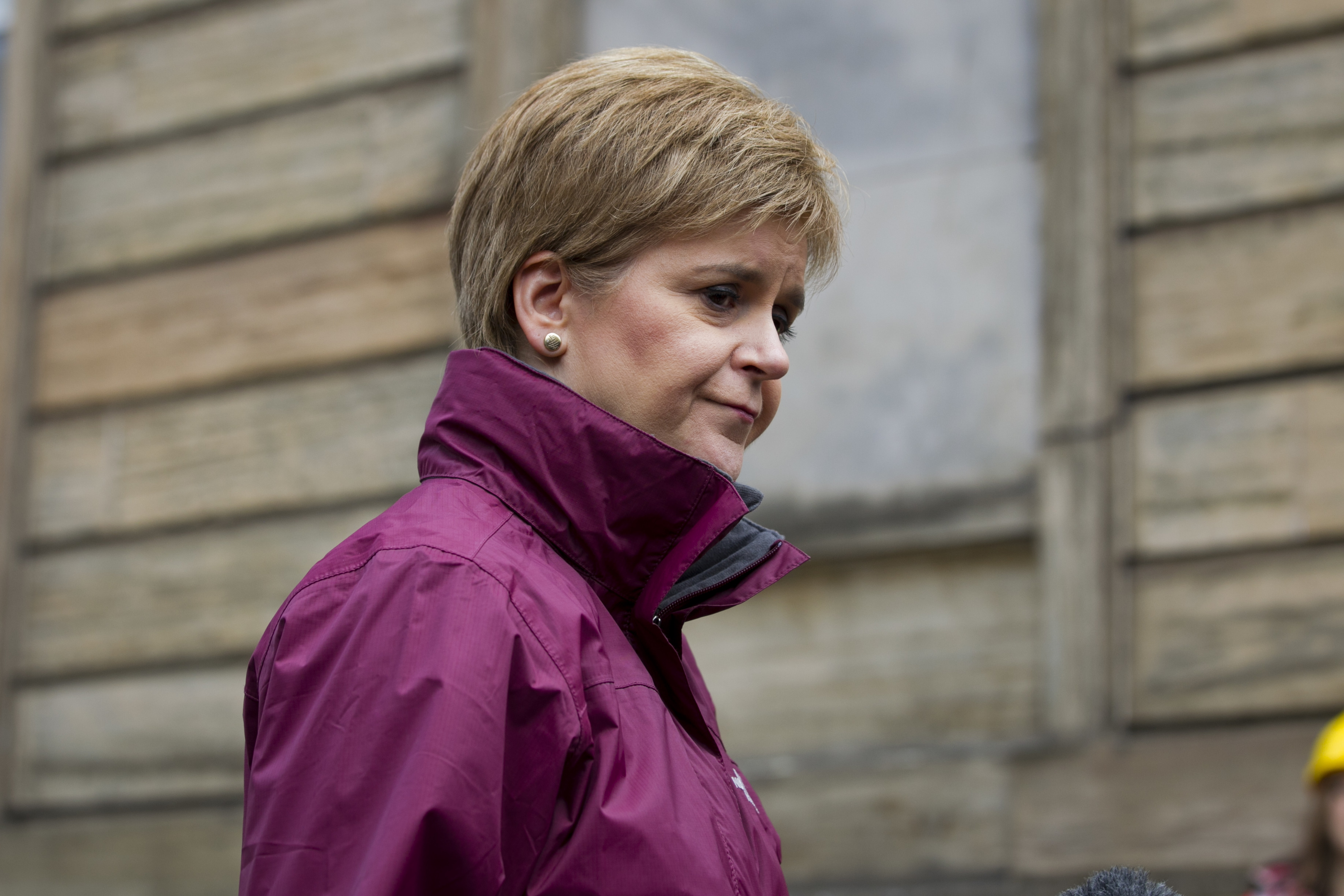 Eyewitnesses said the fire on Friday night appeared to take hold rapidly, raising questions over what systems were in place to protect the building. Some reports suggested a fire suppression system was fitted but not yet operational.
At the height of the blaze, 120 firefighters were on the scene –drafted in from as far as Perth and West Lothian – and water was pumped from the River Clyde to battle the fire, which spread to the nearby 02 ABC on Sauchiehall Street, causing extensive damage.
The alarm was raised at 11.19pm on Friday and around 50 firefighters were still working to extinguish the fire yesterday.
Officials said it was too early to speculate on the cause, while the full extent of damage to the historic Charles Rennie Mackintosh-designed building will not be known until a full assessment in the next few days.
Police evacuated around 25 people from nearby properties, who were taken to the Mitchell Library overnight for shelter, but no casualties were reported.
A £35m restoration project, mostly funded by public bodies, was returning the famous art school to its former glory in the wake of a devastating 2014 blaze.
Celebrities including actors Brad Pitt and Peter Capaldi, a former student at the art school, also donated to the refurbishment along with members of the public.
The fire came as celebrations marking the 150th anniversary of Charles Rennie Mackintosh's birth have been taking place.
The Scottish Fire and Rescue Service (SFRS) said the building had been "extensively damaged" including the multi-million-pound restoration work.
Deputy Chief Officer Iain Bushell said yesterday: "This is an extremely challenging and complex incident, but the response and professionalism of our firefighters has been exceptional.
"This will be a prolonged incident and crews will remain on the scene as they work to prevent further fire spread and damage."
Traders fear for Glasgow's famous Sauchiehall Street as it's left reeling from string of disasters
Also at the scene yesterday SFRS area manager David Young said: "We are continuing to try to extinguish the final pockets of fire – that is a difficult job itself given the nature of the building."
He could not comment on whether smoke alarms and sprinklers were in place.
Mr Young added: "The damage inside is quite considerable. Colleagues that were at the fire a few years ago, said the damage then was considerably less than the damage now." His sentiments were echoed by deputy assistant chief officer Peter Heath, who called the blaze a "devastating loss for Glasgow", with firefighters dealing with a "sense of loss" along with the city's people.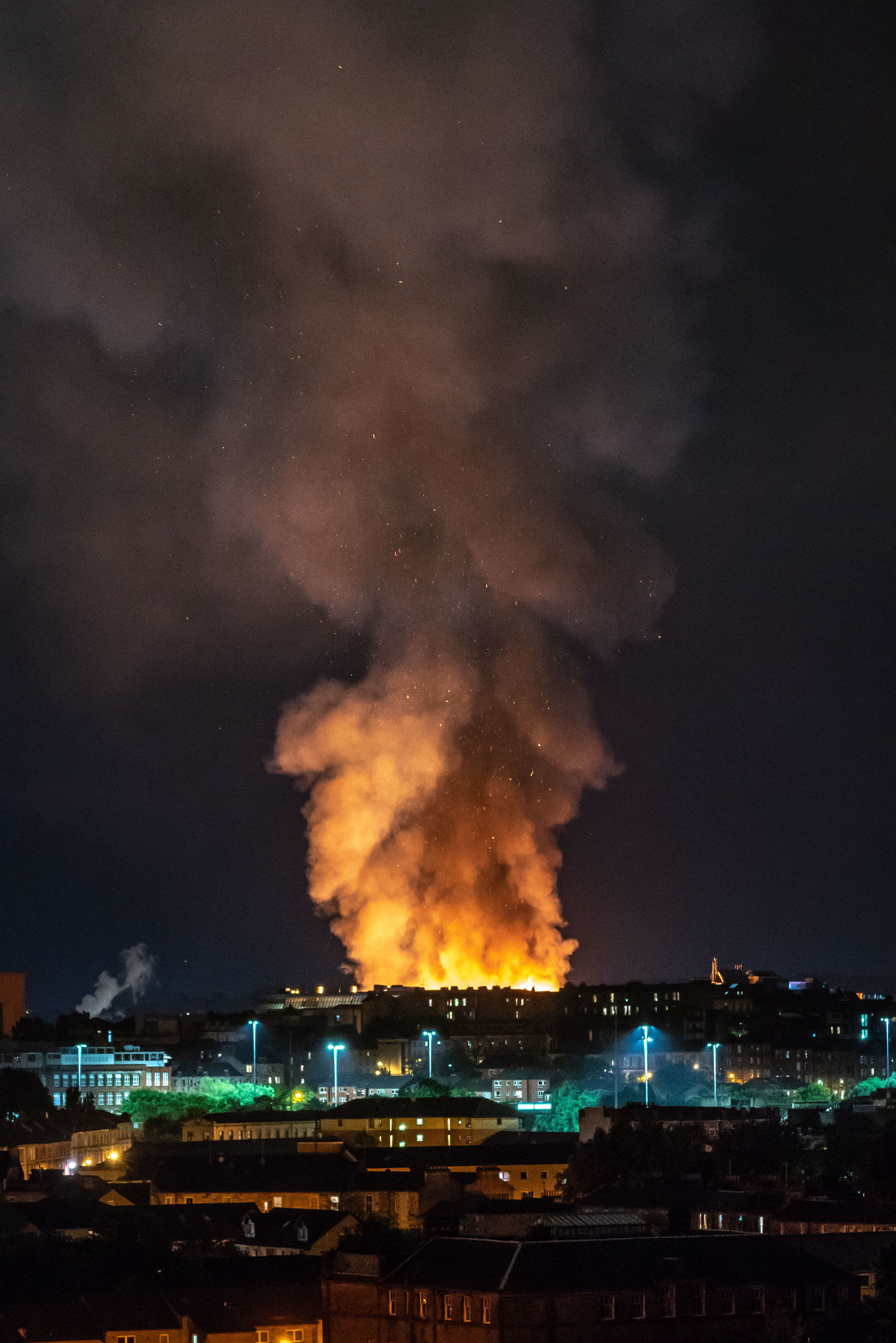 One eyewitness said the fire had taken hold before emergency services arrived.
He said: "I phoned 999 and said it looks like the art school is on fire again, and they said they had already had calls."
Susan Aitken, leader of Glasgow City Council, who visited the scene, said building control officers were working with the fire service and Historic Environment Scotland, and would assess the site in the next few days once it was safe.
She said: "It is terrible shock and it is quite hard to believe this has happened.
"The priority is to make sure we keep that building, we save that building and that it continues to be part of Glasgow's heart and soul as it has been for so long. That is first and foremost is what we want to achieve."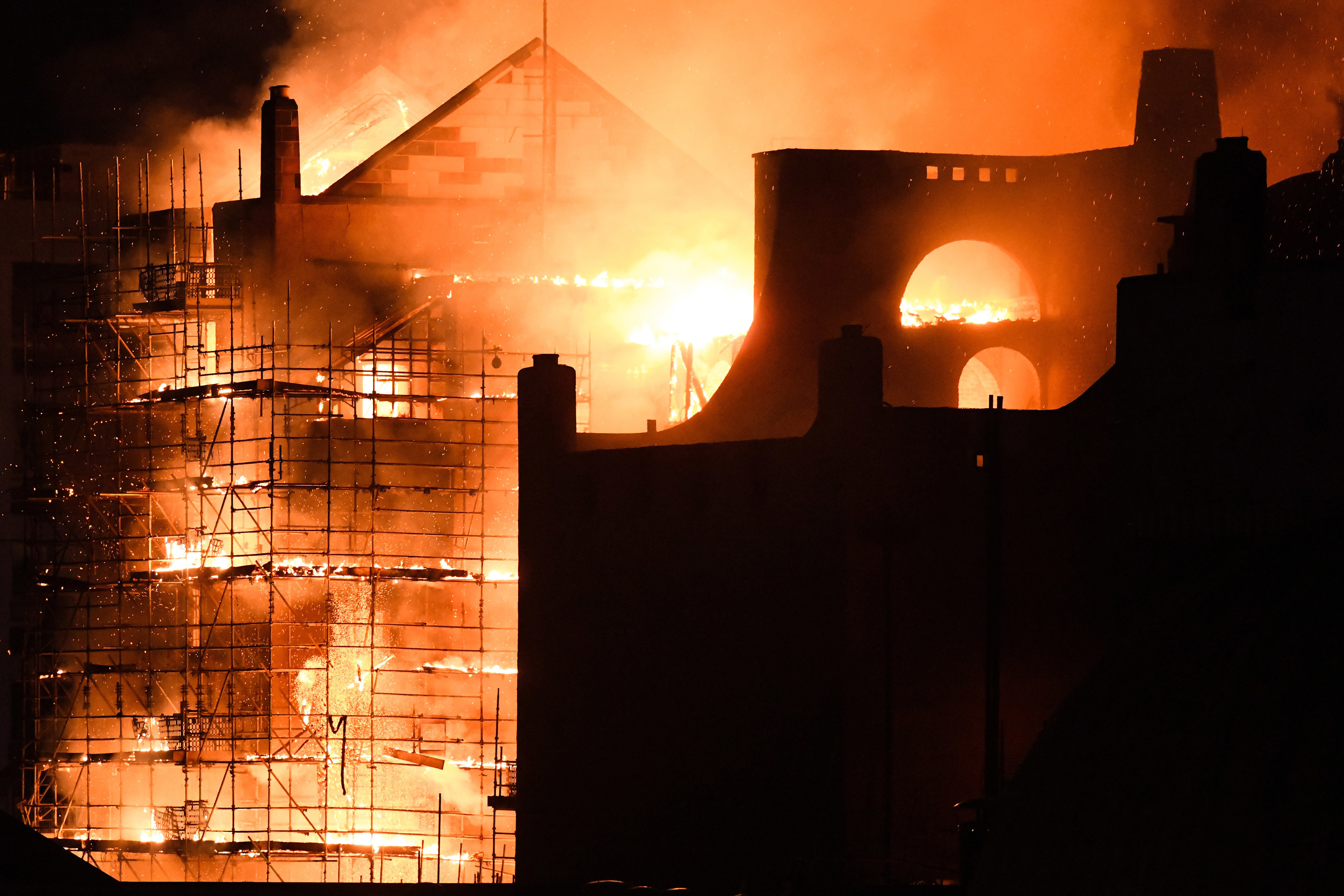 Hundreds of final year Glasgow Art students graduated on Friday, just hours before the fire. Some of them were out celebrating in Sauchiehall Street when the fire took hold.
Throughout the day yesterday, people visiting the scene spoke of their disbelief, with some visibly shocked.
Margaret Archbold, 48, a Glasgow artist who studied fine art at the school and graduated in 1994 said: "It shouldn't have happened again.
"I came down to say goodbye actually, I thought there was nothing left."
Ella Hatch, 23, from Watford, a fine art graduate of GSA, said: "I can't believe it's the second time its happened – it is like it cursed."
Alan Dunlop, a practising architect and professor at Robert Gordon University and alumnus of the art school, said the damage looked like a "World War Two" situation.
He said: "I can't imagine how the building is actually going to be repaired. The only thing that remains of it is the exterior stone walls."
Experts ask what safety systems were in place to prevent catastrophic Mackintosh Building blaze
He called for a public inquiry into what happened adding: "Not only is it bizarre that four years after a major fire another major fire should happen, but a significant amount of money has been raised and pledged for the refurbishment."
Stuart Robertson, director of the Charles Rennie Mackintosh Society, said: "From looking at the building, it is just a tragedy and a tragedy on a world scale. I think we have lost irretrievable heritage.
"It is the most horrific loss for Scotland."
In a statement, GSA said they were awaiting the outcome of the investigation by the fire service. It added: "The GSA and all of its buildings will remain closed for the next week.
"We will provide updates as and when information is available."
Reporting team: Judith Duffy, Hannah Rodger, Kieran Andrews, Sophie Law & Andrew Picken
Art world united in grief and disbelief over Glasgow School of Art fire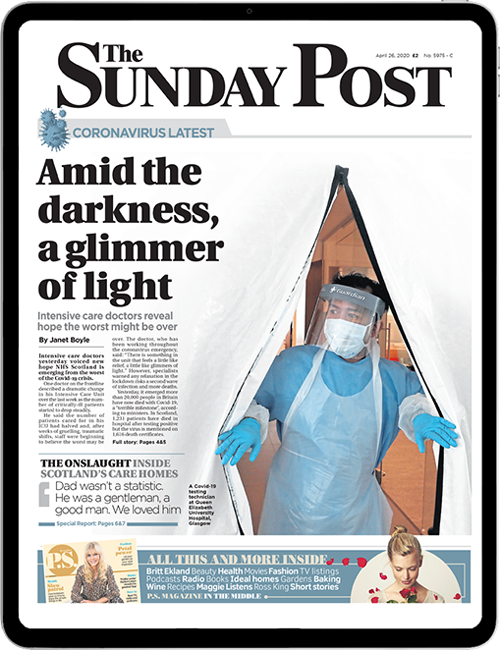 Enjoy the convenience of having The Sunday Post delivered as a digital ePaper straight to your smartphone, tablet or computer.
Subscribe for only £5.49 a month and enjoy all the benefits of the printed paper as a digital replica.
Subscribe