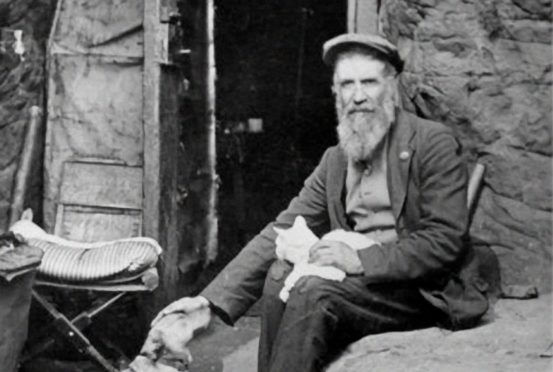 Walking along the Fife coastline as a little girl, Louise Yeoman remembers being told about a man who used to live in the caves.
A former soldier, Jimmy Gilligan, found himself homeless after serving in the First World War, according to the tale told by her grandfather.
One day, while walking along the shore near Anstruther, he spotted a hole in the Caiplie Caves and decided to move in. There he stayed for years until the eve of the Second World War, when he vanished without a trace. "I always wondered what happened to him after that," said Louise. "There was this mystery.
"I thought about the story every time I went on holiday to my great aunt's in Cellardyke and walked along the coast towards Crail past the caves. When you're wee, that sort of thing really captures your imagination."
Louise, a historian and producer at BBC Radio Scotland, was chatting to a colleague one day who was working on a story about people living in caves when all of a sudden the old tale brought the memories flooding back. And, although her research normally centres around witches and covenanters, Louise decided to dig a bit deeper into a more modern story and find out what happened to Jimmy – and what led him to live in the cave.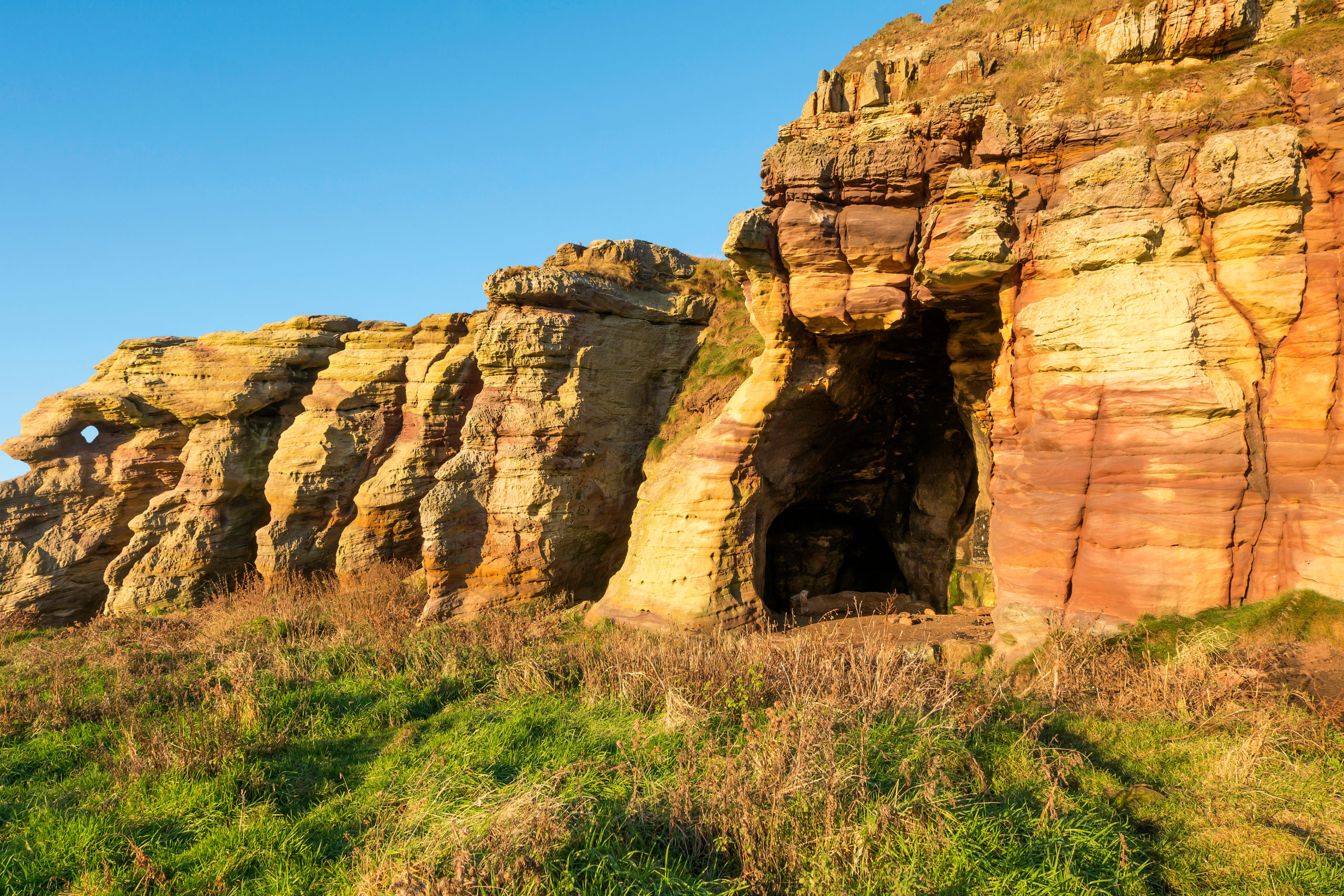 Thinking a man living by the sea would probably have made the news, Louise began her search in the British Newspaper Archive and came across an article from The Sunday Post, dated September 5, 1915.
It told the story of the old soldier who became the cave dweller of Caiplie. "Though he was too old to fight in the First World War, he still volunteered his services. But I wanted to find out what happened to him before that. I found Jimmy born in Aberdeen in 1859. Two years later there he is in the census with mum Sally Strowers and dad John Gilligan.
"Then we find marriage records showing her proper name was Sarah Strauss. That's really not a common surname in Scotland in 1860, so using that I was able to find out more. Within a couple of years, by the time Jimmy is four years old, his dad has died. The next year, it seems his mother dies in the poor house. It's a pretty horrible start for him. By 12, we find him in St Peter's Orphanage in Aberdeen. He comes out of care and goes straight into the army.
"This corresponds with the Sunday Post article which says he served in Afghanistan under Lord Roberts which would be the Second Afghan War, 1878-1880.
"And then he was in the Boer War in South Africa and the battle of Majuba Hill on February 27, 1881. This was a terrible battle for the Gordons. They were massively outnumbered. That terrible day Jimmy must have seen many of his comrades die.
"That's when he gets head wounds and leg wounds and we pick him up again after that battle in Edinburgh, again something he talks about in the article. But that's where we find out he didn't tell The Sunday Post the whole truth.
"He had a very bad head wound, which never really settled down. Looking into his military records, I discovered the year after the battle he was kicked out of the army as he had broken barracks and assaulted a corporal. He got six months' imprisonment. He was forced to forfeit his Second Afghan War medal and kicked out on to the streets on November 11, 1882."
Louise, who presented her research in BBC Radio Scotland show Time Travels, delved further into references in the article that Jimmy was "in and out of hospital and institutions".
"We know about this head wound and that he got into trouble," she said. "I think today we would say he had PTSD."
Around 1909, the soldier moved into the caves and he was welcomed into the community. A local farmer was also kind to him. In the long nights, he went to the farm for a blether and walked back to the cave by the light of a lantern.
"He wasn't the first to shelter in the sea caves. You can still see crosses carved out in the rock by ancient pilgrims.
"But Jimmy had one more cross to bear. During WW1 the Defence of the Realm Act outlawed the lantern Jimmy needed to get back to the coast from the farm at night and his life got harder in those years."
This was backed up by an analysis of the photograph we published. Louise said: "Jimmy is in his 50s by the time he gets to the cave, but he looks a lot older. We would think it's somebody in his 70s. He looks a bit like Granpaw Broon with his long white beard and his whiskers. He really looks a lot older than he is and it suggests he must have had a very hard life."
Jimmy lived in the cave until the outbreak of the Second World War and then he vanished.
"People have various theories," said Louise. "Some said he must have been a German spy, but that doesn't sound like him at all. I think maybe life in the cave was too hard and lonely and Jimmy just threw in the towel."
Combing the death records, Louise eventually came across a man who had died aged 81, in Eastern General Hospital in Leith on January 20 1940.
"The key to it was his mother's unusual maiden name which stuck out. He died of myocarditis which is an inflammation of the heart, caused by septic toes, which is what you would expect in an old homeless man. And he was homeless because the last address is 1 The Pleasance, Edinburgh, which is the Salvation Army Hostel.
"What happened to Jimmy is a surprisingly modern story. He came from a homeless background and ended up going back into it. It's a sad ending for him. He didn't get the help he needed. But it just shows us how resourceful he was.
"Perhaps there's someone out there who hears about it and says, 'That's my Uncle Jimmy'.
"He had a sister, so there is possibly more detail to find. I set out to find the end of the story, but what I have uncovered may just be the start.
"You just never know when you start researching how a story is going to unfold."
---
SEPTEMBER 5 1915: Fife Coast Cave Dweller anxious to serve his Country
How we told Jimmy's story 105 years ago
Jimmy Gilligan is an Aberdeen man. When he was young the life of a soldier appealed to him, and he threw in his lot with the old 92nd, the Gordon Highlanders.
He served for three years in Afghanistan under Lord Roberts. He also fought in the first Majuba, when he was wounded in the head – the mark of which he bears to this day – and also in the legs. Soldiering in these days was not what it is today. There were no special inducements such as allowances for dependants, and no compensation for the wounds sustained in fighting for King and Country.
He had an adventurous career before he chanced on the neighbourhood of the Fife Royal burgh. Broken in health, suffering from an internal malady and injuries to his legs, he had been out of one hospital and into another, when some six years ago he was discharged from one in Edinburgh. It was at his home that his footsteps brought him to Fife. He had no plans but as he trudged along the seafront the waves as they dashed themselves against the rocks took hold upon him. It was the beginning of winter and the sea was in its most entrancing mood. The wanderer was footsore and weary; he wished to rest.
And it seems as if nature had answered the unspoken prayer of the homeless man and provided him with a shelter for his head. The sight of the Caiplie Caves brought joy to the heart of Jimmy Gilligan. Here he could find rest for a time at least, but never for a moment did he imagine that the deep, dark cave in the heart of the huge rock would provide him with a home for six years and as he fervently believes, for many more years to come.
The weather, however, provided a deceiving factor. The storms of winter soon broke upon the land and, not being in the best of health, the wanderer was forced to make the best of the rude shelter which had so fortunately been found.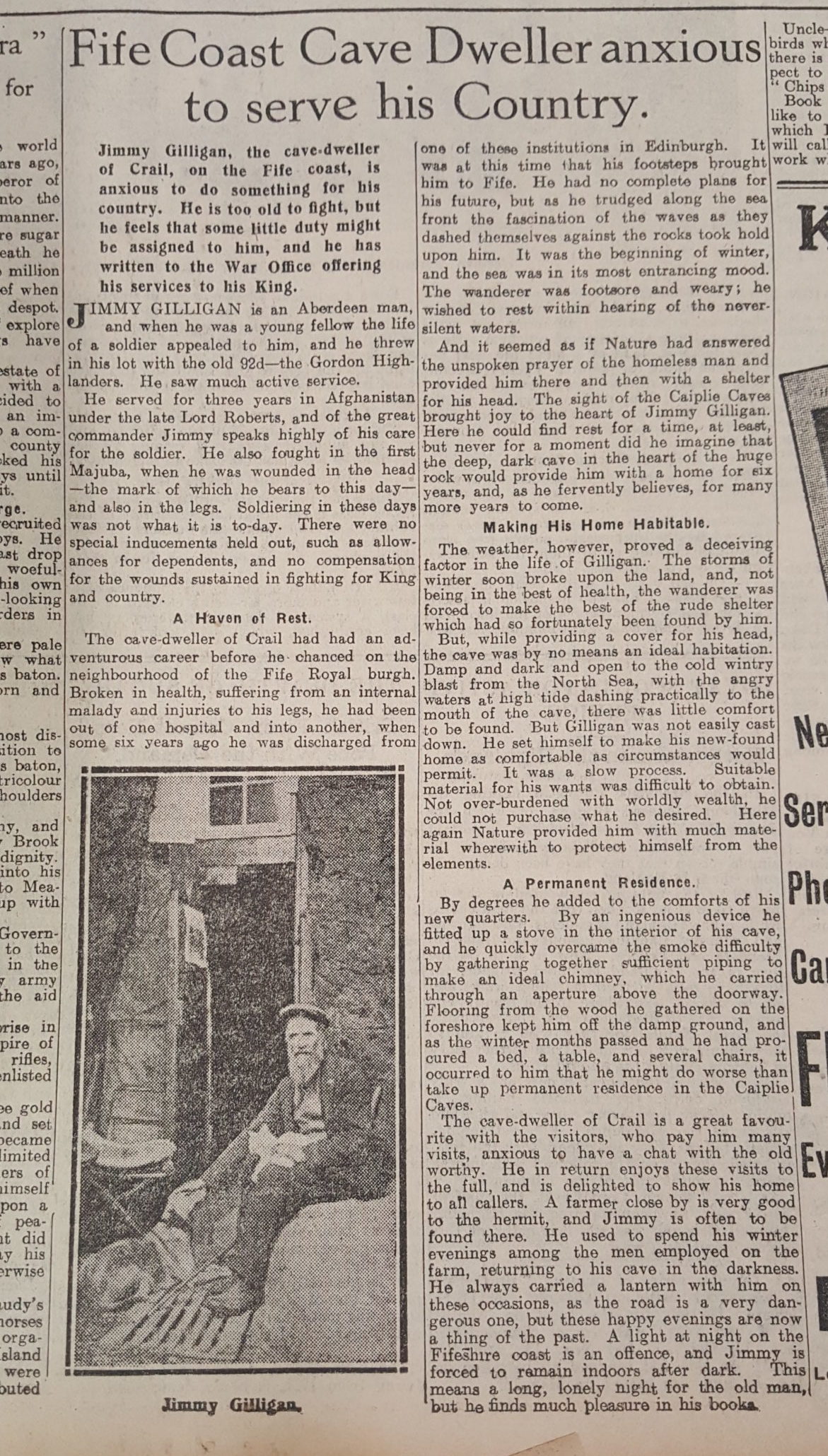 But while providing a cover for his head, the cave was by no means an ideal habitation. Damp and dark and open to the cold wintry blast from the North Sea, with the angry waters at high tide dashing practically to the mouth of the cave, there was little comfort to be found.
But Gilligan set himself to make his newfound home as comfortable as circumstances would permit. It was a slow process. Suitable materials for his wants was difficult to obtain. Not over-burdened with worldly wealth, he could not purchase what he desired. Here again Nature, provided him with much material wherewith to protect himself from the elements.
By degrees, he added to the comforts of his new quarters. By an ingenious device, he fitted up a stove in the interior of his cave and he quickly overcame the smoke difficulty by gathering sufficient piping to make an ideal chimney, which he carried through an aperture above the doorway. Flooring from the wood he gathered on foreshore kept him off the damp ground, and as the winter months passed and he had procured a bed, a table and several chairs, it occurred to him that he might do worse than take up permanent residence.
The Cave Dweller of Crail is a great favourite with visitors and he enjoys their visits to the full and is delighted to show his home to all callers. A farmer close by is very good to the hermit and Jimmy is often to be found there. He used to spend his winter evenings among the men employed on the farm, returning to his cave in the darkness. He always carried a lantern with him on these occasions as the road is a very dangerous one, but these happy evenings are now a thing of the past. A light at night on the Fifeshire coast is an offence, and Jimmy is forced to remain indoors after dark. This means a long, long, lonely night for the old man but he finds much pleasure in his books.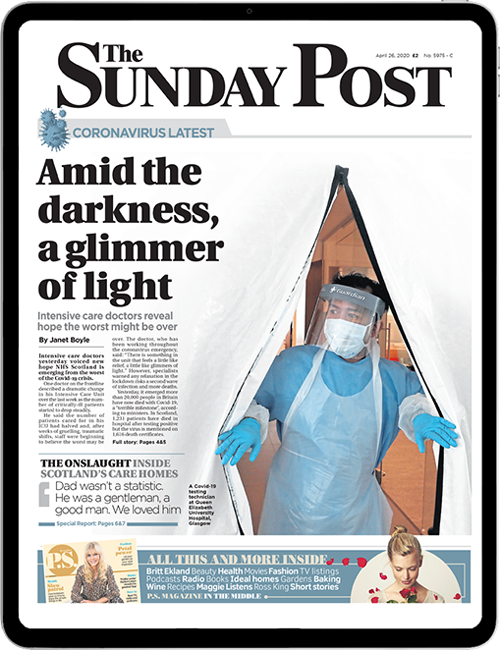 Enjoy the convenience of having The Sunday Post delivered as a digital ePaper straight to your smartphone, tablet or computer.
Subscribe for only £5.49 a month and enjoy all the benefits of the printed paper as a digital replica.
Subscribe