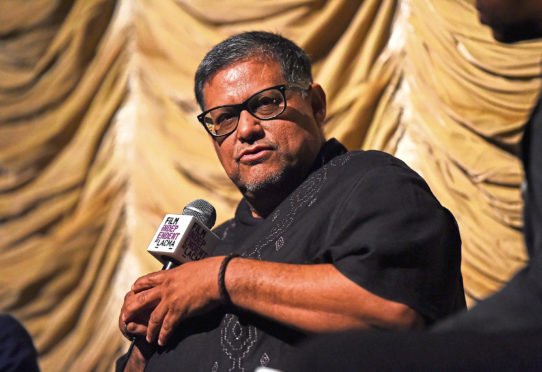 The Score (Apple Podcasts) 
The sweat drips down your back but, despite the anxiety bubbling under the surface, you're calm and in control.
You take a piece of paper from a pile of deposit slips and start scribbling the first thing that comes to mind.
"Next!" the cashier shouts and you hand her your note. Her eyes widen as she scans the words demanding she hands over the money.
You instinctively touch the cool metal of a powerful handgun tucked into your waistband behind your jacket.
Congratulations, you're in the shoes of one of the USA's most prolific bank robbers – Joe Loya, to be exact. From 1985 he robbed upwards of 40 banks – it might be more but both he and the FBI lost count.
The Score: Bank Robber Diaries looks at the career of charismatic Joe. The first episodes put you right in his position as he carries out his first robbery.
Unlike many other bank robbers, Joe (pictured above) wasn't doing it for drug money. He had instead become fascinated by Mexican folk hero Pancho Villa – although at the time he was on the run for defrauding church parishioners so he wasn't quite the modern reincarnation of Robin Hood.
The podcast looks at Joe's 30 robberies in 14 months, and the techniques he used. Joe was notable for remaining calm during his robberies, and never pointing a gun at anyone.
Joe's since gone on to become a Hollywood consultant – if you've seen Baby Driver then he's even had a cameo.
---
His Darker Materials (Spotify) 
Enjoying the television series? Dive deeper into the world of daemons, dust and magic with His Darker Materials. Hosted by Dave Corkery and Helen O'Hara, with featured guests including Clarke Peters and exclusive cast, crew and expert interviews from the BBC and HBO series.
---
Short Wave (NPR, Apple Podcasts)
It's difficult to make science interesting, as
thousands of teachers across the country can attest. Short Wave is having a stab at it, though, and with each episode no longer than 10 minutes, it's doing a good job. New discoveries, everyday mysteries, and the science behind the headlines – all in about 10 minutes. And there's a new one every week days. It's science for everyone, with host Maddie Sofia.