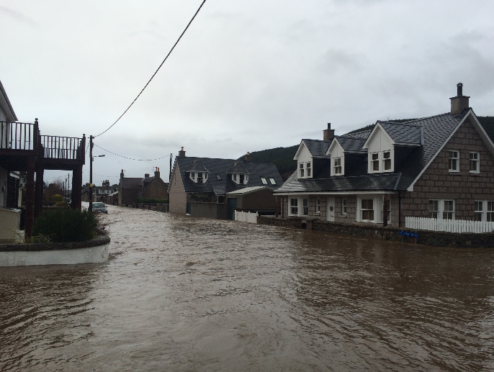 Homes were wrecked and businesses ruined but, even when the floodwaters finally receded, the true toll was not revealed for months and years and then, not in physical damage, but psychological trauma.
A landmark study in an Aberdeenshire village has revealed the impact on people's health and wellbeing for years afterwards as the stress of repair and restoration combined with a more profound sense of fear and dread.
Now, as scientists warn of increasingly severe weather linked to global warming and predict 394,000 homes, businesses and services in Scotland are at risk from flooding by 2080 if nothing is done, the lasting psychological legacy revealed in Ballater is the starkest reminder of how climate change is shaping our lives.
Storm Frank hit Scotland on December 30, 2015 and torrential, relentless rain landing on wet ground, coupled with melting snow in the mountains, caused the River Dee to surge and burst its banks at Ballater Golf Club as water poured through the streets, leaving swathes of the village beneath 4ft of water.
According to the research, people were left struggling with their mental and physical health in the aftermath. Sleepless nights and a fear that every time it rained the floods might return were among the worries reported to researchers during the three-year survey.
Those who were hardest hit were the villagers already experiencing stress in other areas of their life, leading to fears that people flooded during the pandemic will have found it harder to cope.
Many also experienced financial hardship and the upheaval of being out of their homes for much longer than anticipated, then problems with insurance claims and renovation work added to the negative impact.
Families told how they were unable to return to their homes for as long as six months, and faced being left thousands of pounds out of pocket. Glen Muick Church in the heart of the village became a refuge for residents whose homes were underwater as its relatively elevated location meant it escaped the worst of the storms.
One resident who took part in the study likened the experience to post-traumatic stress.
Those in the community who were not among the 300 households flooded during Storm Frank were also badly affected as they suffered a form of survivor's guilt.
Dr Mags Currie, from the James Hutton Institute and who co-led the work with Dr Lorna Philip from the University of Aberdeen, said the research compared Ballater – which had no recent history of flooding – with Garioch, 40 miles away, where there had been repeated floods.
She said: "There is a long-term worry about it happening again. That was a really, really common theme about being worried every time it rained and not necessarily wanting to share those worries with other people because of wanting to put on this face of recovery to some extent.
"They were not necessarily sharing their fears. When we came back in the second year we were finding people were still worried when it rained heavily, and there was then a certain amount of relief that they were not alone in still feeling this.
"We found that any kind of reminder of the flooding triggered poorer wellbeing in people who had been flooded. At the beginning, straight after the flooding, there were reminders because there were all the houses getting cleared out and people weren't in their houses, and that in itself has an impact.
"People were out of their houses for a lot longer than expected. We found that after six months two-thirds of our participants were still out of their houses.
"They were out for a long time and some people were not just staying in one temporary accommodation, some people stayed in more than 12 places during that period. That's really stressful.
"We ended up not really even seeing recovery, it was more just continuing to move on with life rather than recovering per se.
"It was still having wellbeing impacts on people the whole time we did the interviews. Three years after the flooding people weren't over it.
"One of the things we found was that it was especially hard on people who were already going through stressful situations.
"I've also been thinking a lot about people getting flooded during the pandemic, it would be absolutely awful.
"It was already awful and everybody's wellbeing was already down and then you just couldn't have the normal response to flooding that you would have."
But the remarkable resilience shown by residents as they rallied round to help each other was one of the most positive findings from the study.
People who were proactive about joining community groups or even monitoring water levels were also able to boost their wellbeing.
Even just participating in the survey helped people feel they were being proactive in passing on advice to other communities at risk of flooding.
Researchers interviewed 40 people from each community in 2017, 16 months after the floods, then carried out two follow-up surveys in 2018 and 2019.
In the later surveys, people also reported encountering unexpected issues with attempts to protect their properties from future flooding.
The findings, published last year by Scotland's Centre of Expertise for Waters, are now informing Scottish Government policy and emergency responses.
Currie added: "One of the things we found that people wanted to do was give advice to others.
"People continued to be motivated by the research because we had a steering group for the project and on that group we had people from the Scottish Government flooding team, the resilience team, Sepa (Scottish Environment Protection Agency), someone from Aberdeenshire Council, the NHS, the Scottish Flood Forum and we were feeding our findings back to them after each year and they were responding to that feedback.
"They felt good about being involved in the research because they could see it was having a direct impact on policy.
"We have advice to others embedded in our report, and it's not just advice they would give to other people in the same situation.
"There is also advice for statutory organisations during a flood or people who are helping after the flood and insurance companies."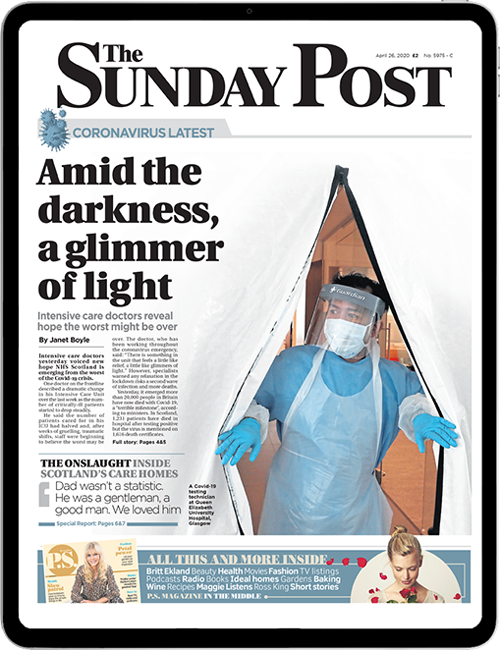 Enjoy the convenience of having The Sunday Post delivered as a digital ePaper straight to your smartphone, tablet or computer.
Subscribe for only £5.49 a month and enjoy all the benefits of the printed paper as a digital replica.
Subscribe