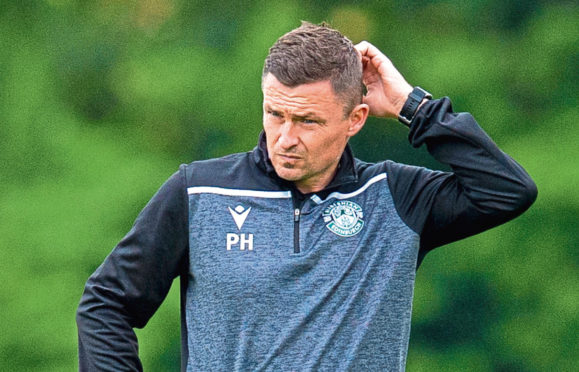 Rangers' financial strength means they outmuscle Hibs off the park.
But Easter Road boss Paul Heckingbottom insists his Hibees can turn the Gers over, on the park, by employing a mentality money can't buy.
Heckingbottom was shocked on arriving in Scotland to discover sides entering games against the Old Firm not believing they could get a result.
It's a situation he aims to change, by instilling a never-say-die attitude amongst his own players.
"I got asked on three separate occasions before we played St Mirren: 'Is it more important that you get three points against St Mirren because you've got Rangers next?'," said the Hibs boss, whose side head to Ibrox today.
"Why? Do we get more points for that win?
"That's what I'm on about, this: 'You're not going to get anything out of that game', mentality.
"Why not? We know we're playing one of the best two teams. We know it's going to be tough.
"But any team that wants to win has to have the right mentality, unless you're so superior in terms of finances and squad that you don't have to be at 100% to win.
"Celtic won every domestic trophy for the last three seasons. But, in Europe, if they're going to win they're going to have to be 100% on it.
"Every team, to be successful, has to have that.
"Liverpool winning the Champions League last season, Manchester City winning the Premier League.
"You talk about two of the best teams in the world. But what they've also got is a fight and a doggedness about them. They want to beat everyone, regardless of how good the players are."
Having lost just two of their last 10 contests with Rangers, Hibs have reason to believe in themselves.
They will put their best foot forward at Ibrox today, confident their attacking approach can get results, in a way Kilmarnock's more-conservative style narrowly failed last weekend.
"They did it their way, and we'll do it in a different way. There's no right or wrong," said Heckingbottom.
"But I've still got to watch the game like everyone else, and I wouldn't want to watch my team sit on the edge of the box and have 90-yard counter-attacks.
"There are times when you've got to do that. If you look back to the first game we had against Rangers, when we were at home, they were excellent and we did have to defend our box and defend for our lives.
"We did that fantastically well, so you have to be able to do it.
"But we wanted to cause more threat. We had to make a change and play on the front foot.
"If we hadn't done that, we'd have lost the game 1-0, 2-0 or 3-0. I'd rather have lost it 4-1, having a go. We got our rewards and arguably had the best chances to win the game.
"That's how we want to be. I couldn't go out to defend. Simple."