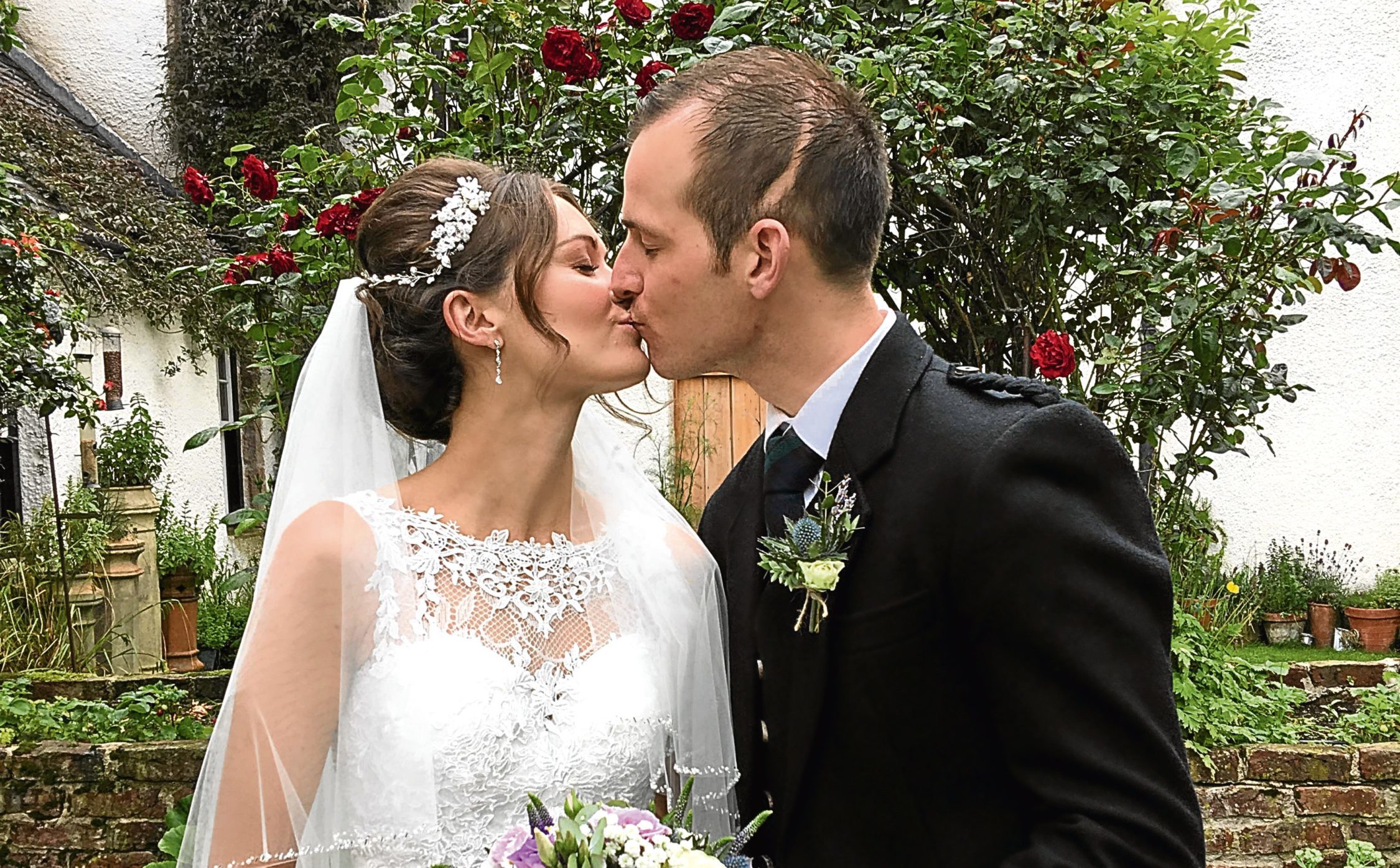 A BRAVE soldier who survived being shot in the head while serving in Afghanistan has married his childhood sweetheart in a fairytale castle wedding.
Craig Paterson suffered critical injuries when he was shot by a sniper during a fire-fight in 2013.
The bullet passed through his helmet and skull, causing a devastating exit wound at the back of his head.
Doctors feared he wouldn't make it, but the battling 27-year-old fought his way back to health to enable him to marry Louise Dalgarno, who stood by him throughout the harrowing ordeal, yesterday.
"Louise means everything to me," he beamed, resplendent in a Black Watch kilt.
"She's been my saviour."
There was, however, one notable guest missing from the happy day, staged at a 500-year-old castle.
After Craig was shot, his life was saved by Michelle Ping, a Royal Navy reservist who braved a hail of enemy fire to give Craig first aid.
She shielded his body with her own while the enemy continued firing, which earned her a mention in despatches.
Her citation stated she "undoubtedly saved the life of the Highlander".
Michelle, who has since visited Craig several times, was to be guest of honour at the occasion, but was unable to attend after having a baby last week.
The lifesaver is still in hospital after the early birth.
However, speaking to The Sunday Post before her own medical drama earlier this month, she said: "We're now great friends.
"Some patients you never forget."
Craig was just weeks into a tour of Helmand in 2013 when he and a number of other troops became pinned down by enemy fire while on a roof.
Incredibly, after he was shot, Craig continued to return fire until he blacked out and collapsed from his devastating injury.
He lost a large part of his skull, which has now been replaced with a titanium plate.
After the battlefield first aid carried out by Michelle, he was evacuated to Kandahar where he was operated on.
He spent three days in an induced coma before being flown back to Britain.
He spent a month in a Birmingham hospital before being transferred to a military rehab unit in Surrey for seven months, where he was told his stubborn Scottish nature helped his speedy recovery.
He lost much of the power in his right-hand side, meaning he had to endure months of physiotherapy with caring Louise, 25, at his side.
Mentally, he faced a massive battle to readjust.
But all that was forgotten yesterday when devoted husband Craig laid eyes on Louise in her wedding dress for the first time, prompting an outpouring of happy tears from well-wishers.
"I couldn't be happier," said Craig after the ceremony. "I'm the luckiest man alive. My wife is beautiful, just stunning."
The former 4Scots private – who began dating his wife after meeting her at Inverurie Academy in Aberdeenshire, added: "I wouldn't have survived so well without her.
"She has been my rock and I want to spend the rest of my life with her."
Yesterday's wedding took place at Logie Country House, in their home town of Inverurie.
The ancient castle dates back to 1492 and is set amid 130 acres of beautiful countryside.
Primary school teacher Louise was stunning in a lace wedding gown. She wore a stylish chignon hairstyle complimented by her beautiful veil falling gently over her shoulder.
She looked at Craig and said: "I've married the man of my dreams, the man I love,
"It was love at first sight and we are destined to be together.
"I am so proud to be marrying Craig. When doctors told him he wouldn't walk again he kept going till he could.
"He was so determined to get back to normal.
"When Craig's mum Alison and I were told he was injured, doctors didn't know if he would survive the journey back to the UK.
"His survival has delighted everyone.
"But none of it would be possible without Michelle. We owe her everything.
"She went above and beyond the call of duty to save Craig and we are for ever grateful. It's such a shame she couldn't be here. "
As Craig kissed his new bride, the long scar above his left ear served as a visible reminder of how close he came to death.
Looking on was Craig's mother, Alison, a nurse.
She was bursting with pride as he stood in his navy blue and green army kilt which had been kept carefully for the big day.
She said: "This is the day we all dreamed of.
"I couldn't wish for a better wife for our Craig.
"Louise and her family have been with him all the way since he was shot.
"Being a nurse gave me a greater insight into the battle he had to fight to survive.
"Craig was in an induced coma while he recovered.
"He has recovered remarkably well after such serious injuries. He woke from the coma as Craig and we are eternally grateful.
"We couldn't be prouder of the way he has worked tirelessly to learn to walk again.
"We know we have been incredibly lucky having him with us today.
"Seeing him and Louise so happy together gives us all great joy."
Craig said he was sorry life-saving Michelle couldn't be there to witness his big day.
"Without Michelle I wouldn't be alive today," said Craig. "She risked her own life to shield me from further bullets.
"I owe her my life."
Craig so grateful to lifesaver
SHARPSHOOTER Craig was only 21 when he flew out to serve in war-torn Helmand province.
The region was a lawless war zone where British forces played a daily deadly game of cat and mouse with the enemy.
Craig was only days into his deployment when he became pinned down on a building's roof with his squad.
The devastating shot to his head happened as he manned a rooftop gun position in a compound that was under heavy fire from the Taliban.
Speaking about his ordeal previously, Craig said: "We were on an operation and had been dropped
in the middle of nowhere. The platoon commander had decided it was too hot to carry on.
"We entered a nearby compound and, because I was a sharpshooter, I was put on the roof.
"We got into a fire-fight and a couple of the boys came up to help me as we came under suppressing fire from machine guns and a sniper.
"We couldn't move, and I tried to find the sniper. I put my head up but the sniper was zeroing in on my head and he got me.
"The bullet went right through my helmet. I don't know what I did after I got shot but the guys who were with me said I was trying to keep on shooting."
Michelle Ping a Royal Navy reservist who braved a hail of enemy fire to save Craig's life, was mentioned in despatches in recognition of her courageous actions.
Craig would have died if not for Michelle.
Craig added: "As soon as she saw my eyes she thought I was dead.
"But she told me she shouted at me, 'I'm not having that' and she shook me back to life and looked after me.
"I'm so grateful for what she did. She saved my life – we're best of friends."
Modest Michelle said: "I'd get back on that roof again tomorrow."
Pte Paterson suffered a brain injury as the bullet drove through a neat puncture in the front of his helmet and punched a large exit hole at the back.
He was airlifted to Kandahar, where an American surgeon carried out a delicate operation on his head, removing a piece from the top of his skull and inserting a titanium plate held in place by 32 tiny screws.
Craig said: "I now have a metal plate in my head – although I have kept the piece of my skull in an envelope upstairs as a war souvenir."
Despite his injuries Craig, who now works in an electrical shop, has become a tireless charity fundraiser, raising thousands for injured servicemen.
He carried out a 500 mile bicycle for the Soldiers, Sailors, Airmen and Families Association, which helped him.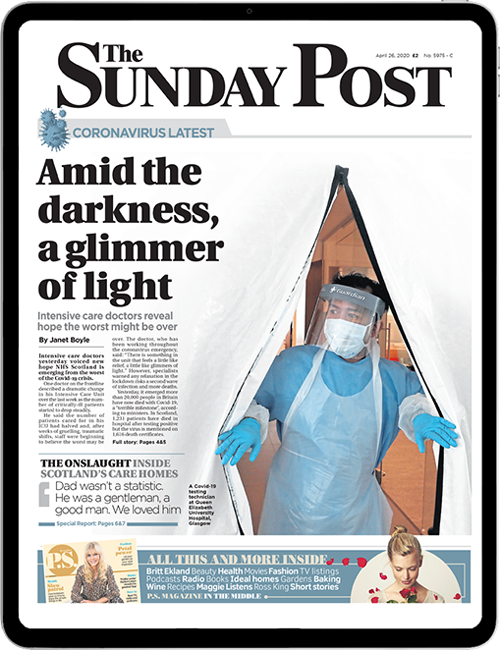 Enjoy the convenience of having The Sunday Post delivered as a digital ePaper straight to your smartphone, tablet or computer.
Subscribe for only £5.49 a month and enjoy all the benefits of the printed paper as a digital replica.
Subscribe