Surely, surely, the sun has to return at some point this summer and, when it does, Scots will be getting their fires started to enjoy our fleeting barbecue season.
The guest list might be shortened, we may have to keep our plates and glasses to ourselves, and we'll be socially distancing, but there's always still an appetite for coal-powered food.
Sales of barbecues have soared, so, as we wait, spatulas at the ready, we asked some of Scotland's top chefs for their tips to avoid rookie mis-steaks…
---
The best burgers? Squash mince into a patty then slap it on the grill. It's not hard

– Nick Nairn, celebrity chef
Nick has had a busy lockdown, experimenting with new menus, home cooking and firing up his garden barbecue to practise for opening a new outdoor cook school when we get the Covid all-clear.
"I absolutely love barbecues," Nick said. "It's definitely one of my favourite ways of cooking and I've been a fan for a very long time.
"In fact, just before lockdown we had just finished building a big outdoor space at the cook school in Port of Menteith so I can start a barbecue school.
"So I'm really looking forward to getting that open when it's safe to do so.
"But in the meantime, we've been having plenty of barbecues at home. My family are probably sick of them!"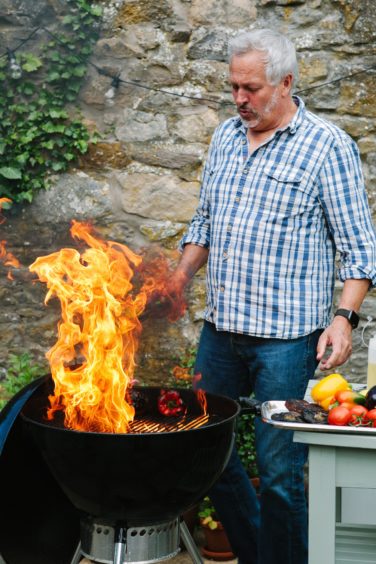 Nick says first, it's important to consider what type of grill to use. "I have both gas and charcoal. Gas is easier and more practical, but you can't beat the smokiness of briquettes. If it's gas, make sure its at the right temperature, about 220 to 240 degrees. If it's coal, put the lid on to get that smokiness, and make sure they're white-hot.
"The best way to test it is put your hand over it. If you're able to keep it there, it's not hot enough. Then think about what you're going to put on it. Burgers are brilliant for barbecuing.
"And the best are the ones you make yourself. Just get some good quality mince from the butcher, oil your hands, and squash it into a patty. You don't need to add anything like onions, it is good as it is.
"The trick is not to move them on the barbecue until they have a crust, so don't turn them too soon. My personal favourite is marinated chicken. Split a chicken breast horizontally, marinate in olive oil, lemon zest, chopped chilli, finely chopped garlic and lots of salt and pepper.
"I love to add a bit of fresh rosemary or a big bunch of marjoram, which grows all over Scotland, or oregano.
"Leave it for a couple of hours – or overnight – then slap it on the grill. It's called a chicken paillard. It's a Nairn family favourite.
"Chicken on skewers is great too, but make sure you cover the ends of the skewers in kitchen foil, otherwise all the meat falls off. And vegetables. Courgettes and aubergines cook really well on the barbecue, or fish in a foil wrap."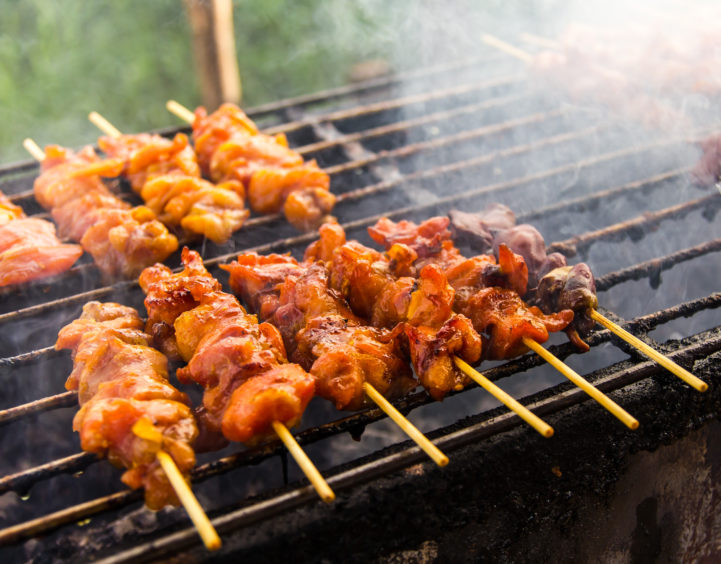 Nick, currently appearing in BBC Scotland's The Great Food Guys with Dougie Vipond on Thursdays at 9pm, says he doesn't plan on opening his restaurant Nick's in Bridge of Allan, until at least next month. He had only opened a few weeks before lockdown but, while he is desperate to reignite the ovens, he is worried about opening too soon.
"I'm extremely concerned about going too early and then having to close again," he said. "We want to be certain it's safe for the staff and customers, so I think we're going to see how things pan out in July and maybe wait until August.
"In Scotland we're hoping it won't be as much of a problem, but we have watched things open up elsewhere in the UK and around the world and then saw a new coronavirus spike, so it doesn't take much to spark an outbreak.
"Furlough goes on until October, so, aside from not having any money coming in, there's no great rush to get back until it's safe to do so."
But the chef, who fears small, independent restaurants are most at risk as the pandemic impacts on the economy, is desperate to get back into the kitchen.
"I'm bored now," he said. "In the past few months, I've done a lot of stuff, like takeout and social media videos, and I have done a lot of experimenting, creating new menus and getting ahead on all the things I've been meaning to get around to doing for years.
"In fact, it has been the perfect time to perfect my cheese scones. They are a thing of beauty.
"I have eventually picked up the mantle from my grandma who made the best scones on the planet. She used sour milk which you can't get now. I tried yoghurt, but it wasn't quite the same.
"I have worked out a way to do it, and it's the method that's important."
He added: "I certainly didn't pick up my cooking skills from my gran. She would put a nice topside and cook it in the oven for a day until there was about a teaspoon of meat left!
"I grew up on a diet of broth, and mince and tatties and veg… the things you had to eat. We were constrained in what we ate because my dad didn't like spices.
"I joined the merchant navy straight from school and spent seven years there, many of them in the Far East. That's where I discovered food and became a bit obsessed with it," he said.
"When I got back to Glasgow, I decided to teach myself to cook. And I think, whether barbecues or a professional kitchen, that's the key. You only really learn to cook by doing it."
---
Anything is possible, from sauted veg to squid paella

– Barry Bryson, private chef
Fine dining chef Barry has always found innovative ways to adapt, so when lockdown struck, he decided to take his talents outdoors.
A few weeks ago, Barry bought a commercial barbecue and started a luxury dining experience, cooking up a storm in people's gardens.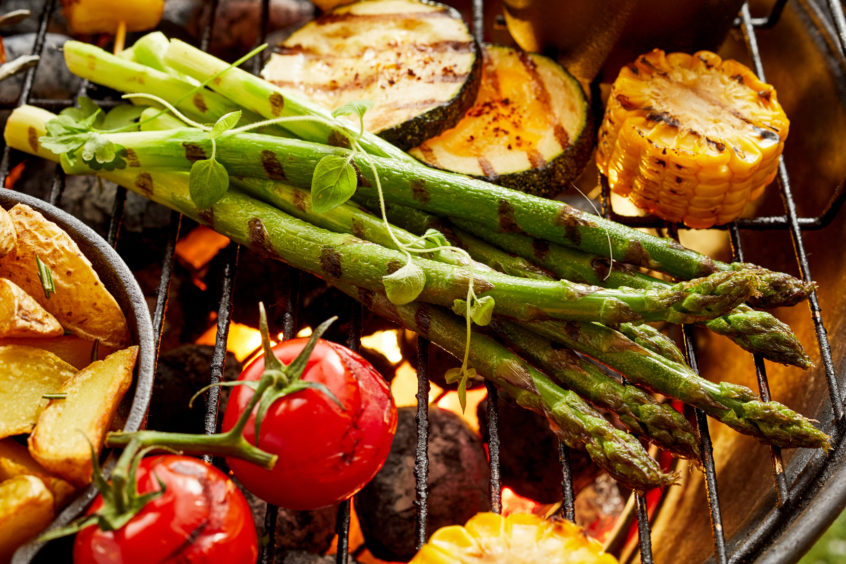 "I had been doing deliveries, but then I thought that wasn't really giving people the same experience as going to a restaurant.
"In recent weeks we have been able to meet up with friends and family in our gardens, so I started thinking about garden parties. Barbecues are so versatile. You can put pans on them and create some really stunning dishes, from sauted vegetables to sauces and even squid paella.
"You can still have a fine dining experience, just one with a difference."
Barry loves cooking meat on the grill, but says there are lots of other things you can try – and plenty of options for vegetarians and vegans.
"You can make your own veggie burgers, kebabs and even flatbreads," he said. "Anything is possible. Sometimes you just need to think outside the box."
---
It's not just for carnivores… barbecued halloumi is delicious

– Jilly McCord, Masterchef finalist 2019 
Jilly has spent lockdown spreading her time between her day job as a history and politics teacher at Dollar Academy and experimenting with new recipes.
But she has found plenty of time for barbecues after getting a new one for her birthday.
"I always cook, that's my relaxation," she said. "So it has been a nice time to try something different every day.
"I love a barbecue. It's got to be charcoal for me. I just love the taste.
"I remember seeing Rick Stein take a hairdryer out and blast it on the coals to light them. I have tried that quite a few times. It does make the hairdryer smell a bit funny, but it works a treat.
"Of course, most people like a big chunk of meat on the barbecue and for me, you can't beat a great, big steak sliced up and served with a salad, but it is actually a really versatile way of cooking, especially for vegetables.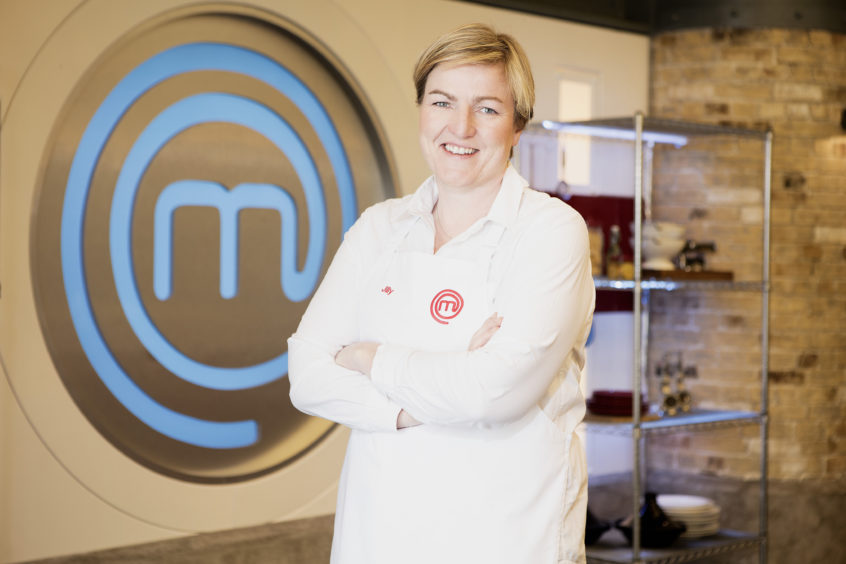 "You could try asparagus on the grill and beetroot cooked on the coals, and stick on some potatoes wrapped in foil.
"I like to put a solid frying pan on the grill and roast things like peppers, which are lovely with a nice baba ganoush or tahini dip.
"Bean burgers are great for vegetarians and vegans. I use breadcrumbs to make robust patties.
"And halloumi cooks just as well on the barbecue and is absolutely delicious.
"It's certainly not just for carnivores. The smoky flavour can make just about anything taste good!"
---
Best way to clean a barbecue? Leave it until the next morning

– Simon Attridge, executive chef at Gleneagles
Simon scooped a Michelin star when he just 25 years old and has worked alongside Heston Blumenthal, and at some of the world's top restaurants, including the Shangri-La in Abu Dhabi and at The Shard in London.
Simon is now executive chef at Scotland's prestigious Gleneagles Hotel – but says nothing can beat a good old barbecue.
"Barbecue cooking has certainly become much more prevalent during lockdown, as people enjoy the weather and the excuse to cook outdoors," Simon said. "The first thing I would say is think about the fuel you are using. Natural lump charcoal burns better than briquettes.
"And while I love doing the traditional burgers, steak and fish, you can now use your barbecue to experiment with slow cooking. There are some great barbecues out there, such as the Green Egg or the Kamado Joe, which are ideal for this.
"Meats like lamb and chicken thighs are great with some oil, and freshly chopped herbs are great – or a pork belly or shoulder of lamb are great on low and slow.
"Or spare ribs or a beef brisket, with slowly roasted celeriac and carrots.
"If you want to do it quicker, you can always cook in the oven then finish off on the grill to add that smoky texture."
But his top tip for barbecue season is leave the cleaning until next morning.
"Any chef would stress how important it is to clean your grill, but it's best to let it cool overnight and tackle it the next morning.
"By all means clear the plates and the glasses and soak the grill overnight, but the best way to clean a barbecue thoroughly is by leaving it until tomorrow!"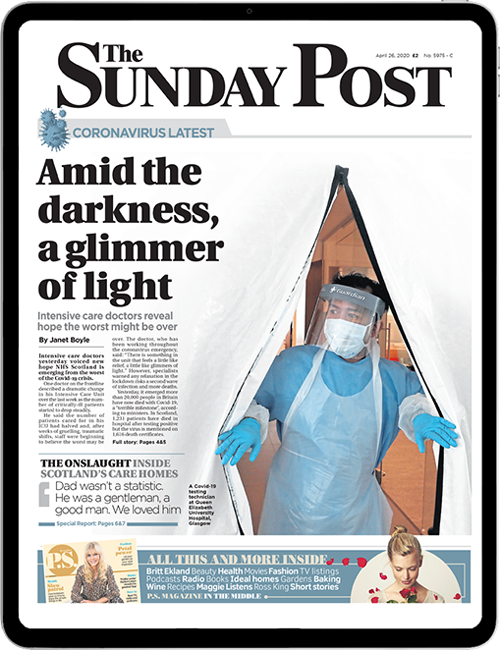 Enjoy the convenience of having The Sunday Post delivered as a digital ePaper straight to your smartphone, tablet or computer.
Subscribe for only £5.49 a month and enjoy all the benefits of the printed paper as a digital replica.
Subscribe