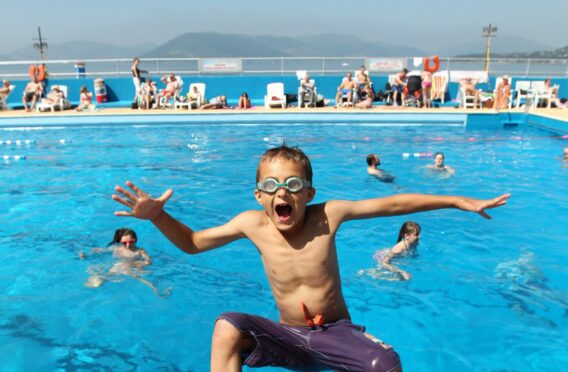 Scotland's outdoor pools have revealed their hopes for a long, hot and busy summer (hopefully) as they get back in the swim.
Heated lidos at Stonehaven, Gourock and New Cumnock are open fully for the first time since 2020 and are desperate to dive into a new season.
The historic bathing facilities – Gourock in Inverclyde, first opened in 1909, Stonehaven, near Aberdeen, in 1934, and New Cumnock, East Ayrshire, in 1968 – are in great shape thanks to charity and council backing and an army of volunteers.
Mary Clapperton, duty officer at New Cumnock Pool, said: "There's a real buzz about the place. We are so happy to be welcoming swimmers of all ages and expect our 2022 season to be busier than ever.
"The pool is such a hub of the community and it's been incredible to see people back in the water embracing the mental, physical and social benefits of outdoor swimming. It's good for the soul."
The facility at New Cumnock is Scotland's only heated fresh water open air swimming pool. The 25-metre tank is heated to 30C and has the longest season of the three in Scotland. It opened on April 23 and doesn't close until October, weather permitting.
It was saved from demolition in 2016 when charity, The Prince's Foundation, embarked on a multi-million pound regeneration project. It was officially reopened in 2017 by the Foundation's president HRH The Prince of Wales and welcomed 37,000 visitors for its first season with the name of the project's lead donor, Tamar Manoukian, wife of tycoon Bob Manoukian, over the door.
Meanwhile, in Stonehaven, the UK's northern-most working lido, owned by Aberdeenshire Council, but run in conjunction with volunteers, opens on May 28 and the oldest heated swimming pool in Scotland – Gourock Outdoor Pool – owned by Inverclyde Council – opened on Friday.
Heated to 29C, the 33.3m pool is filled with around one million litres of fresh salt water from the River Clyde which is filtered and treated. It was redeveloped in 2012 at a cost of £1.8 million.
Allan Warwick, chair of Discover Inverclyde Tourism Partnership, said: "Gourock Pool is an icon of Inverclyde and the opening is a major highlight in our events calendar. We are welcoming swimmers back and enjoying a much more normal season after two years of restrictions and disruption."
Stuart Boyle, Inverclyde Leisure's Operations Msanager, added: "The team have been working hard. It is fantastic that the pool will open with no Covid restrictions – it will be back to its pre-Covid best."
---
'It's back in all of its glory but it's been a tough few seasons'
Britain's most northerly open-air swimming pool is gearing up for a special anniversary.
The Category B listed Art Deco lido at Stonehaven began construction in 1933 and with celebrations planned to mark its 90th next year.
Stephen Harris, who heads up the community group, Friends of Stonehaven Open Air Pool, said: "We're excited to be part of this anniversary. Thanks to an army of local volunteers working to keep the pool looking ship shape, along with the backing of the council, it's ready, in all its glory. We've had a tough few seasons because of the restrictions but we're back, bigger and better and have lots planned to mark the significant occasion. We'd love to hear from anyone with memories of the pool."
The seawater baths were constructed following a poll of local householders in Stonehaven, near Aberdeen, on September 6, 1933. Work started quickly – it cost £9,529 (£726,000 in today's money) to build – and opened on June 4, 1934.
Harris said: "It was built to competition standards, which at that time were for races of 110 yards and multiples of that. So the pool is 55 yards long – just a touch over 50 metres – and 20 yards – just over 18 metres – wide. It's a bit bigger than today's Olympic size at 50 metres.
"At the time it was emptied and refilled every few days and the water was cold, straight from the North Sea. Nowadays it's emptied at the end of the season and filled up again in May and that process can take 50 to 60 hours depending on the tides.
"Despite operating costs and loan charges, the first season brought a large profit. But customer feedback was not all positive – the pool was cold for a start – and so, the following year the sea water was circulated, filtered and disinfected and also heated which made a huge difference."
During the Second World War, the facility provided recreation – and showers – for locally-based troops. In its peak years, diving displays, competitions, glamorous granny and bonnie baby contests were popular and the bandstand was in constant use by the big bands of the day. The Miss Stonehaven contest was also a big hit.
Right up until 1975, visitor numbers were healthy with 65,000 passing through the turnstiles but by 1994 the lido was threatened with closure as it required a £90,000 overhaul.
That's when the Friends of the Pool was formed to lobby the council and ultimately save the attraction. Harris said: "We work closely with Aberdeenshire Council who operate the pool."
Avril Nicol, Head of Live Life Aberdeenshire, the council's sports and cultural service, said: "Stonehaven Open Air Pool is a fantastic venue enjoyed by the local community and visitors from throughout the UK.
"Together with the Friends Group we are working to have the pool ready for the grand opening and look forward to a busy season."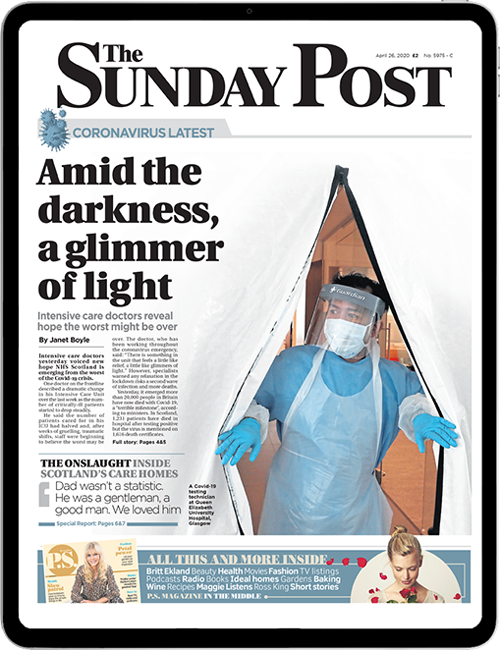 Enjoy the convenience of having The Sunday Post delivered as a digital ePaper straight to your smartphone, tablet or computer.
Subscribe for only £5.49 a month and enjoy all the benefits of the printed paper as a digital replica.
Subscribe