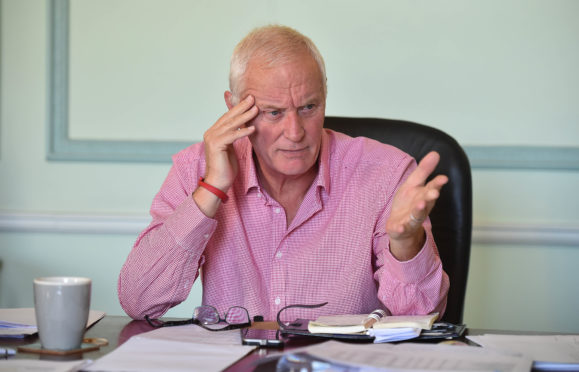 Barry Hearn freely admits he likes to tell jokes that leave a little bit on the listener.
The veteran sports promoter says that is his style, to entertain but keep jabbing away with serious points.
Six years ago, he served up a delicious example when he was invited to deliver a keynote speech at the SFA's inaugural convention.
"I'm not an expert on Scottish football," he told the assembled chairs, chief executives and committee members at Hampden.
"Listening to your financial figures, it doesn't seem like you are, either."
They did not know it at that moment, but Hearn had started as he meant to carry on, going on to deliver a now-infamous attack on the leadership of the game north of Hadrian's Wall.
He looked at Scottish football and what he saw, he said, was a mess. A disgrace. A business without direction.
That was in 2014.
Today, if applied to the current state of affairs, that would appear an understatement.
Two club votes – the first a shambolic affair on a SPFL resolution to call the lower leagues, the second on a Rangers-led bid for an independent investigation on the League's governance – have been the big battles in a civil war which has threatened to rip the Scottish game apart.
All the while, 71-year-old Hearn has been at his home in Essex, recovering from a minor heart attack. But that hasn't blunted his view on how our game is being run.
"It looks like my train fare up to Glasgow in 2014 was wasted, doesn't it?" said Hearn wryly.
"Listen, I have not been directly involved with everything which has gone on over the last few weeks, so I can't give you an insider's view.
"What I can do is tell you what the perception is of Scottish football right now in the wider sporting world.
"It is not good. The game north of the border is seen as lurching from one disaster to another.
"There seems to be a great deal of squabbling, and an awful lot of dirty linen is getting washed out in public.
"That in itself doesn't reflect well. Anyone who is involved in top-level sport will confirm that in-fighting goes on all the time.
"Different people have different agendas, which they will try to push as best as they are able. When these interests lie in opposing directions, then you are going to get conflict.
"Does it happen in the English Premier League? Of course it does. There are some huge egos at play there.
"However, for the main part, you will never hear of them because they deal with problems in-house.
"Everyone has a vested interest in maintaining the strength of the brand, so they will toe the line because they know that doing so will keep the money pouring in. It will keep everyone earning.
"As much as it may be commercially driven, I don't see any of the same unity in Scottish football.
"It looks a mess, once again, which is not appealing to broadcasters or sponsors.
"If you are closely involved, you might find the rows fascinating, and think that everyone else will do likewise.
"But that is not the case. Scottish football is in danger of being seen almost as a niche sport, one on the fringes of the TV schedules, and that's not a good place to be.
"This business is about selling. I know that from my own experience of building up darts and snooker.
"You might be a pauper, but you need to act like you are a king.
"Don't have your head down, looking at your shoelaces. Get your head up and show a bit of pride.
"You might not have much at the start. But if you believe in yourself, and have a bit of passion and positivity, you can make great things happen.
"But people need to sing from the same songsheet. Any negativity must be stamped out because the message it sends always spreads like wildfire."
Two years ago, Hearn ruled out any chance of him becoming SFA chief executive, and stated he would need to own Scottish football to effect the changes he felt necessary.
There remains absolutely no chance of that happening, but the Dagenham-born multi-millionaire is clear on what he sees as the best way ahead for the SPFL.
"I understand the situation because these are tough times, with worse around the corner, and people are scrapping for what little there is on the table," he continued.
"If there is yourself and your brother, but only enough food for one of you, then you are going to fight to get fed.
"What you need in these times is somebody to bring a bit of order to proceedings, and here I would be looking to management.
"You want someone to take charge. To say: 'Right, this is what we are doing, this is the direction we are taking. Now get in line'.
"I read the leaders of the SPFL saying they were merely representatives of the clubs, and I thought: 'Big mistake. Seriously big mistake'.
"Do that, and you are conceding power to a load of businessmen with big egos to satisfy, and who are motivated by the self-interests of their clubs.
"Leave them to their own devices and you are never going to get them all rowing in the same direction.
"Now, I get that there are politics involved, and that everyone is wary of not making mistakes.
"Add that together, and you get people taking a lot of time out to consider things because it is safer that way.
"But sometimes you have to be brave, sometimes you to have to take a risk because in any crisis, there will be opportunities.
"Of course, there is going to be a lot of hardship for a lot of people. But, at the same time, sport will come back, and those in charge need to be ready for the return and ready to deliver.
"I go back to my own time with darts, when I first got involved. The people in charge did a very gutsy thing back then.
"They came to me and said: 'We are stuck. We can't take this any further – but we think you can'.
"I said: 'Okay, I will do it – but it has to be on my terms. It has to be my way or the highway'.
"I think of myself as a benevolent dictator. I have done a lot of good for the sports I have been involved in.
"But I have done some good for myself too in the process, I work to earn money and I have been successful in doing so.
"I'm not saying that is possible for Scottish football, but the principle applies. I think this is a time for strong confident voices.
"There is huge uncertainty about every aspect of life, so you go back to the principles that guide you, decide what you want to achieve and then set out the best way to make it happen.
"Snooker will be back from the first of next month. There will be strict testing and new health and safety measures in place. But we go again."
At that, the voice of Hearn, the man who loves to joke, is suddenly serious.
The return of professional sport will be many things – but it will be no laughing matter.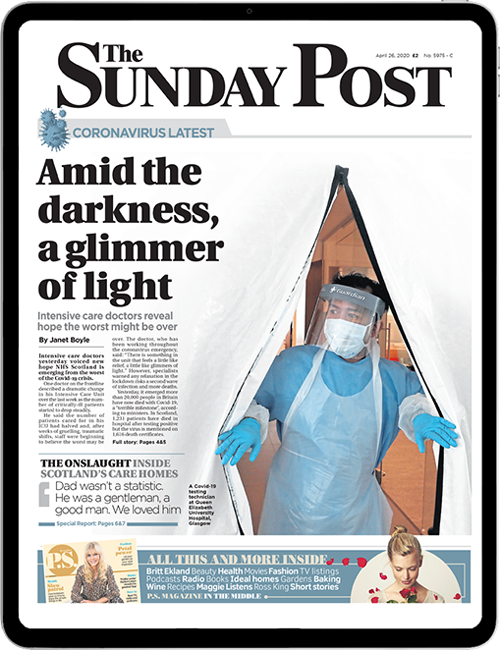 Enjoy the convenience of having The Sunday Post delivered as a digital ePaper straight to your smartphone, tablet or computer.
Subscribe for only £5.49 a month and enjoy all the benefits of the printed paper as a digital replica.
Subscribe