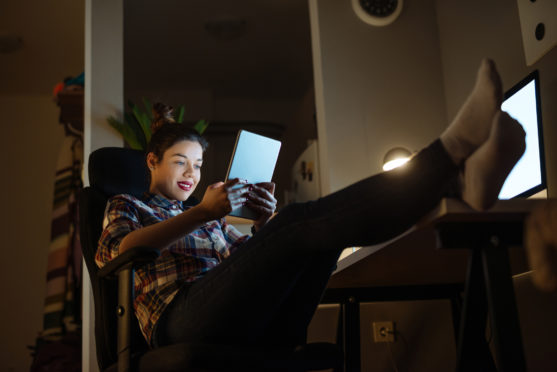 The sun, pollution, stress, smoking. We all know these are contributing factors when it comes to ageing skin.
But emerging evidence is now suggesting that something seemingly innocent could also be adding years to our complexions: Too much screen time.
With the average UK citizen spending more time on their smartphones than they do sleeping, it's now hard to imagine a world where scrolling through social media or binging on Netflix doesn't exist.
And while findings have shown that blue light from screens can negatively impact our eyes and our sleep patterns, new research shows that the blue light emitting from our smartphones, tablets and laptops could also be damaging our skin irreversibly.
New apps helping to reduce the time spent on smartphones have been introduced, but with a huge percentage of the workforce spending over eight hours a day staring at a computer screen, then scrolling on phones on the commute home with a few hours of TV thrown in in the evening, the amount of time we're spending looking at screens starts to become a little frightening.
And with experts saying blue light could actually be more damaging than too much UVA or UVB, the fact currently only one in ten people know that too much blue light from your mobile phone can age you is equally as worrying.
So what can we do to combat it? We catch up with blue light expert Dr Toni Phillips at ZO Skin Health UK, to find out more about blue light's impacts, and how we can thwart its effects on our skin.
---
What is blue light exactly?
Blue light is a colour in the visible light spectrum, it is a short wavelength which means it produces higher amounts of energy.
Studies have shown that exposure to blue light can cause eye strain, fatigue, headaches and sleeplessness.
Blue light is everywhere in our world today, digital screens which are found on TV's, smartphones, laptops all contain blue light – prior to the digital age the sun was the only source.
---
What effects can blue light have on skin?
Blue light poses potential skin harm via free radical generation; blue light has been shown to induce oxidative stress in live skin.
This then contributes to skin ageing, like exposure to UVA.
There is also evidence that as blue light penetrates the skin, reactive oxygen species are generated which in turn leads to DNA damage.
With the skin it causes inflammation and the breakdown of healthy collagen and elastin thus creating hyperpigmentation.
Dark spots after acne are often left worse on the side of the face where the person is holding their mobile phone as the phone is on the top of the skin giving mass blue light exposure.
---
Is blue light worse that sun exposure?
Blue light has the ability to penetrate deeper into the skin compared with both UVA and UVB light. Even worse it can penetrate all the way into the dermis where collagen and elastin lie.
---
Is blue light completely bad or are there benefits?
There are some benefits of blue light, the blue light you get from natural sunlight can be good for you as it comes with the full light spectrum including therapeutic red and near infrared light.
Natural blue light is important for regulating your vital circadian rhythm.
You also need a healthy dose of blue and red-light during daylight hours in order for you to sleep better.
You will then be more alert and have better hormone levels, digestion and body temperature.
If you stay inside too much and don't absorb any natural light your sleep isn't well regulated.
---
How can blue light affect our sleep and eyes? Can it cause headaches?
Blue-wavelength light stimulates sensors in your eyes and sends signals to your brains internal clock.
So blue light which is from the sun or an electronic device produces large amounts of blue light and can disrupt your internal clock if you're exposed in the evening.
The blue light that is emitted from devices surpasses the natural production of melatonin which is the hormone you need to feel sleepy.
Blue light filters can decrease the amount of blue light that emits from device screens and you can get blue light glasses to block exposure.
Studies have shown there is a specific neural pathway from the eyes to the brain, this separates how vision is transmitted and reveals that blue light wavelengths worsen headache pain and other symptoms.
---
What advice would you give to anyone who's been suffering from headaches or other maladies from too much screen exposure?
My advice is to try not to use electronic devices directly before bedtime, set a limit of turning off your devices at least one hour before bedtime and charge your devices in a different room to avoid temptation.
If you have to use your devices at night, there are several free apps which will put a filter on the screen of your smartphone or tablet that reduces glare and will help with eye fatigue.
---
What products are there out there to help combat the effects of blue light on our skin?
Colorescience UK have a great product, Sunforgettable Total Protection Body Shield with SPF 50 has 100% mineral protection from environmental aggressors such as UVA/UVB, pollution, blue light and infrared radiation.
ZO Skin Health have Broad-Spectrum Sunscreen SPF 50, this ultra-lightweight sunscreen shields skin from UVA/UVB, blue light and infrared whilst smoothing the skin and minimizing the look of lines and wrinkles.
---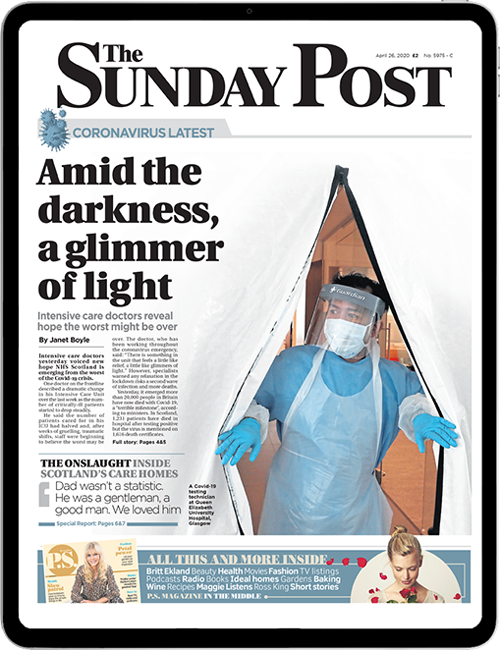 Enjoy the convenience of having The Sunday Post delivered as a digital ePaper straight to your smartphone, tablet or computer.
Subscribe for only £5.49 a month and enjoy all the benefits of the printed paper as a digital replica.
Subscribe