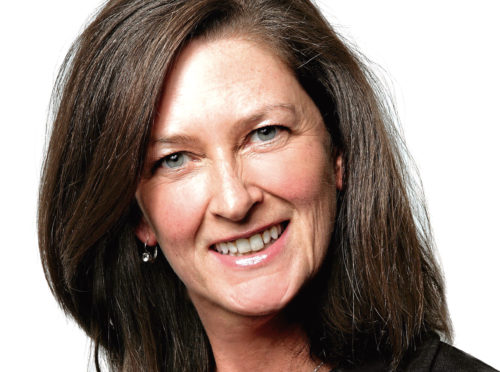 Gill Hynes knows all about psoriasis.
She was diagnosed with the skin condition when she was 15, has been a member of the Psoriasis Association for 25 years and a trustee since 2016.
Psoriasis is an immune condition that causes a person's skin replacement process to speed up, taking just a few days rather than three to four weeks.
This results in raised "plaques" which can be scaly, flaky, red and itchy.
Marketing expert Gill is particularly interested in busting the myths that surround psoriasis, and she says: "One of the things I and many other people who suffer from psoriasis come across a lot is an article that talks of a miracle cure.
"It'll be some kind of alternative herbal cream that hasn't been developed by a drug company but seemingly will completely clear your psoriasis up, or someone has started an avocado-rich diet or something like that and say it's vanished.
"Those kind of things are potentially quite destructive because people jump on to them and think, 'Wow, if I follow this diet or buy this ointment, I will be clear of it.'
"One of the things the Psoriasis Association's so good at is taking an objective view of the details and the facts, and bringing their expert knowledge to bear to be able to give an honest answer about all this information that's out there.
"They run a helpline so you can speak to someone who will be able to give you clear and unbiased advice."
There are other myths such as the nonsensical idea that you can "catch" psoriasis by, for example, being in the same swimming pool as someone with the non-contagious condition.
"We live in a society that is very body-conscious and if you think of the images young people put on Instagram, it's all about filters and photoshopping yourself to look better; if you have a skin condition it can be viewed as some kind of disfigurement, as unsightly," says Gill.
"That puts young people under even more pressure in terms of how they deal with it. Are they prepared to be brave and wear clothing that exposes their psoriasis, or is it driving them into retreating further and hiding from society and trying to get help?
"Also, GPs spend a limited amount of their medical studies on dermatology, and there are lots of dermatological conditions, so I think sometimes people are going to their GP and the initial response is 'Try this ointment or topical cream' and people can end up using them for years and make no progress whatsoever.
"It's sometimes taken people years to see a dermatological consultant, who can offer a number of treatment options a GP might not be aware of.
"Sometimes it takes the patient to be a bit more demanding and say, 'I want a referral.' I've been in that position where I've gone back to my GP and said, 'I have suffered from scalp psoriasis quite badly, I'm getting nowhere with it using a slew of different steroid treatments, I want you to refer me to a consultant.'
"If you don't do that, you can be stuck in a holding pattern because although the condition can be painful and uncomfortable, it can require changes to your routine, generally-speaking it's not life-threatening and therefore it feels like it can be pushed down the priority list.
"There's clearly a big genetic factor with psoriasis, often if you check back in your family tree, you'll find other people who've had it.
"Time and again we hear people asking if there are lifestyle factors involved in the severity of their skin condition? Are there triggers, things they could be doing differently to improve it?
"Is it my diet? Stress? Living in a busy, urban environment?"
People with psoriasis I've spoken to previously did mention stress could trigger a flare-up but Gill says: "It can be a case of the chicken and the egg. Some say, 'I get stressed, my skin condition worsens' but there are other factors – if you're stressed you might drink or smoke more, which in turn can exacerbate your condition.
"And if you have a flare-up, that is stressful in its own right.
"Scalp psoriasis is very common and potentially hard to deal with because you can't easily apply ointments or creams to the scalp.
"It's annoying because it becomes time-consuming because if there's a cream or ointment, what you have to do is comb your hair, part it and then try to apply it along the line of your parting, and then keep doing that over the entire scalp.
"Of course you can't see it. If you have a patch of psoriatic plaques on your elbow or knee you can specifically treat that area and not apply product where the skin is fine.
"And if you're constantly scratching your scalp, it's quite an obvious behaviour which makes you self-conscious.
"It's tricky because if you're using a medicated shampoo, you want to massage it in and leave it in for much longer than a normal shampoo, which again impacts on your daily routine."
For more information visit www.psoriasis-association.org.uk or call their helpline on 01604 251620.